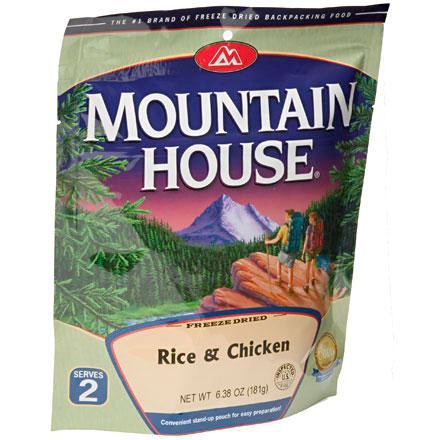 Mountain House meals are incredibly convenient when it comes to having meals in the backcountry. They are super easy to make and they are ready in no time! Personally, I don't add as much water as directed because I prefer it not to be runny like soup. Also, they are surprisingly way more filling than you would think! Treat yourself to some of these if you haven't already!
bland is refreshing sometimes
I dig this stuff when I have other meals that are packed with more flavor. It's a great lunch meal and just fills you up rather than trying to have a flavorful adventure for your tastebuds. But it is flavored and somewhat reminds me of Ramen Noodles.
If you take kinds into the backcountry
Familiarity:

I've used it several times
If you take kids into the backcountry then you LOVE THIS. Their pallets are already limited just doe to age... and your already carry half their stuff... Mine are 8 and 10 and they can carry roughly 20lbs. if I want to get over 6 miles out of them... Most of the meals are too spicy for kids... this is great!... glad its bland. Wish they had one or two more this bland.
not as nutrition packed
Familiarity:

I've used it once or twice and have initial impressions
I dont care much for rice in my fast meals. Its food. But I feel like rice is a rather cheap not so nutritious filler. Probably my 6th choice in the mountain line
how many calories? I want to make sure it...
how many calories? I want to make sure it has a sufficient amount to be worth the carry on long backpacking trips.
Best Answer
270 per serving, 2 servings per bag! And yeah its totally worth the carry for backpacking trips, these things pack a punch. But for the record, I eat an entire bag to myself for dinner.
Thank you! I figured the serving sizes were a little small as they normally are.


This dish wasn't THAT bad, it was just mellow.

I had to add some spices to it to liven it up, but it was way easier on the stomach than their Chili Mac and Cheese. I thought it was delicious even if it didn't have an overwhelming taste.



I do prefer the Beef Stroganoff out of their line if dehydrated meals.
Proper nutrition
Gender:

Male

Familiarity:

I've put it through the wringer
Nutritionally I wouldn't trade it for any other freeze-dried food. I personally enjoy the flavor. Perfect carb/protein ratio for packing.
not sure why everyone is complaining
Familiarity:

I've used it several times
I enjoy this meal and yes it isn't the loudest flavors but in my experience after several days of extremely flavorful meals its nice to have a bit of a break. I wouldn't only pack this flavor but I've bought it more than once.
I agree with Matthew, this meal had no taste. I was really excited about this meal because I love chicken and rice, but I have never been so disappointed. I might as well have been eating warm cardboard. I added some Tonys and pepper which did help, but I still would never buy this meal again. Albeit bland, this meal did fill me up. Nevertheless, there are better Mountain House meals out there.
pretty bland, but a little travel Cholula can change that. Not one of my favs (see beef strog., beef stew, chicken teriyaki)
This was the first mtn house I tried and was impressed completely with it until I tried the others. While this is still good it's not as great as some of the others
Haven't tried it yet. Hope it's good when we get to use it :)
Not as good as your local Asian cuisine but it get's the job done, bring a packet of your favorite sauce to spice this up!
Love this! Surprisingly good and great for camping.
One Of The Better MH Meals
I've always liked this meal. One of the original MH line-up. It's both filling & tasty. Plenty of carbs & protein. Mix well & allow to rehydrate an extra three to five minutes. Make it even better by adding some crushed red pepper. This two serving size by itself is just right for one hungry person. Prepare a side dish & that will feed two people.
Filling and great tasting.
Another fantastic meal from Mountain House. This is a great break from the pasta. Very filling, and this one will feed two people. I wouldn't be surprised if the wife tried to push this one off as dinner at home.
Yeah, chicken and rice. Hard to goof these two up. Reminded me a bit of those Soup-in-a-Cup meals only way bigger and more filling. It was the best meal of our three day trip. I cheated a bit though, through in some Cholula hot sauce. Let it stand a bit longer than recommended for best results!
My first experience with Mountain House products was on a week long backpacking trip to the Grewingk Glacier, across Kachemak Bay from Homer, Alaska. We caught a water taxi, got dropped on the beach and started a great adventure that involved a black bear, a distant brown bear, a small forest worth of deadfall, treacherous and unwarranted river crossings, a heavy tram with a 1:1 "mechanical advantage" and enough postholing to satisfy anyone.

Needless to say we were extremely hungry at the end of each day. My wife was four months pregnant, which left her eating for two amd me carrying a little extra gear and burning a few extra kcals. My brother-in-law was in his early 20s, which is like eating for eating for two.

We carefully planned our trip, filled our "pantry" and mistakenly assumed that 2 servings was, well, 2 servings. As in: Serves 2. By day 2 we recognized our gross underestimation and by day 4 we were running low on provisions, namely hot entrees. On day 5 we rationed our supplies and settled for a bit hungry. Our saving grace was a hypoglycemic, overland journey to the beach to gather mussels to supplement. They never tasted so good!

The point: While tasty, these will barely satify ONE hungry person, noting that 800kcal if only a fraction of what is burned for most. Since, we always plan our provisioning based on total calories and have had no issues since!
This one was good but I am a pasta person. worth trying
Taste great and very filling. Mountain House meets the single mans' need for cooking.