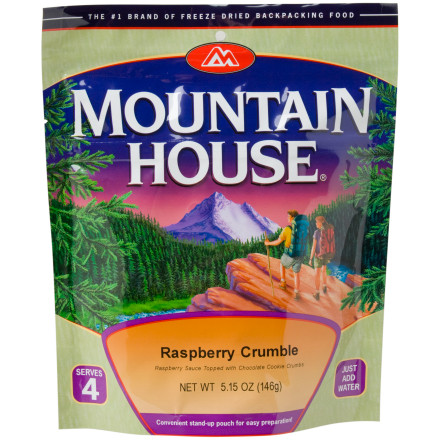 Description
You could pick the M&Ms out of your GORP for dessert. Or you could have raspberries and chocolate.
Don't skip dessert just because your miles into the backcountry. Whip up the Mountain House Raspberry Crumble, and wow your backpacking or boating partners. Not only is a chocolate dessert a decadent treat, but fruit tastes especially good after being out a few days, no? Enjoy your raspberry crumble after a Mountain House meal of lasagna, and get fully carbo-loaded.
Mountain House meals are incredibly convenient when it comes to having meals in the backcountry. They are super easy to make and they are ready in no time! They are super easy to make and they are ready in no time! I wasn't sure how I was going to like this one Mountain House meal but surprisingly, it was super delicious!
perfect desert
Familiarity:

I've put it through the wringer
this is the perfect desert to share after along day on the trail.
Way too sweet for me to eat alone.
I dig this stuff, my wife really likes it. It's like eating a ton of raspberries. I prefer to share it with someone else, but it's nice to have a nice warm sweet treat.
solid dessert food
Familiarity:

I've used it several times
I absolutely love this stuff. Solid work.
Dessert or Breakfast?
Familiarity:

I've used it several times
Honestly, I could eat this stuff anytime. Breakfast, lunch, brunch, dessert, fifth-meal, really whenever. This stuff is so tasty that you'll forget you are in the woods. Why shouldn't you get dessert when you are in the backcountry? Absolutely no reason.
Pie Filling at its best
Familiarity:

I've used it several times
The answer to our prayers after four consecutive days paddling down the Rio Grande. Just the pick me up the team needed before finishing the last stretch of our trip. Pack this in anticipation for that one tough day of your trip! It?s delicious!
Definitely a sweet treat and pretty rich. It is best shared between 2 people, maybe 3 if you aren't a huge sweets fan. Pretty simple and it tastes super good when it's starting to get a little colder at night just to warm you up before catching those Z's
Chocolate raspberry deliciousness!
Familiarity:

I've used it several times
I have brought this along on a couple of different trips now and it always scores well with the group. As with all of the mountain house stuff, it's pretty easy to make. Just don't forget to remove the desiccant!



If everyone in your group only takes a spoon full, one pouch can be enough for around 6-8 people. Obviously, if you have greedy friends, you'll want to be first to test it (just checking for quality, of course!).
Best Dessert!
Familiarity:

I've put it through the wringer
I always carry at least one of these on a three to four day hike. After a few days on the trail even the best food starts to taste a little bland. Knowing I have one of these in my pack helps me keep going. I eat it near the last day or if I get down and need something to pick me up both physically and mentally.
Well everyone below me about said it.

It's quite tasty!

It says desert...I enjoyed it for breakfast.
Hands down my favorite freeze-dried dessert. This stuff is really, really, really good. I must say though, 1 package for 4 people is perfect. I tried eating splitting one with a buddy of mine and it's good for the first 5 bites, but it's pretty rich, so be ready for it. All in all, it's great and I get it whenever I'm heading to the backcountry!
This dessert is so amazing, the chocolate cookie crumbs are so delicious with the raspberry mix. I got this for a family backpacking trip and everybody LOVED it! It's so simple, just add hot water and let sit. You can eat it right out of the bag! YUM!
mmm mmm good!
Familiarity:

I've put it through the wringer
After a long day on the trail, this is just the bees knees! Sweet, rich, hot, all the things you need in the backcountry, just be prepared to get sticky!
Great!
Familiarity:

I've put it through the wringer
Good for breakfast or desert, definitely a nice way to shake things up when your in the bush.
A real treat on the trail
This stuff is ridiculously good! Everyone gets sweet cravings, this is the best trail dessert I've had!
My friends and I went on a 5 day canoe trip in the adirondacks and all of us are pretty healthy eaters didn't think to bring any candy. By the 4th night for some reason we were craving sugar and this TOTALLY hit ths spot. We were going to do it the night after but it was an emergency. It was awesome. The raspberry filling was delicious and the cookies made it incredible. They need to make backpacking cool whip next!!!
Great backpacking dessert.
Love this dessert. It's meant for 4 - I ate it all myself!
I picked up many different meals and sizes of this product for an emergency kit rather than for use camping or backpacking. I have used this brand for backpacking in the past and I am always impressed with their flavor and how fulfilling the meals are.
And the hits keep coming!
Gender:

Male

Familiarity:

I've used it several times
What is Mountain House going to come up with next?Hell,you can eat this stuff right out of the bag if you like,but a little prep wouldn't hurt.
I had this on two different backpacking trips with different groups. Everyone loved it for a dessert at the end of long days on the trail.