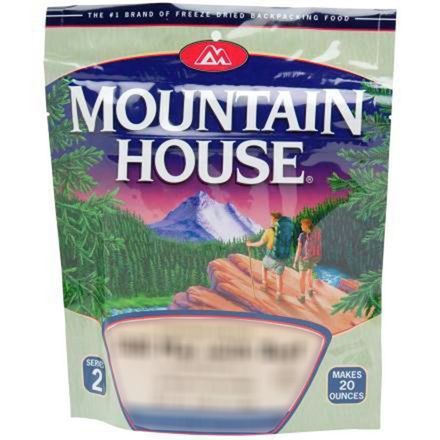 Community Images
Description
Backpack Italian-style with a nice Chianti and the Mountain House Pasta Primavera Entrée.
Hit the trail with a nice Chianti and the Mountain House Pasta Primavera and enjoy a romantic Italian meal for two. You'll both enjoy a tasty 10oz serving of a fresh-tasting vegetarian pasta dinner. Simply boil some water, pour it into the Pasta Primavera's stand-up, resealable pouch, and then gaze into each other's eyes for 10 minutes. Before you know it, you'll have a hearty meal for two that's loaded with protein and nutrients. Now if you only remembered the wine opener.
So satisfying.
Gender:

Female

Familiarity:

I've used it once or twice and have initial impressions
As a meat-loving omnivore, I was nervous about committing space in my backpack to a vegetarian meal. I needn't have worried, Pasta Primavera is delicious!
Slather anything in Parmesan cheese sauce and you're well on your way to glory. Mountain House veggies continue to impress; the zucchini really stood out to me, the texture was perfect. I always enjoy MH bell peppers too, they're roasted which imparts a truly delectable flavor.
We shared a Pro Pak (2 servings) of Pasta Primavera and a Chicken Fried Rice (2.5 servings) between 3 adults. No one went to bed hungry! I'd like to try the Primavera as a stand-alone backpacking meal, I think it would be filling enough, even in the Pro Pak size.
Vegetarian, one of their lightest meals
Familiarity:

I've put it through the wringer
I'm a backcountry guide in Yosemite, and I do a lot of personal backpacking and climbing trips. Sadly, I eat a lot of these meals. I'm incredibly familiar with almost all of them.



Creamy veggies, a very light meal. Low calorie. Don't eat this one after a long day when you're starving. You'll want more. Check out the Chicken Ala King for a heavy meal.



If you get the ProPak verion be sure to break up the hockey puck of food inside. If you just pull out the silica packet and add water and wait you will have a wet ball of food with a dry center. Not delicious. Breaking it up makes it a little like baby food, but its still delicious after a long day.



This is one of the meals I save for low mileage days when I'm not starving at the end of the day. Also, add about 2/3s of the recommended water. Many of their meals require a little less water, this one requires a lot less. Otherwise it will be soupy and brothy. Not bad, but it can be a mess. Just ask my down jacket.
Open Carefully
Familiarity:

I've used it several times
The food is great and really convenient. CAUTION be careful after tearing the foil pouch and taking out the inside plastic bag with the food inside. The very first one I ate was beef stew and I thought the inner bag would be sealed too and my beef stew dinner poured out onto the ground because i unfolded the bag too fast. No to worry, I brought extras and they are so worth the money (economically priced) Just make sure the water gets to boil and you leave it re hydrating at least 5-10 minutes or you'll get crunchies. I have tried freeze dried food before and dehydrated but they have a funny taste, this product, at least the ones I tried, taste just like home made (sort of)
So good I eat it at home!
Familiarity:

I've put it through the wringer
This is one of the few Mountain House meals that I actually love! Last time I went camping, I brought two of them into the backcountry and only ended up eating one. Once I got home from the trip I realized I did not have anything to eat in my fridge so I made the Mountain House. It was just as enjoyable at home as it was in the woods.
Pasta Primavera Forever
Gender:

Male

Familiarity:

I've put it through the wringer
I'm a big fan of freeze dried meals in the backcountry and Mountain House's Pasta Primavera is one of my top 5. Pasta, vegetables and a little cheese. You could add a packet of tuna or chicken, but this dish has always stood on its own for me. When I'm trying to keep up with all the calories I'm burning in the mountains, I don't have a problem eating two portions (one pouch) by myself. Recommended.



2011 photo shows MHPP, pre-boil, at 9,000 ft in Colorado's Comanche Peak Wilderness.
This was ok, not quite what was expected nor as satisfying as the other mtn house
As recommended by others, add 1-2 oz less water and it will be less like a soup and more like a pasta dish. This meal could feed one if you are burning a lot of calories and did not have side dishes to choose from.
Took this meal on the three day backpacking trip on the Wilderness Trail though the White Mountains of NH. One second day had hiked over two peaks and over 11 miles by time got to next camp site. The other three in group had never tried Mountain House products before. We cooked up two bags, they were a little soupy, but tasted so good. May have been because we were hungry, but no one wasted a drop and all had good things to say about the meal. This was my third time using product brand and have been happy each time.
A little too soupy for my taste....
I'll start out with the things I liked about this:
- it has vegetables
- the noodles were very soft
- healthier alternative to some of the other MH meals

Now the things I didn't like
- way too much water that doesn't get soaked up
- pretty bland flavor

I think I will try this again as a lunch instead of dinner entree because it just doesn't fill you up like the other meals do. I might also try draining out a bit of the water before eating.
Rather than write a small review for each individual item I recently purchased I thought I would share it all in one concise review. (Note with most Mountain House I add 2-3 oz less than it recommends)

Recommend:

Breakfast:
Backpacker's Pantry Granola with Blueberries and Milk – Favorite :) (serve warm)
AlpineAire Strawberry Honey Granola With Milk – healthy and good! (serve warm)
Backpacker's Pantry Denver Omelet (needs pan) – best quick eggs I have tried.

Lunch/Dinner:
Mountain House Chicken Ala King – Favorite :)
Backpacker's Pantry Katmandu Curry - Yum
Mountain House Macaroni And Cheese – Oh to be a kid again!
AlpineAire Chicken Gumbo – Delicious

Sides/Deserts:
Mountain House Potatoes And Cheddar With Broccoli – Favorite :)
Mary Janes Farm Organic Garlic Pesto Fry Bread – I love bread! (bring oil)
Mountain House Peas – Eat your veggies! Add 1-2 oz less water
Mountain House Corn – Favorite, Add 1-2 oz less water :)
Mountain House Green Beans – Add 1-2 oz less water
Mary Janes Farm Organic Brownies – Yes really good!
Mountain House Ice Cream Sandwich – Don't get the Neapolitan, this is much better.
Mountain House Blueberry Cheesecake – Nice size berries, make in a bowl NOT the package. (Note it will NOT keep
Overnight).

Pass:
Backpacker's Pantry Garlic Herb Mashed Potatoes – The Mountain House Potatoes and Cheddar with Broccoli are MUCH
better even the resident mouse in our cave didn't like it.
Mountain House Scrambled Eggs With Bacon - Backpacker's Pantry Denver Omelet is much better IMO but requires a
pan.
Mountain House Scrambled Eggs With Ham - Backpacker's Pantry Denver Omelet is much better IMO but requires a pan.

Neutral:
Mary Janes Farm Organic Couscous And Lentil Curry – Not bad but I like my curry with more curry!
Mary Janes Farm Organic Black Bean Corn Bread – Not bad but NOT cornbread just a bread with some cornmeal in it.
Mountain House Noodles And Chicken – Yet to try will update
Mountain House Pasta Primavera – Yet to try will update
Mountain House Mexican Chicken With Rice – Yet to try will update
Mary Janes Farm Organic Alfredo Pasta – Yet to try will update
Backpacker's Pantry Chana Masala – Yet to try will update
Love'd it and I'd buy it again! It's more like 3 servings of goodness. I also like the rice pilaf too. I also like Mary Jane's
This has become my absolute favorite veggie MH meal. On a recent week long backpacking trip I brought along at least one of each of the vegetarian MH meals. I ate this one on the first night out, after carrying a 50 lb. pack over nearly 15 miles. I immediately regretted that I had only brought one of this particular meal. It was incredible! A very good mix of veggies, wonderful flavor, and very filling. I have found, as with all the MH meals, 2 servings is the perfect amount for myself after a long day on the trail.
This is one of our favorites, but the Mountain House Chili Mac and Beef Stroganff meals are slightly better. The pasta is good with a little parmesan cheese and pepper added. We'll defintely be eating more of this in the future.
I like this and the chili mac with beef about equally. Very tasty. Fills me up.

Leave the bag sitting longer than directed... will taste better if you can give it a bit extra time BREWING! Gave it 4 stars since I don't like giving 5 stars to gear unless it really knocks my socks off. This is great, but not fantastic... could definitely be cheaper.
this is our least favorite of mountain house dinners we tried. too much cheese. not enough for 2, but a little too much for one person.
I have probably had 4 different kinds of the mountain house meals. I think this one is the best. It has just has much protein as the others and also has the most vegetables in it by far. The sauce tastes a little cheesy too. Just make sure you have a big water bottle to follow this as it has tons of sodium. Again get the 2 servings for one person.
I agree with another reviewer, this is single serving for someone with a big appetite. I like to have a 1000cal meal at the end of a hiking day in the winter to keep me warm. This is great with a dash of garlic powder and a splash of 270cal per oz extra virgin olive oil. Very satisfying for one or share with a buddy with other food.
Great with fresh Alaskan Mussels
My first experience with Mountain House products was on a week long backpacking trip to the Grewingk Glacier, across Kachemak Bay from Homer, Alaska. We caught a water taxi, got dropped on the beach and started a great adventure that involved a black bear, a distant brown bear, a small forest worth of deadfall, treacherous and unwarranted river crossings, a heavy tram with a 1:1 "mechanical advantage" and enough postholing to satisfy anyone.

Needless to say we were extremely hungry at the end of each day. My wife was four months pregnant, which left her eating for two amd me carrying a little extra gear and burning a few extra kcals. My brother-in-law was in his early 20s, which is like eating for eating for two.

We carefully planned our trip, filled our "pantry" and mistakenly assumed that 2 servings was, well, 2 servings. As in: Serves 2. By day 2 we recognized our gross underestimation and by day 4 we were running low on provisions, namely hot entrees. On day 5 we rationed our supplies and settled for a bit hungry. Our saving grace was a hypoglycemic, overland journey to the beach to gather mussels to supplement. They never tasted so good!

The point: While tasty, these will barely satify ONE hungry person, noting that 600kcal if only a fraction of what is burned for most. Since, we always plan our provisioning based on total calories and have had no issues since!
It's great to get so many vegetables in the dinner, after you've been out in the woods for a few days and can't remember what they taste like. The sauce is tasty, but overall we've found the MH dishes with chicken are better than the vegetarian options.