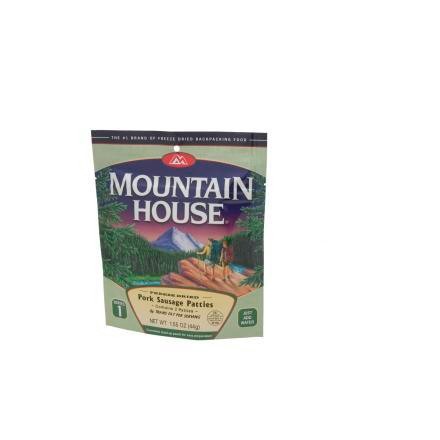 The Mountain House Pasta Primavera Pro-Pak single serving entrée allows you to enjoy a tasty, protein-packed vegetarian meal anywhere. This compact vacuum pouch won't expand at altitude, weighs only 4oz, and yields a hearty 16oz serving. All you need is boiling water and a spork. Simply pour hot water into the stand-up zipper pouch and a few minutes later you'll be enjoying an energy-replenishing meal.
Very tasty! A must for any camping or backpacking trip.
My wife, daughter and I tried this one last night. We only used the 1 serving size as a tester. This was an incredibly tasty dish, and I'm not much of a vegetable eater. The pasta wasn't overly firm and the sauce was very creamy. I didn't have any problem with watery consistency. The flavor was awesome and I was chastised by my wife for not having more. My three year old daughter even asked for more! We going to add this to our food stock list to keep on hand, as well as ensure we have plenty for our family camping trips. (I'll have to keep one aside for when I go backpacking...but don't tell momma that. ;-D) Oh, forgot to mention that my wife is Thai and very picky about how her food tastes. She finished up the remainder before our daughter or I could stop her. Not a lot of pix on here, so I will endeavor to take them whenever we use these.
More like soup than pasta
The directions said to add 14oz of water and to let sit, so I finished setting up can and returned 15mins later. When I open the pouch the contents were still very watery; had this happen on two pouches. The taste was alright, but not suggested due to the watery consistancy.
After years of trial and error, I only pack Mountain House. I don't know what it is, but their meals are the best tasting and easiest to prepare. Just add hot water (cold in a pinch) to the pouch, wait, and eat. The Pasta Primavera is one of my favorites and I take one on every hike.
OK, it's not as good as going to your favorite Italian Restaurant, but my rating is based on this being a meal in a bag. This is my favorite meal by Mountain House. Follow the instructions and the pasta will be perfectly re hydrated.
This is the best tasting backcountry dish I have had to date! A surpirsing delight the first time I had it on the trail...have it planned for every third meal on my next trip. I am bringing a few extra dehydrated veggies to add in this time.

So good I even carry one in my strike team bag for campaign fires so I dont get stuck eating MREs
tastes great, better than most, but......
with all the veggies mixed in, make sure to bring some extra TP on the trail....
, ☃bcs_badge_alumni_label☃
recommended
Really creamy and satisfying. I thought I would miss the fact that there was no meat in it but I didn't!
I have found this to be one of the better made Mountain House meals. It's filling and tasty and comes in a very compact light package.
This is some good stuff. I have yet to not like a Mountain House meal. The pasta primavera is not as flavorful as some other meals but it does taste great. You will like it.