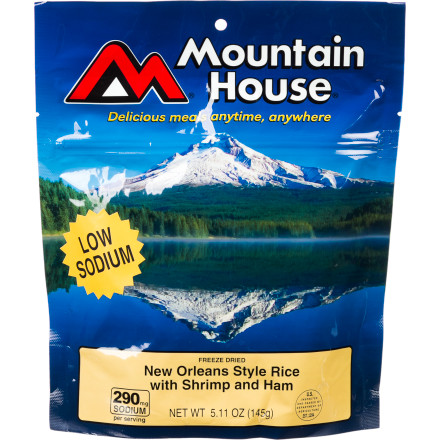 Detail Images
I like that it is possible to get something other than chicken in camp food.
good protein, a little spicy
Familiarity:

I've used it several times
This meal was pretty good, I've come across ones where they are either way to salty, or the consistency was way off, but this one was darn good. I admit it, my preference seems it needed a little more salt at first, but it must not have been that bad because I destroyed the whole bag without thinking twice about it.
So shrimpy, so tasty.
Familiarity:

I've used it once or twice and have initial impressions
I only recently started taking Mountain House meals with me into the field but I've been really pleased with everything I've tried. Full disclosure: I've never eaten a Mountain House in the comfort of my own home; I've always consumed them out on the trail where I tend to be ravenous and everything tastes WAY better.

Everything rehydrates nicely, no chewy or hard bits. I never put the full amount of water in a MH, always short it by 1/4-1/2 a cup and it seems to work out well. I add water, stir, add a bit more water, then seal the bag as per instructions. I agitate the bag a few times during the wait.

Holy Shrimp, this stuff is tasty! There's a lot of meat in here folks. The shrimp are tiny but plentiful - about 1/2" across, the size of canned shrimp. The ham cubes are even smaller than the shrimp but there are more of them. The whole dish tastes pretty shrimpy so if you aren't a seafood lover, I'd steer clear. I was impressed with the rice, it wasn't al dente nor was it mushy. I enjoyed it enough to buy it again for an upcoming trip and I bet it's the meal I'll eat first - Very Tasty!
Not too shabby...
Familiarity:

I've used it several times
It is alright. Nothing gourmet but makes a decent meal. If you want something to mix up your backcountry meals this would do it.