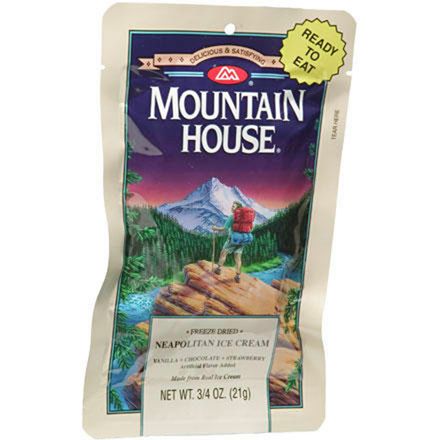 Description
The only on-trail cure for ice cream cravings.
Mountain House's Neapolitan Ice Cream Bar is a crunchy, ready-to-eat dessert. It's a freeze-dried ice cream bar made to take on the trail. It doesn't require any preparation and you can pretend you're orbiting the earth while eating your astronaut food.
Sweeeet
Familiarity:

I've used it several times
If anyone has had a rough day, or a long day or a day that just is exhausting, they can truly understand and appreciate the joy that a little ice cream can bring.... This is definitely not ice cream, but after a couple long days it was nice to have something sweet instead of the protein and carb-packed foods. It's a little dry, but once you start chewing it gets good.
Childhood Dream
Familiarity:

I've put it through the wringer
johngchrist nailed it. This is the stuff you would get as a child at the space/science museum. No more tugging on your parents shirt and throwing an tantrum though, you can just buy as much of this as you want now because it's disguised as something reasonable for adults to buy. Just put on some hiking boots and a backpack and no one will bother you for eating a few of these a day.



Seriously though, if you're packing for a camping/backpacking trip this is a great way to treat yourself to something tasty. It doesn't take up much space and weighs practically nothing. Tell your friends to get some too though, or they will try to get a bite of yours.
like going to the space museum
Familiarity:

I've put it through the wringer
Reminds me of being a kid going to the space museum. I was probably more excited about getting this ice cream. What a great treat when your out in the middle of nowhere. Probably could do with something else but why would you want to. trying to preserve the thing in one piece is the hard part.
The Decline of Western Civilization
Familiarity:

I've put it through the wringer
Willy Wonka said, 'A thing of beauty is a joy forever.' He was quoting John Keats' poem 'Endymion'. They were both referring to this sandwich.



The Mountain House Ice Cream Sandwich truly is a thing of beauty. It is likely an instrument of Satan. Well, this Neopolitan version is his Evil Sandwich v2.0... much like the Russians building the Tsar Bomba after the Bikini test.



My t-shirts, down jacket, and the laps of several pairs of my backpacking pants have become intimately familiar with this treat. Long philosophical discussions, even heated arguments, have been wrought over the most delicious portion of the ice cream sandwich. Vanilla, Chocolate, or the transcendent Strawberry. Maybe just the wafers of the sandwich itself. Then there are the combinations of flavors that can be created. Friendships have been created and destroyed by this sandwich.



Prometheus did not give us fire. He gave us this sandwich. Now look where we are, look at the shame we've brought upon ourselves. Let us wallow in the miserable mire of our humanity, in our sin, in our extravagant ways.



It will happen to you. Its happened to me. Its 2am. You'll tell your girl that you can't sleep. You'll stroke her hair and give her a light kiss on the cheek as she stirs in her sleep. You'll crawl out of bed like the miserable wretch that you are, and you'll find your stash. You'll muffle the sounds of the package being opened. Maybe you'll hide in the closet as I did, shoving the package into the pocket of your favorite peacoat, hoping to hide the crinkling sound as it opens and releases the opiatic fumes of joy.



You'll crouch on the floor of the closet like Gollum with his ring. Your face will be covered in crumbs. The door to the closet will open and your girl will look down at you, disappointed, like you're the dog eating the trash. You'll grovel and cry while you drool on the floor and mutter.



Be ashamed, sir. I still am. We are filthy.
Nice treat!
Familiarity:

I've put it through the wringer
I got one just to try it and there great! The tick is to let it melt. I will def be taking a few when we go one out annual family camping trip.
Whats that word? Scrumptious?
Familiarity:

I've put it through the wringer
I'm not weird for eating these at home for snacks am I? Cause that's how delicious they are. I bought 6 for camping and I have 1 left.
Closest thing to ice cream you will get while backpacking! Not a necessity but its good from time to time
taste is great and its small and a sweet treat after a long walk.
Just like at the planetarium
If you ever ate the astronauts/space ice cream as a kid. This is it. Just cheaper.
I would rather carry real food
I did not enjoy the taste(or the crunch) at all. I should mention though that the rest of my hiking party enjoyed them, so maybe its just me! I would rather carry real food that is a little heavier-or nothing at all.
Such a great treat for out on the trail. A lot like space food from back in the day. Good texture and awesome taste. Best if you let it dissolve a little bit before chewing.
The trick to this is to let it melt in your mouth, don't chew it. You can chew it if you don't mind crunchy ice cream. But the taste is pretty good, and my kids are crazy about it... A fun treat...
I really like neapolitan ice cream. Aside from cookies and cream, it is one of my favorites. Being able to take it into the backcountry with me is outstanding! It's basically the same stuff as the astronaut ice cream we used to get when I was a kid. My son loves this so much that sometimes we buy it at Walmart just for a treat when we are at home.
this is the best of the ice cream sandwiches. Why get one flavor when you can have 3. Great little treat to bring for the group.
I bought one to try out. Man, talk about a pleasant surprise!

The taste is just like a frozen one. I really expected a cardboard-like taste.

Mine was a little crumbly, partially broken so it was a little messy. But so what! When you're out above the timberline this treat satisfies the taste buds!
Freeze-dried ice cream? I tried it and it's actually good. A little weird feeling in your mouth until it starts to melt. Then it tastes just like, well...melted ice cream. Kinda cool and always a conversation starter.
Its good to have fun food when hiking, or recharging after a long charge.
The Best Food of All Time
Reminded me of the gift shop at the Air and Space Museum in DC. Real live astronaut ice cream in my backpack? Awesome. The chocolate is good enough, the vanilla is super tasty, and you better win the arm wrestling match if you want the strawberry. It rules.
I've enjoyed this stuff ever since I was a little kid, and I continue to enjoy it today. The sweetness goes so well after a long day on the trail and a hot meal. And on top of that, you never have to wait for it to cook or set up. Does have a little bit of a buttery taste, but I think that is what I love.