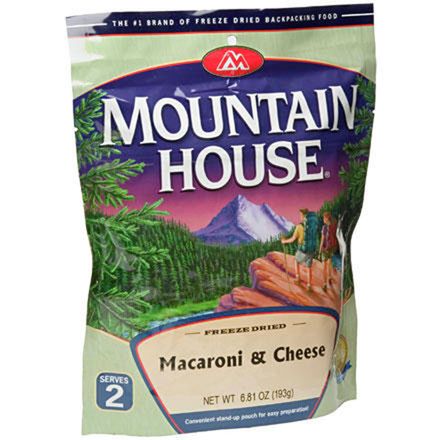 Community Images
Description
This is one trail meal you already know you're going to like.
A little comfort food can make any foreign land feel more like home. Mountain House's Macaroni and Cheese for two is a vegetarian meal that boasts loads of calories for when you're really pounding the trail. It's a thick mix of creamy cheese with pasta to boost your carbs for the next day too.
don't bother! Yerk!
Familiarity:

I've used it once or twice and have initial impressions
It's over creamy (running creamy, not nicely creamy), the pasta stayed dried and crunchy, there is no taste but salt. A big big NO!!!
Someone at Mountain House loves Al Dente
Familiarity:

I've used it once or twice and have initial impressions
Ze macaroni is, how you say, a leedle bit...firm.

*cough* It's possible that I didn't allow enough extra time to rehydrate the pasta...or even the allotted time. I was hungry.

However, it's been my experience with Mountain House that while other types of noodles rehydrate well (lasagne bits, whatever is in pasta primavera) their elbow macaroni tends to stay tough.

Some Mountain House meals, you can get the water just barely boiling and the meal will turn out fine. With the macaroni variants, I'd get a ROILING boil and plan on doubling the time - if you can stand it, I can never wait :)

As always with Mountain House, short the water! Never put the full amount in a dehydrated meal, you can always put more in later. It's like coffee, dial back the water and make some black, sludgy, spine-stiffening COFFEE - the wusses can add water and make their tepid cup of sadness.

But hey, this is all about the taste, right? Tastes pretty damned good. I'd say MH Mac n' Cheese is more like Velveeta than it is Kraft, it's less tangy/sharp than Velveeta. It's hot and creamy and a little bland.

Reach for Mac n' Cheese on the trail when you're feeling creative, this pouch cries out for customization. I'm gonna throw in some Knorr or MH vegetables next time, or maybe add some MH fajita filling for a 2-3 person meal.
Pretty Yummy
Familiarity:

I've put it through the wringer
This is what I usually go to along with the Beef Stroganoff. Its yummy and filling and everyone usually likes it!
Pretty Good!
Familiarity:

I've used it several times
Very decent meal. I was overall satisfied. Not exactly what I had it built up to be in my mind but close. Great source of protein & better than not eating at all!
Bland but filling and lots of protein
I usually try and do physically demanding hikes that require a lot of protein in order to recover properly for the next day. That said, I bought the mac and cheese solely because it has 20 grams of protein per serving and was planning on eating the whole meal anyway (which is usual for me) It was good and filling but like others have said it's a little bland. Bring some salt, paprika,etc or like a previous reviewer said mix it with another mountain house that's packed with flavor like buffalo chicken.
This is some pretty decent Mac n cheese. It's a classic meal, but I think it was jut a tad bland for my taste buds. Bring a little seasoning packet along and you're set.
Good... But my expectations were higher.
I'm going to give this 5 stars, because it was good and filling, but there was still something lacking... I can't quite put my finger on it.



Be sure to use a little less water than the recipie calls for, or you'll end up with soup.
I picked up many different meals and sizes of this product for an emergency kit rather than for use camping or backpacking. I have used this brand for backpacking in the past and I am always impressed with their flavor and how fulfilling the meals are.
Eating a plate full of mac and cheese makes me feel like I'm getting away with something. This hit the spot just don't know if I could classify it as a meal like I did when I was young
backpacking food favorite!
So I mix this with the buffalo chicken wrap meal http://www.backcountry.com/mountain-house-buffalo-style-chicken-wrap

This meal is quick, easy, and delicious. The mac is a little "plain" on its own, but the buffalo chicken livens it up. Mixing with the mac & cheese makes the chicken a meal without having to tote the tortillas.
Rather than write a small review for each individual item I recently purchased I thought I would share it all in one concise review. (Note with most Mountain House I add 2-3 oz less than it recommends)

Recommend:

Breakfast:
Backpacker's Pantry Granola with Blueberries and Milk – Favorite :) (serve warm)
AlpineAire Strawberry Honey Granola With Milk – healthy and good! (serve warm)
Backpacker's Pantry Denver Omelet (needs pan) – best quick eggs I have tried.

Lunch/Dinner:
Mountain House Chicken Ala King – Favorite :)
Backpacker's Pantry Katmandu Curry - Yum
Mountain House Macaroni And Cheese – Oh to be a kid again!
AlpineAire Chicken Gumbo – Delicious

Sides/Deserts:
Mountain House Potatoes And Cheddar With Broccoli – Favorite :)
Mary Janes Farm Organic Garlic Pesto Fry Bread – I love bread! (bring oil)
Mountain House Peas – Eat your veggies! Add 1-2 oz less water
Mountain House Corn – Favorite, Add 1-2 oz less water :)
Mountain House Green Beans – Add 1-2 oz less water
Mary Janes Farm Organic Brownies – Yes really good!
Mountain House Ice Cream Sandwich – Don't get the Neapolitan, this is much better.
Mountain House Blueberry Cheesecake – Nice size berries, make in a bowl NOT the package. (Note it will NOT keep
Overnight).

Pass:
Backpacker's Pantry Garlic Herb Mashed Potatoes – The Mountain House Potatoes and Cheddar with Broccoli are MUCH
better even the resident mouse in our cave didn't like it.
Mountain House Scrambled Eggs With Bacon - Backpacker's Pantry Denver Omelet is much better IMO but requires a
pan.
Mountain House Scrambled Eggs With Ham - Backpacker's Pantry Denver Omelet is much better IMO but requires a pan.

Neutral:
Mary Janes Farm Organic Couscous And Lentil Curry – Not bad but I like my curry with more curry!
Mary Janes Farm Organic Black Bean Corn Bread – Not bad but NOT cornbread just a bread with some cornmeal in it.
Mountain House Noodles And Chicken – Yet to try will update
Mountain House Pasta Primavera – Yet to try will update
Mountain House Mexican Chicken With Rice – Yet to try will update
Mary Janes Farm Organic Alfredo Pasta – Yet to try will update
Backpacker's Pantry Chana Masala – Yet to try will update
Really filling for one person (I almost couldn't finish it) and pretty tasty. However, like others have stated, let it cook longer than it says if you don't like a few partially crunchy noodles.
tasty, but macaroni not fully hydrated
Had this on a 3 day backpacking trip in the Sierra Nevada. It would've been great if the Macaroni had cooked all the way through, but I was left with macaroni that was soft on the outside and hard on the inside. Totally edible, and better than a lot of other freeze dried meals I've had, but not amazing. I waited an extra 10 minutes trying to get the macaroni to fully hydrate, but to no avail. I'd be willing to try again and hope that it cooks the next time.
For cheese lovers like myself this is the ticket. Light, easy to pack, and delicious. A crucial combination when on the trail. Pregnant wife approved.
I loved these so much while camping in the desert, with a jetboil there is no easier meal...besides granola of course. I like this mac n cheese so much that I sometimes sneak it while at home.
Has good flavor but the macaroni tends to be a little chewy.
My daughter loved this entree! Very hearty! She was only able to eat 1/2 bag. I tasted it and thought it was very good. Needed to heat 12 minutes instead of 10 to thoroughly cook it, though.
I always take these along whether on a day hike, over-nighter, or multi-day treks.

They taste great and very filling.
Way to cheesy for my taste. Was more like Mac and Cheese soup. I used less water then recipe called for. I would not recommend this one.