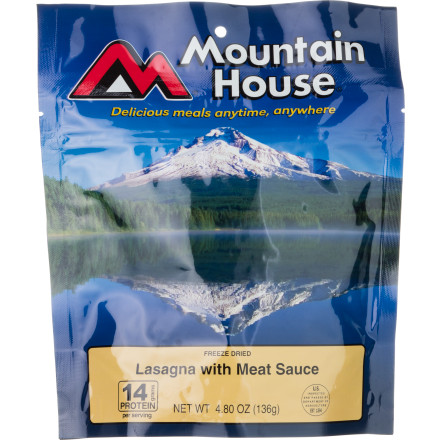 Detail Images
I freely admit to being a lazy backpacker. At the end of a long day ,and after setting up camp, the last thing I want to do it spend a lot of time cooking my supper and then cleaning up afterwards. Enter the Mountain House Entree. Backcountry cooking doesn't get any easier than this. I tend to always be hungry enough to finish off a 2-serving entree on my own. I've tried, and liked, a number of Mountain House entrees but the lasagna is the one I keep coming back to.
Classic
Familiarity:

I've put it through the wringer
This is one of my go-to meals.
One tip--go for a titanium spoon/fork, as you'll be gnawing 'cheese' off you plastic utensil for the rest of your trip.
Also, this is definitely a meal for two.
Mountain House meals are incredibly convenient when it comes to having meals in the backcountry. They are super easy to make and they are ready in no time! Personally, I don't add as much water as directed because I prefer it not to be runny like soup. Also, they are surprisingly way more filling than you would think! Treat yourself to some of these if you haven't already!
Tasty!
Familiarity:

I've used it once or twice and have initial impressions
Between the Lasagna and Chili Mac it is a toss up. Both are super tasty. Light weight, easy to pack, easy prep, and easy clean up. Overall I would highly recommend. Wait time you may find is a bit longer than the packaging suggests, but it is worth the wait.
yummy
Familiarity:

I've put it through the wringer
i love the more simple MH meals, and this is one of my favorites.
Taste great and easy to make. I take a couple of these on every trip I go one, and a couple spaghetti too.
I repackage my meals at home before I go out. Sure the MH packaging makes a great bowl to eat out of, but they take up too much space for my liking. I put my meals in ziplock bags and dump the meal in my jetboil cup of boiling water and let it sit for a while.
cleanup on this one is a bit more involved, its really cheesy.
Another one of my favs, I dig this stuff and would probably eat it off the trail and on the trail. Cheesy.
There are two things that I don't go backpacking without, Mountain House Chili Mac w/Beef, and Mountain House Lasagne with Meat Sauce. These are my two favorite dehydrated meals, and they have never done me wrong. They have followed me from the Wasatch, to the Grand Canyon, to the Sierras. You really can't go wrong!
Sooooo good
Familiarity:

I've put it through the wringer
Delicious. It tastes better than it looks! A Mountain House meal I?d definitely pack again.
Tasty
Familiarity:

I've used it several times
This is one of the better MH meals. Tastes just like lasagna at home... but in a freeze dried baggy and with no big noodle things. Def. a go-to backpacking meal.
Delicious!!
Familiarity:

I've put it through the wringer
I like to eat these camping . . . and anytime I find out in the kitchen cabinet. Definitely one of my favorites and a staple flavor to have in your stash. I would highly recommend giving this one a try.
It makes the world a better place.
Gender:

Female

Familiarity:

I've used it once or twice and have initial impressions
It's a nice marinara with cheese blended throughout the sauce, the meat chunks are small but flavorful, the noodles are about 1.5" square.

Full Disclosure: I've eaten this one time. It was after a 5 mile hike turned into 12 miles and we had to set up camp in the dark and I was so dirty that I took an icy bath in the river. Then we ate this glorious mana from heaven known as Mountain House Lasagne with Meat Sauce and all was right with world.

So, all I'm saying is, my opinion of this fine cuisine MAY be slightly elevated by the circumstances in which it was consumed.

Yes, the cheese is sticky, sticky and Awesome. If you eat it out of the Mountain House bag, you only have to chew the cheese off of your spoon/spork/fingers and then fall into a food coma.
Great
Familiarity:

I've put it through the wringer
Its more of a soupy lasagna but it is still good none the less for backpacking food. I did find that the cheese would collect on my spoon which was not my favorite. This is defiantly one of the better mountain houses.
Pretty Good!
Familiarity:

I've used it several times
we recently took this with us to a three day trip to the Scotchman Peaks & it was really enjoyable. It was filling & sure beat a cold meal.
Scrum-diddly-umcious
Gender:

Male

Familiarity:

I've used it several times
This stuff is so tasty and it just warms your belly. There is downside though - the cheese tends to stick hard to your spork and it's hard to wash off. I usually use some dirt for abrasiveness and then wash with soap and water.
I always take it with me on hikes and camping its good and fills me up
I generally like all MHS freeze dried food. This one was not a winner for me. It was just too spicy but without strong flavor, if that makes sense. So while I would not turn it away if offered, I would like in the pack for something else first.
the Mountain house brand is the best. I love the meat sauce and the cheese melts in your mouth great taste and fills you up.
This one was yummy and filling but I much prefer the spaghetti one.