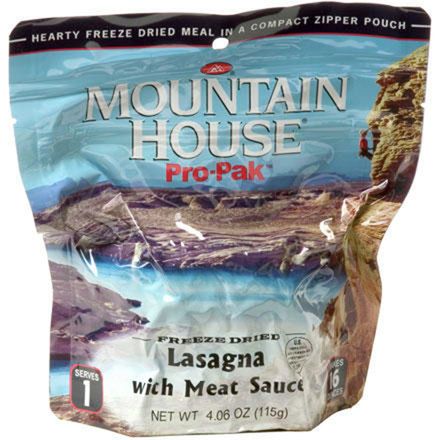 Community Images
Description
Because you can't bring mom on every backpacking trip.
There's nothing like a little comfort food after a long day of hiking. Mountain House's Freeze Dried Lasagna with Meat Sauce meal for one is just like mom used to make only it's lighter, tastier, and well, you have to make it on your own. It comes in a foil package that stands up on its own for easy eating and cooking.
You've heard from me before.
Familiarity:

I've put it through the wringer
I've reviewed MH Lasagna before, in fact, I think I leave a review about it after every trip because it's just so damned good.

Mountain House advertises 2 pouches, the traditional and the smaller vacuumed Pro-Paks. For a long time, the traditional pouches were 2.5 servings and the Pro-Paks were 2 servings, a little smaller.

My recent MH Lasagna was a Pro-Pak and it was 2.5 servings. Sometimes I find Pro-Paks with old, light blue packaging that say 1 serving but the nutritional info indicates that it's the same amount of food as a 2 serving.

My point is, MH packaging does vary a little bit.

Another wrinkle - I've noticed Walmart selling really small traditional MH pouches that are DEFINITELY only 1 serving.

On a less-boring note, Pro-Paks rule, major space-saver AND Mountain House Lasagna is delicious, get it in whatever size you can and get A LOT!
Cheese Glorious Chesee
Familiarity:

I've used it once or twice and have initial impressions
If you like cheese this in the meal for you.
delicious
Familiarity:

I've put it through the wringer
i love the more simple MH meals, and this is one of my favorites.
Taste great and easy to make. I take a couple of these on every trip I go one, and a couple spaghetti too.
I repackage my meals at home before I go out. Sure the MH packaging makes a great bowl to eat out of, but they take up too much space for my liking. I put my meals in ziplock bags and dump the meal in my jetboil cup of boiling water and let it sit for a while.
Pretty good but too cheesy
Familiarity:

I've put it through the wringer
The taste of this is definitely really good, no need for hot sauce or added pepper etc. The taste is basically the exact same as the spaghetti and meat sauce but with cheese. My only complaint, and it's only been a problem once, is that this one is almost too cheesy. There's so much cheese that it glued itself to my spork, so stuck that there was no cleaning it off till the next boil.



Normally that's not a problem, but for some reason it tore up my stomach during the hike after eating it for lunch, just make sure your hiking partners are not trailing you.
So effin' good, I'd fight you for it!
Familiarity:

I've put it through the wringer
Lasagne is the best Mountain House meal. Yes, it will stick to your specially anodized titanium spork but you won't give a damn because you'll be busy mowing down on meaty sauce, carby noodles, and a load of surprisingly tasty cheese.

I last had the pleasure of consuming this glorious bounty while camped at Heart Lake; the day had been long and hard, and If my buddies hadn't been cooking too, I might have slunk off to my tent without dinner. I dumped the boiling water over the 'zangna, sealed up the bag, and shivered, It was the only night of the trip we didn't have a fire. Then I had a momentous revelation, I hugged my Lasagne, and by the Backcountry Goat, my Lasagne hugged me back!
Good but Bland
Familiarity:

I've used it several times
Compared to other products by them, I would say this one was just "meh", its palatable and decent, but wasn't good like some of their other menu items, worth it if its on sale, otherwise I'd recommend another item
My favorite mountain house
Familiarity:

I've put it through the wringer
Indeed, the fun is in chewing on your spoon....



Like all instant dinner packs, this one has a few simples steps:

1. open and remove the dessicant pack

2. add boiling water

3. stir

4. let sit for x minutes

5. Chew cheese off the spoon

6. enjoy!

7. repeat step 5

It's the step 5 that separates this from many of the others though. While all my hiking buddies are sitting around, anxiously waiting for their beef and noodles or chicken terriaki to hydrate, drooling and panicking about the unknown, I have a critical task to keep me occupied. All that cheese that instantly hydrated and melted to the spoon/for/etc. keeps me occupied while the rest of my tasty meal hydrates. So I am not panicking contemplating an angry bear rushing up and stealing my meal I hiked so long to earn. I'm relaxed with a full task list of pick, chew, lick, scrape and examine.



And I get to do it again after.



All that fun and activity, and the lazagna tastes really good.




This isn't too bad, but did something to my stomach at 2 am in the morning that made me regret eating it. My favorites are still the chicken and beef stews, and noodles with chicken


the lasagna is one of my favorite from mountain house, right alongside the beef stroganoff. reminds me of chef boyardee.. but that's not a bad thing!
All time favorite from Mt House
Familiarity:

I've put it through the wringer
Its cheesy. Real cheesy. You'll be pulling cheese off your mixing spoon for the full cooking time it takes. I find that adding water, closing and vigorously mixing by gentle massaging and inverting helps to avoid a spoon caked in cheesy orange cheese. If you're an Emeril Lagasse and feel the need to kick it up a notch, pack a chunk of reggiano or those little Kraft parmesan cheese packs you can find at pizza jaunts.
Almost identical to the spaghetti
Familiarity:

I've put it through the wringer
I'm a backcountry guide in Yosemite, and I do a lot of personal backpacking and climbing trips. Sadly, I eat a lot of these meals. I'm incredibly familiar with almost all of them.



Since this is a ProPak be sure to break up the hockey puck of food inside. If you just pull out the silica packet and add water and wait you will have a wet ball of food with a dry center. Not delicious. Breaking it up makes it a little like baby food, but its still delicious after a long day.



I usually plan my meals out for low mileage, easy days... and then long climbs. This is my meal of choice for a really long day when I'm getting to camp on fumes and I know I want a lot of food.
I don't eat it, but I pick up meat meals for my boyfriend in the backcountry, and he digs it. Super easy to make, ready to eat soon, and good source of protein out there. He says that he likes the Mary Jane Farms one's more, but this lasagna is still pretty good!
Good stuff
Familiarity:

I've used it several times
This was the first time I ever tried one of these meals. I love how easy it is to make while backpacking/camping. Boil up some water, dump it in the bag, and voilaaaa you have an instant fantastic meal in front of you while your other buddies struggle to burn a hot dog in the fire.
Great taste! Mountain house did it right. In my top 3.
Tastayy Lasagna with Meat Sauce
Gender:

Male

Familiarity:

I've put it through the wringer
Probably the best tasting dehydrated food out there. Absolutely my favorite flavor and my go to for any backpacking trip.
Super Duper Lasagna w/Meat Sauce
Familiarity:

I've used it once or twice and have initial impressions
As far as dehydrated foods go this Mountain House Lasagna with meat sauce is top notch. It's the bees knees. I have considered buying this to eat even when i'm not camping. It's just that good.
Delicious
Gender:

Male

Familiarity:

I've used it several times
No where near Homemade but then again its not suppose to. Easy to make and packable. Highly recommend this to anyone. The Chicken and Rice happens to be one of my personal favorites.
This was actually a really good meal.
We were pleasantly surprised.
Mountain House always has great meals for backpacking, so we knew to expect greatness.
closely followed by the Chili Mac. Which is funny since I am reading powder4breakfast's review below mine. either way you go, when it comes to freeze dried foods, you can't go wrong with Mountain House Lasagna.