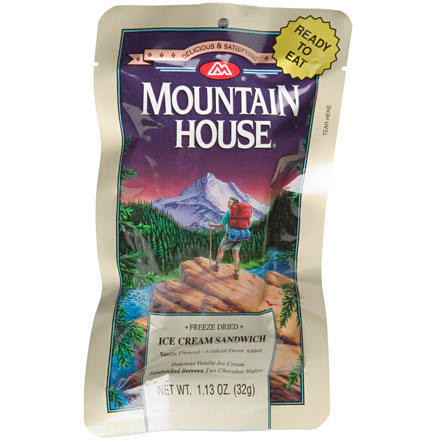 Community Images
Description
Real space food for the earthbound.
Mountain House's Ice Cream Sandwich is a crunchy, ready-to-eat dessert. It's a freeze-dried ice cream bar made to take on the trail. It doesn't require any preparation and will satisfy your ice cream cravings when you're days from anywhere.
a trail staple
Familiarity:

I've used it several times
This never fails to be a treat at the end of the trail on a hot day. It's a sweet simple snack. I never cease being impressed by Mountain House's offerings, variety is the spice of life. (Also keeps the wife happy after 5 days of backpacking)
great treat
Familiarity:

I've used it several times
at the end of the day, its a nice surprise when you remember you packed it, or for the kiddo. Tastes good.
You want it
Familiarity:

I've put it through the wringer
Carry extras to surprise your group at the end of the day and they'll love you long time.



Great treat at the end of a tough day. Although keep in mind it's a sponge. The other week I was in a low water environment, really had to cut back on our water intake for some time. Eating this was probably a mistake. You can't exactly eat it in the typical sense, you basically just bite a piece off, an let your saliva work its magic without chewing. Of course, if you're parched, this won't work out too well.



Otherwise, it really is amazing, the taste is on point with the real thing, only the texture is different (as typical with freeze dried food).
Just eat it.
Familiarity:

I've put it through the wringer
Seriously. Just order it and put it in your mouth. No need to chew. It will become a delectable gelatinous mass of sugar in your mouth before you know it.



Why are you still reading this? Order now!
Ice Cream Goodness....
Familiarity:

I've used it several times
The whole concept of this is baffling. But so good. I truthfully wouldn't recommend packing this way 'out there' because by the time you are ready to eat it at camp it will be broken into a powder & small pieces. But whatever... it is still good.



Definitely worth trying once.



I personally buy these every time in need a couple extra dollars to push me over that $50 free shipping limit.
Well, holy crap...
Familiarity:

I've put it through the wringer
It is, indeed, a freeze dried ice cream sandwich. I don't say this to state the obvious. I say this because it is a thing of beauty. It is a school lunch, memories of childhood, dried out ice cream sandwich.



I don't really take them in my bear can and into the backcountry. They are as brittle as a brick of climbing chalk, and about as dry. It will shatter into tiny fragments that you will spend an hour Hoovering off your shirt with your mouth. You will have sticky bits of it in your beard (if you have a beard). If you don't... I pity you, because those latent beard bits of dried ice cream sandwich are also a thing of beauty.



Buy one. Amaze your friends and peers. Impress your boss. The pieces you find in your sofa or bellybutton a week or so later will only pay testament to your good taste and refinement.
Great item to get free shipping!
Familiarity:

I've used it once or twice and have initial impressions
Eat this ice cream sandwich while reveling in the fact that you just earned free two shipping for spending an extra $2.39!
For what it is its pretty good. Its freeze dried ice cream haha. The taste isn't bad. Overall pretty happy with it. Nice thing to have in the pack as a snack or dessert.
Rather than write a small review for each individual item I recently purchased I thought I would share it all in one concise review. (Note with most Mountain House I add 2-3 oz less than it recommends)

Recommend:

Breakfast:
Backpacker's Pantry Granola with Blueberries and Milk – Favorite :) (serve warm)
AlpineAire Strawberry Honey Granola With Milk – healthy and good! (serve warm)
Backpacker's Pantry Denver Omelet (needs pan) – best quick eggs I have tried.

Lunch/Dinner:
Mountain House Chicken Ala King – Favorite :)
Backpacker's Pantry Katmandu Curry - Yum
Mountain House Macaroni And Cheese – Oh to be a kid again!
AlpineAire Chicken Gumbo – Delicious

Sides/Deserts:
Mountain House Potatoes And Cheddar With Broccoli – Favorite :)
Mary Janes Farm Organic Garlic Pesto Fry Bread – I love bread! (bring oil)
Mountain House Peas – Eat your veggies! Add 1-2 oz less water
Mountain House Corn – Favorite, Add 1-2 oz less water :)
Mountain House Green Beans – Add 1-2 oz less water
Mary Janes Farm Organic Brownies – Yes really good!
Mountain House Ice Cream Sandwich – Don't get the Neapolitan, this is much better.
Mountain House Blueberry Cheesecake – Nice size berries, make in a bowl NOT the package. (Note it will NOT keep
Overnight).

Pass:
Backpacker's Pantry Garlic Herb Mashed Potatoes – The Mountain House Potatoes and Cheddar with Broccoli are MUCH
better even the resident mouse in our cave didn't like it.
Mountain House Scrambled Eggs With Bacon - Backpacker's Pantry Denver Omelet is much better IMO but requires a
pan.
Mountain House Scrambled Eggs With Ham - Backpacker's Pantry Denver Omelet is much better IMO but requires a pan.

Neutral:
Mary Janes Farm Organic Couscous And Lentil Curry – Not bad but I like my curry with more curry!
Mary Janes Farm Organic Black Bean Corn Bread – Not bad but NOT cornbread just a bread with some cornmeal in it.
Mountain House Noodles And Chicken – Yet to try will update
Mountain House Pasta Primavera – Yet to try will update
Mountain House Mexican Chicken With Rice – Yet to try will update
Mary Janes Farm Organic Alfredo Pasta – Yet to try will update
Backpacker's Pantry Chana Masala – Yet to try will update
Second only to the Mountain House Neapolitan Ice Cream, I always throw in a couple of these with every BC order. I have to admit I have never actually taken them camping - they don't last long enough to get packed...
Just like I remembered from the Planetarium
If you ever ate the astronauts/space ice cream as a kid. This is it. Just cheaper.
OK, I will be honest, I am not the biggest fan of ice cream to begin with, but I thought this tasted awful and after a long hike it made me want to throw up. It was better than the neapolitan bar, but not by much.
Novelty, not practical, but tasty
I was surprised to find that you don't add water to this, but after trying it, I was pleasantly surprised. It tastes like a real ice cream sandwich, albeit in a chalky non-ice cream kind of way. The taste is spot on, but the ice cream is more like a vanilla flavored lucky charm. Have some water nearby or just let it melt in your mouth. Descent to satisfy a sweet tooth, but way too expensive and bulky to take again.
Delivers what it promises.
It's an honest to God, freeze dried ice cream sandwich.
Such a great treat for out on the trail. A lot like space food from back in the day. Good texture and awesome taste. Best if you let it dissolve a little bit before chewing.
Yep, definitely a novelty. Tastes just like an ice cream sandwich, but you better be really into dessert to bother, and there are definitely more satisfying sweets out there to choose from. The flavor is more or less there, although it's not going to be anywhere near as rewarding as the real thing. It's like a giant, brittle vanilla Lucky Charm block that is almost guaranteed to be shattered into little pieces by the time you pack it and eat it. Sort of dissolves in your mouth instead of melting. It's funny to see it come out of the package, so it does tend to lift your spirits since you can't help but laugh because it's so bizarre. Pretty good, worth a try just to check out, too much packaging for what it is. If the kids had their way, it would be all they would eat.
Everybody needs to eat at least one of these in their lifetime, it's just plain good! I do agree that the cost is better spent on something like cookies where you'll get more bang for your buck, but I imagine part of the cost is for the novelty.
After a week in the backcountry, something like an ice cream sandwich is an incredible treat. Tastes about the same as any ice cream sandwich I've ever had, except for being crunchy instead of creamy due to being freeze-dried. Really good.
I was excited to try this based on the good reviews, but I was pretty underwhelmed. It was just ok...edible, but I definitely won't be buying again. It's just as easy to carry something more tasty, like some cookies.