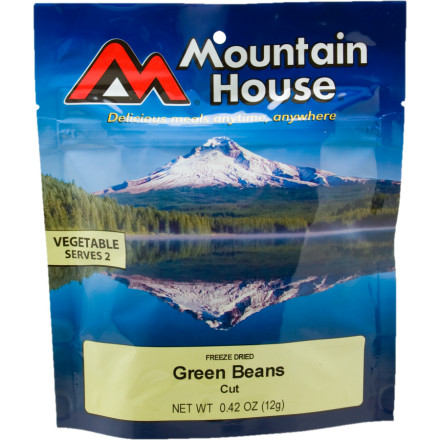 Detail Images
Bring the Mountain House Green Beans backpacking so you can get your vitamins and fiber in the backcountry. No need for extra pots and pans either; just boil water, and douse these little crispers right in the bag till they plump back to life.
What do you think about this product?
Have questions about this product?
Beans of green
Familiarity:

I've used it several times
'nuff said. Add some salt and pepper to spice it up a bit, just be sure to cook long enough unless you want some still dry green beans...
Rather than write a small review for each individual item I recently purchased I thought I would share it all in one concise review. (Note with most Mountain House I add 2-3 oz less than it recommends)

Recommend:

Breakfast:
Backpacker's Pantry Granola with Blueberries and Milk – Favorite :) (serve warm)
AlpineAire Strawberry Honey Granola With Milk – healthy and good! (serve warm)
Backpacker's Pantry Denver Omelet (needs pan) – best quick eggs I have tried.

Lunch/Dinner:
Mountain House Chicken Ala King – Favorite :)
Backpacker's Pantry Katmandu Curry - Yum
Mountain House Macaroni And Cheese – Oh to be a kid again!
AlpineAire Chicken Gumbo – Delicious

Sides/Deserts:
Mountain House Potatoes And Cheddar With Broccoli – Favorite :)
Mary Janes Farm Organic Garlic Pesto Fry Bread – I love bread! (bring oil)
Mountain House Peas – Eat your veggies! Add 1-2 oz less water
Mountain House Corn – Favorite, Add 1-2 oz less water :)
Mountain House Green Beans – Add 1-2 oz less water
Mary Janes Farm Organic Brownies – Yes really good!
Mountain House Ice Cream Sandwich – Don't get the Neapolitan, this is much better.
Mountain House Blueberry Cheesecake – Nice size berries, make in a bowl NOT the package. (Note it will NOT keep
Overnight).

Pass:
Backpacker's Pantry Garlic Herb Mashed Potatoes – The Mountain House Potatoes and Cheddar with Broccoli are MUCH
better even the resident mouse in our cave didn't like it.
Mountain House Scrambled Eggs With Bacon - Backpacker's Pantry Denver Omelet is much better IMO but requires a
pan.
Mountain House Scrambled Eggs With Ham - Backpacker's Pantry Denver Omelet is much better IMO but requires a pan.

Neutral:
Mary Janes Farm Organic Couscous And Lentil Curry – Not bad but I like my curry with more curry!
Mary Janes Farm Organic Black Bean Corn Bread – Not bad but NOT cornbread just a bread with some cornmeal in it.
Mountain House Noodles And Chicken – Yet to try will update
Mountain House Pasta Primavera – Yet to try will update
Mountain House Mexican Chicken With Rice – Yet to try will update
Mary Janes Farm Organic Alfredo Pasta – Yet to try will update
Backpacker's Pantry Chana Masala – Yet to try will update