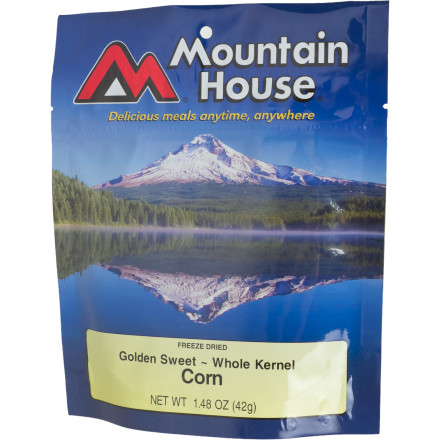 Detail Images
In addition to an entree or as a backcountry snack, the Mountain House Corn provides two half-cup servings of corn to settle your grumbling stomach. A healthy and vegetarian option (corn and ONLY corn), this freeze-dried side dish only weighs 1.48oz so it doesn't slow you down as you trek miles into your favorite patch of wilderness.
Add boiling water directly into this bag, reseal it, and wait for it to cook to perfection
Compact vacuum pack won't take up much room in your pack or expand at high elevations
Contains protein and carbohydrates to keep you going in the backcountry
Check the tech specs (on right of page) for complete list of ingredients and nutrition facts
Tasty!
Familiarity:

I've put it through the wringer
This is great tasting after a long day of hiking! My favorite thing to do is mix it in with the Mountain House Chicken Breast with Mashed Potatoes. makes it 10x better. It is also good plain with a little salt and pepper.

http://www.backcountry.com/mountain-house-chicken-breast-with-mashed-potatoes?_requestid=3516299
Have a more rounded meal
Familiarity:

I've used it once or twice and have initial impressions
I love mountain house. It's tasty and satisfying after a long hike. The meal in a bag solution is great for those of us not interested in humping an onion, pepper, turkey, cement mixer into the bush.



But sometimes, something a little more homestyle is in order. Enter Mountain House sides. The corn and peas and beans can be pretty tasty and add flavor and color to whatever you did bring in for dinner.



The corn tastes good, hydrates well and gives your meal a little bit more character.
corn
Familiarity:

I've used it several times
it takes pretty much like regular frozen corn, no complaints, bring some salt and pepper your good to go.
Very good way to get some greens on the trail. I usually add them to other freeze dried meals or serve as a side dish if i'm "cooking for multiple people. They cook up nicely and taste pretty good. I usually add slightly less water than the directions say because it always ends up too watery


Rather than write a small review for each individual item I recently purchased I thought I would share it all in one concise review. (Note with most Mountain House I add 2-3 oz less than it recommends)

Recommend:

Breakfast:
Backpacker's Pantry Granola with Blueberries and Milk – Favorite :) (serve warm)
AlpineAire Strawberry Honey Granola With Milk – healthy and good! (serve warm)
Backpacker's Pantry Denver Omelet (needs pan) – best quick eggs I have tried.

Lunch/Dinner:
Mountain House Chicken Ala King – Favorite :)
Backpacker's Pantry Katmandu Curry - Yum
Mountain House Macaroni And Cheese – Oh to be a kid again!
AlpineAire Chicken Gumbo – Delicious

Sides/Deserts:
Mountain House Potatoes And Cheddar With Broccoli – Favorite :)
Mary Janes Farm Organic Garlic Pesto Fry Bread – I love bread! (bring oil)
Mountain House Peas – Eat your veggies! Add 1-2 oz less water
Mountain House Corn – Favorite, Add 1-2 oz less water :)
Mountain House Green Beans – Add 1-2 oz less water
Mary Janes Farm Organic Brownies – Yes really good!
Mountain House Ice Cream Sandwich – Don't get the Neapolitan, this is much better.
Mountain House Blueberry Cheesecake – Nice size berries, make in a bowl NOT the package. (Note it will NOT keep
Overnight).

Pass:
Backpacker's Pantry Garlic Herb Mashed Potatoes – The Mountain House Potatoes and Cheddar with Broccoli are MUCH
better even the resident mouse in our cave didn't like it.
Mountain House Scrambled Eggs With Bacon - Backpacker's Pantry Denver Omelet is much better IMO but requires a
pan.
Mountain House Scrambled Eggs With Ham - Backpacker's Pantry Denver Omelet is much better IMO but requires a pan.

Neutral:
Mary Janes Farm Organic Couscous And Lentil Curry – Not bad but I like my curry with more curry!
Mary Janes Farm Organic Black Bean Corn Bread – Not bad but NOT cornbread just a bread with some cornmeal in it.
Mountain House Noodles And Chicken – Yet to try will update
Mountain House Pasta Primavera – Yet to try will update
Mountain House Mexican Chicken With Rice – Yet to try will update
Mary Janes Farm Organic Alfredo Pasta – Yet to try will update
Backpacker's Pantry Chana Masala – Yet to try will update