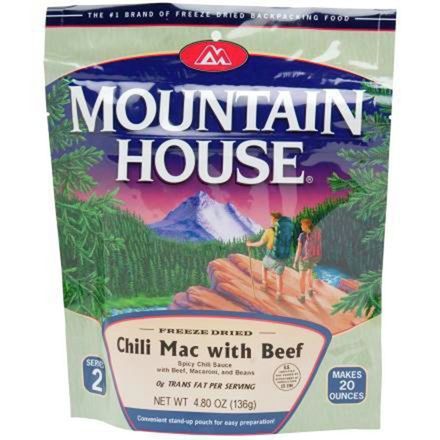 Community Images
Description
Forget about Ramen—have a real meal with this Mountain House Chili Mac w/Beef Entrée.
Whether you've spent your day busting your butt on the trail or you're just a broke-ass college student, you'll get your energy with the Mountain House Chili Mac w/Beef Entrée. If you have water and fire, you can eat. Simply add boiling water to this two serving meal and about 10 minutes later you'll have two 10oz servings of hearty Chili Mac with Beef.
good food
Familiarity:

I've put it through the wringer
i love the more simple MH meals, and this is one of my favorites.
Taste great and easy to make. I take a couple of these on every trip I go one, and a couple lasagna too.
I repackage my meals at home before I go out. Sure the MH packaging makes a great bowl to eat out of, but they take up too much space for my liking. I put my meals in ziplock bags and dump the meal in my jetboil cup of boiling water and let it sit for a while.
One of my favorite flavors
Familiarity:

I've put it through the wringer
There are two things that I don't go backpacking without, Mountain House Chili Mac w/Beef, and Mountain House Lasagne with Meat Sauce. These are my two favorite dehydrated meals, and they have never done me wrong. They have followed me from the Wasatch, to the Grand Canyon, to the Sierras. You really can't go wrong!
Not to bad!
Familiarity:

I've used it several times
Tasty, but not my favorite Mountain House meal. It does taste better than it looks, and has a nice spice to it.
El Duarte!
Familiarity:

I've used it once or twice and have initial impressions
I hauled ChiliMac through the Mallard Larkins for 5 days. Each night I contemplated noshing it with extreme prejudice but I was dissuaded by the reviews posted right here on BC.com - warnings of hot-boxed tents and furious scrambles for TP had me nervous.

Finally, our last night arrived. The mosquitoes were thick and lightning flashed in the distance, not the most auspicious setting. I dumped the full 2c of water on the ChiliMac reasoning that beans and noodles would both require lots of water and time. I recently discovered that hugging your MH while it rehydrates is fantastic; a warm little friend you can snuggle and then devour. I grew impatient as my friends started eating and though I knew the noodles would be al dente, I dug in prematurely. The noodles WERE "el duarte" as my granny would say, the beefy chunks still had hard spots, the cheese powder was...powdery! I had no f!@#$ to give, it was still delicious despite my impatience and it finished rehydrating quickly which meant it got better as I chomped it! ChiliMac is hearty and satisfying, I can see why people rave about it. It looks like watery dog food but no MH meal is going to win awards for appearance. I'll probably use less water next time and try to let it sit a bit longer. I am happy to report that the toilet paper shortage was not made worse by the ChiliMac & my Copper Spur remains largely fart-free. While I wouldn't call it spicy, the taste was pleasing and I didn't feel the need to throw in a salsa pack or mooch my buddies' spices.

ChiliMac and Lasagne will definitely be in my bag on my next outing, both excellent, hearty meals.
Great dinner when it's cold
Familiarity:

I've put it through the wringer
Great dinner to warm you up around a cold campfire. I would recommend letting it sit 3-5 minutes longer than the instructions state. Also, a little or a lot of Cholula make it even better!
Not my first choice
Familiarity:

I've used it several times
This is not my favorite mountain house but it is good to add variety during your long trips. But i have been with others who really enjoy it.
It Will Get You Through..
Mountain House makes great freeze dried options for extreme convenience while outdoors or whenever really. This Mountain House chili mac tastes normal, and what I mean is it taste homemade, not like it is out of a bag. Mountain House has good taste overall. I would give it a 9/10 rating on this Mountain House chili mac.



www.captainberz.com
Put a lot of mild cheddar on top and chow! One of my new favorites
Subjective to Taste
Familiarity:

I've used it once or twice and have initial impressions
Personally, I wasn't too fond of this meal, it was a little rough on my stomach... That being said, two of my good friends that I was traveling with LOVED this meal and ate it quite often. They said it was fine on their stomach which leads me to believe it's just me.
Very Good!
Familiarity:

I've used it several times
Very good solid meal! Very satisfied with it. Taste about as good as a dehydrated meal can in my opinion.
Classic backpacking meal
Familiarity:

I've used it several times
Always good and satisfying. A solid option in the backcountry. This one always seems to make it into my pack.
cheaper and more food than propack
Familiarity:

I've used it several times
I just get this one and suck all the air out of it. You get a small amount more and it's cheaper.



Oh and it tastes pretty good!
Just Adequate for the Job
Gender:

Male

Familiarity:

I've put it through the wringer
Sure, our "test" was unfair but ....



At a recent double blind "Chili Cook Off" we offered Mountain House Chili Mack with Beef. There were 26 entries in all. Each was placed in an unmarked cup by the event organizer and each was tasted by every entrant. We ranked each chili on color, smell, consistency, taste and after taste. No talking was allowed during testing. Each tester ranked each chili on a scale of 1 - 10.



I alone, being the one who submitted this chili, knew which one it was (because I recognized the noodles). This chili neither looks good, smells good or tastes good. The colors were bland, the smell was harsh and clinical, and the taste reminded me of cleaning fluid.



After all the results were tallied, this product was 2nd from last; not surprising given the other chili's were "homemade".



After a long day on the trail, in the rain or snow, when cold and tired, this chili might be adequate, but in any other conditions, I would stay away.
Keeps Your Belly Full...
Familiarity:

I've used it several times
Another good meal from Mountain House. It's a good idea to cook it a little longer than the suggestion, because every time I've stuck with the suggested time my noodles come out a little north of soft.



Personally, I prefer some of their other meals over this one but this is a great option to keep you from running on empty.
One of the best
Gender:

Male

Familiarity:

I've used it several times
Perfect MH meal, easy to prepare, taste great and fills you up. Just add boiling water and wait 10 minutes and your good to go. If I was still in college I would consider eating these instead of caf food, its good!
Filling, but too spicy for me
I read a lot of reviews that said this was THE BEST Mountain House meal, but I still like the Beef Stroganoff and Spaghetti MUCH better. Too many beans and a little too spicy for me.
Another great mountain house meal
This is another great meal from mountain house. Like most mountain house meals for two, are not enough for two people, and if you use the instructed amount of water it is always to runny. I would say use 4-5 ounces less than The instructions. Other than that this meal is great and delicious, it would even be good if you weren't hungry after a long day on the trail. I would recommend this to anyone.
There is a bit of spice to this, which is real nice. While a lot of MH meals are healthy with rice and chicken, this one tastes like some great junk food Id make in my dorm freshman year of college. Please note, junk food taste is not a bad thing and is one of the top reasons I'll grab this before a long hard backpacking trip.
Chille Mac is the best Mountain House flavor!
This is my favorite Mountain House meal. The others are okay and get the job done. This one actualy tastes delicious. The 2 serving size is more of a 1 serving size when you're in the mountains burning calories. Other than that, this meal is fantastic. I highly recommend this one.