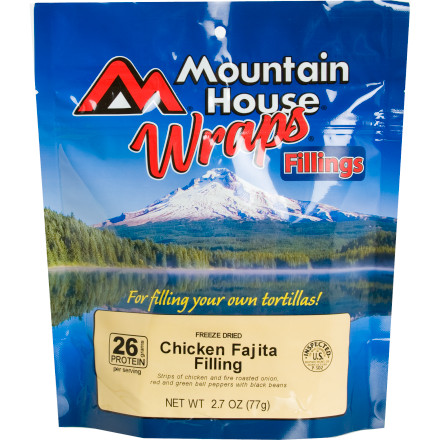 Detail Images
Inside the Mountain House Chicken Fajita Wrap bag lie two servings of lip-smacking, drool-inducingly delicious easy-to-prepare filling for camp-style fajitas. Just add hot water to the bag, wait 8-10 minutes, and you have an entree to add to your tortilla or to serve over rice or pasta. A heaping of protein (26g) treats your body right after a long day of straining your hulking quads on an epic hike to the summit.
Note: product contains soy. Please see detailed product photo of back of packaging for detailed list of ingredients direct from manufacturer.
DONT FORGET THE TORTILLAS!
This packs a punch of flavor in a little pouch. The chicken was better than most mountain house meals. But seriously, don't forget the tortillas because it makes it so much more enjoyable.

Gluten free
Ok taste
Familiarity:

I've used it several times
These were ok with taste. I wasn't overly amazed but for trail food it's pretty good. I have no complaints.
Nothing to write home about.
It is edible. I wasn't grossed out by it but I also wasn't overly excited about the thought of finishing it after eating one wrap.
Even though it's backpacking food, I feel like these could have been a little better. The seasoning the Mountain House used was less then stellar. Good thing Maverick so frequently has Cholula packets… stock up to enhance the taste!
Yes, oh yes!
Familiarity:

I've put it through the wringer
I feel a little strange saying I've put food "through the wringer" but I suppose that's a pretty accurate description. I had never tried Mountain House products until a backpacking trip through the St. Joe this summer, I was pleasantly surprised.

I knew my friends wouldn't want to break out the stoves for lunch so my plan was to rehydrate the fajita filling in the morning, eat a hot one for breakfast and pack up a second to eat down the trail. As it turns out, that was an EXCELLENT plan. While my buddies were having ramen and oatmeal, I was snarfing down 3" strips of juicy chicken (I wouldn't believe me either but seriously, JUICY chicken) and peppers. Miles down the trail my companions were eating dry trail mix and fig bars and I was able to pull out a protien-rich fajita. I actually caught my friend staring at me with his mouth open and when I gave him a bite, he looked positively rapturous.

We're heading out to the Mallard Larkins for a week and I've packed one of these for every breakfast/lunch. I wouldn't pay $7 a bag and eat them for a week if I didn't find them spectacularly tasty. I'll try to remember to snag a photo as the fajita filling does actually look appetizing.

I packed Mission flour burrito tortillas (blue package) in the top compartment of my backpack; they seemed appropriately sized and weren't damaged en route. I garnished with various flavors/heats of Taco Bell salsa packets. I was feeling slightly guilty for raiding the Taco Bell salsa bar without purchasing any food so last week I ate a spicy chicken doritos locos taco. I feel a lot less guilty about my prior thievery as the FREEZE DRIED Mountain House fajitas taste a damn site better than the "fresh" Taco Bell.
Yum!
Familiarity:

I've used it once or twice and have initial impressions
Very tasty. I managed to forget the tortillas so we ate out of bowls and it was still delicious. I liked the spiciness and as someone mentioned it's nice to break up the monotony of pasta dishes.
Wonderful! If you were lucky enough to bring along some cheese and tortillas...maybe some salsa, then you've got a restaurant quality meal.
One package makes three large burritos using large size tortillas. flavor is bland so one should add some of your favorite spice. peppers come off as mushy and not like those prepared in a wok at home.



careful to add less water as it won't absorb all of the water so you will have to pour much out if you follow the recipe.



Overall, great taste and smells even better. would buy again for campsite meal. Definitely very filling.
Better than happy hour at my favorite Mexican joint!
Thought that the Buffalo chicken would be my all time favorite but this is now the clear winner.
Very "real" tasting and with some lettuce, a little grated cheese and green salsa!...........forget about it.
Even without the condiments its still awesome, very fresh tasting, very filling and hard to share.
I would post some action pics but I ate it already.....
Get some today, invite over some friends, don't tell them what it is and see what the reaction will be!
I liked it but too spicy for my sons taste, a little runny too. But every one has a different palate. I still buy them though, when I can, but my local retailer is always out of these, so they are pretty popular. I would recommend them to change it up a bit from the Chili Mac and the Lasagna though. I tend to get those three on a long weekend, and put this in the middle between the two dishes with pasta which keeps my tongue guessing.
Best to try it first without adding the extra spice packet. It is hot enough without it.
Good pepper flavor.
not a huge fan! Seasoning didnt taste great to me at all.
I just tried them. Excellent. I added some red hot peppers from my garden to add a bit of fresh kick. For tortillas I brought tomato-basil red flour tortillas. I used a bit less water to make it less runny. It made two full tortilla wraps and I ate them both.

I will get this again for sure.
DON'T LEAVE HOME WITHOUT THESE
SIMPLY SPLENDID!