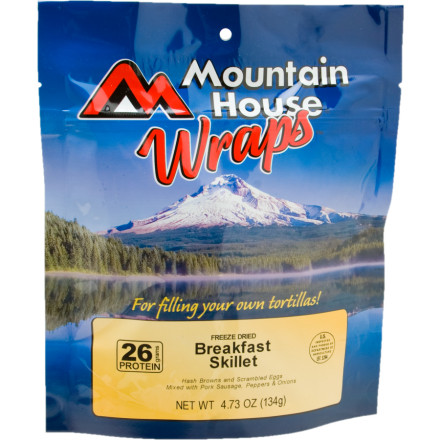 Detail Images

Community Images
Description
Breakfast can be ridiculously good, even when you're miles from civilization.
Meals on backpacking trips shouldn't be limited to energy bars, plain noodles, and oatmeal packets. Throw the Mountain House Breakfast Skillet Wrap in your pack, bring along some tortillas, and prepare to be filled with hot, sizzling goodness. Preparation tip: don't forget the hot sauce.
The best backcountry breakfast.
Familiarity:

I've used it several times
These are amazing.

Miles into the woods with no weight added to your kid (just a little bit of space) and these taste like a delicious homemade breakfast. Typically I eat a whole one for myself so don't be fooled by the 2 servings listed on the package. Get on for yourself and refuse to share - you'll need to fuel!
A step forward in breakfast technology.
Familiarity:

I've used it once or twice and have initial impressions
Mountain House has a variety of egg breakfasts: scrambled eggs, bacon & eggs, ham with green & red peppers (and eggs).

The Breakfast Skillet strikes me as a step forward, an egg-volution, if you will. What was missing from the Mountain House egg line-up? Sausage. Rich, delicious sausage. Not missing any more!

While they were at it, the good folks at Mountain House, those mad scientists of outdoor cheffery, they added onions and, wait for it, HASH BROWNS.

Hash browns, scrambled eggs, crumbled pork patty, peppers, and onions - BAM! Now that's breakfast.

The MH Breakfast Skillet got it's start as part of the Wrap line. It is now available in standard pouches, #10 cans, and pro-paks.

I thought it thoroughly tasty and I will probably purchase it again.

My folks and I have been shoveling down lots of MH Biscuits and Gravy this year - it's freaking delicious. When we tried the Breakfast Skillet, we were strongly reminded of the B&G. I'll go so far as to say that I think I found some B&G biscuit-croutons in my Breakfast Skillet.

I don't know if it was the B&G fixings or the hash browns but something in the Breakfast Skillet pouch gave the meal a strange texture. I don't want to say "grainy" or "mealy" - both of those words seem excessive. In any case, the texture is a wee bit strange.

Like I said, I'll probably eat it again. I really appreciate the added flavor of the peppers and onions. The texture is just a little odd.

Good Food
Familiarity:

I've put it through the wringer
Pretty delicious food. And kinda good for you. Hit a dry egg patch so I can't give it 5 stars. But I think it could be user error.
This is my top 2 on the breakfast menu. I don't bring tortillas for this one, but I reckon it is bomb.com with them. I get this every time and sometimes I get it for a lunch meal since it is not too heavy.
My favorite Breakfast on the trail
Familiarity:

I've put it through the wringer
This is hands down my favorite breakfast tastes just like a Beto's breakfast burrito if you throw in some hot sauce! One pack is perfect to split for two people, or for one very hungry camper one works too!
GOAT IS GOOD
Familiarity:

I've used it several times
A few rehydrated backpack foods are actually pretty tasty—I like several of the mountain house dinner offerings and if I were more open minded, I'd raid my gear closet where I always have a few on-hand waiting for the next impromptu trip. A good mounmtain house dinner is more tasty that some of the concoctions I'm forced to make at home when the cupboards are mostly barren and I'm too lazy to go shopping. In my view, however, many backpack foods tend to be palatable enough to warrant schlepping into the backcountry for sustenance but I don't get excited to eat them. This breakfast skillet wrap falls into the latter category. Compact, light, easy to make (come on—dump in boiling water and wait). And for a change or in addition to oatmeal packet based morning energy this fits the bill. But its not anything like the taste you get whipping up some eggs, veggies and sausage or bacon in at home or with an expanded camp kitchen. For trips where light, fast and easy breakfast is important, this works.
love it
Familiarity:

I've used it several times
Probably one of the best breakfasts that MH makes. This doesn't feel or taste anything like the scrambled egg meals. I recommend bringing tortillas just for a little extra, but I've eaten them without and they are great either way.
SO TASTY!!! Shared this with another person and we each had a tortilla. It was a lot of food and the flavoring was really top notch. Definitely recommend this version over the other egg dishes that they make. The potatoes, peppers, and sausage were all a very nice touch. But as other folks suggested, maybe use a little less water. I used the recommended amount and it was just a little too liquidy.
Add something to make it better.
Familiarity:

I've used it several times
Add some sausage to a wrap and you have a great meal. I froze some chicken sausage and had it for breakfast the first morning of our hike, so good that way!!
Solid meal on the go!
Familiarity:

I've used it once or twice and have initial impressions
To be fair I am not in love with eggs to begin with so take this with a grain of salt. The smell coming from the bag was amazing, but I found the breakfast to be neither good nor bad. I ate half of the bag's contents, and embarked on the day's hike.
not bad as a last option
Familiarity:

I've used it once or twice and have initial impressions
I recently took this on a trip, and no one liked it. It was not recommended we ended up throwing them in the garbage at the end of the trip. The only way it was edible was with a little bit of hot sauce and some cheese.
Just add Cholula Hot Sauce & Tortillas
Familiarity:

I've used it once or twice and have initial impressions
This backpacking breakfeast is pretty hearty (with more than enough for 1 person). I enjoyed this meal while camping on a cold morning in Zion National Park. The texture was slightly soupy and the flavor was a bit bland, but better than I expected. I warmed the flour tortillas and added some Cholula hot sauce to really complete the meal. Would buy again.
SO Good!
Familiarity:

I've used it several times
Pretty great for trail food! Very convenient & lightweight! No complaints. Goes great on some tortillas!
SOOO GOOD
Familiarity:

I've put it through the wringer
bring some cheese & tortillas, instant breakfast burrito or eat it right out of the bag. This breakfast brings the DELISH!!
Best backcountry breakfast. Great with tortillas or on its own. Solid MH offering.
I'm usually not big on dehydrated eggs, but this is my favorite backpacking breakfast. Good taste, texture isn't off putting. Bring a little hot sauce and some tortillas and you're sitting pretty!
NOM
Familiarity:

I've put it through the wringer
No matter the time of year, location or duration of my trip....this is my GO TO breakfast for the backcountry. I can't say enough about this meal, it's as good as a dehydrated breakfast can get, throw in some Jalape?o corn tortillas and a good french press and your day couldn't get started in better.
My go to breakfast on all my trips. I'm too lazy to bring tortillas so I just eat it plain and I love it. I agree that it tastes way better than MH eggs and bacon.