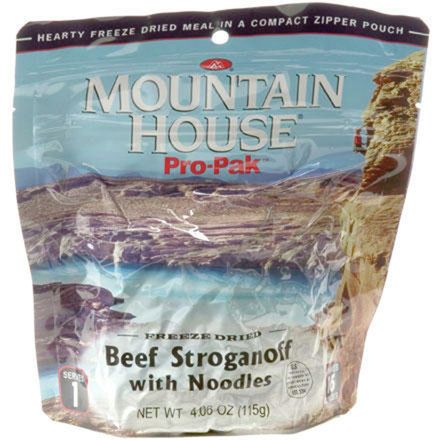 Description
Because you can't bring mom on every backpacking trip.
There's nothing like a little comfort food after a long day of hiking. Mountain House's Freeze Dried Beef Stroganoff meal for one is just like mom used to make only it's lighter, tastier, and well, you have to make it on your own. It comes in a foil package that stands up on its own for easy eating and cooking.
Loved this!
Familiarity:

I've used it several times
My favorite dinner on this entire trip!!!
A long-time favorite
Familiarity:

I've put it through the wringer
This has been one of my favorite meals EVER since starting backpacking over 10 years ago. Tasty and easy to prepare - I usually give dishes like these (the ones with noodles or pasta) an extra couple of minutes - same with this one. and it turned out great. This is one of the few meals that's single-serving that doesn't usually require extra food to fill out the meal - it's the kind of stick-to-your ribs kind of meal you need after a few miles on the trail. I also find that while on the trail I'm drinking so much water that the higher sodium content doesn't really bother me. If you're packing into a bear container, you can cut the excess packaging off to save space and cram it all in there.
Delicioius
Familiarity:

I've used it several times
I would consider eating this at home if I was not in the mood to cook a meal. This is easily my favorite choice when buying Mountain House. So tasty, simple to prepare, and easy to pack.
Not such a fan of the noodles
Familiarity:

I gave it as a gift but have feedback to share
I was not a huge fan of this on my backpack trip. The noodles just didn't work out right for me.
Stroganoff is Very Satisfying
Familiarity:

I've used it once or twice and have initial impressions
I love stroganoff and am always satiated after a good stroganoff. My boyfriend also loves stroganoff; he can't get enough of it, especially when I'm away on business. Even the dog loves stroganoff!

Seriously, I would buy it for the double entendres alone, but it actually IS delicious, too. A good amount of food and doesn't require extra seasoning... one of my MH faves!
Its very good
Familiarity:

I've put it through the wringer
A little hot sauce with this one and you will be a happy camper. Easy on the water though. Too much water and this meal can easily be a crummy soup.
Dang! This stuff is good. Nice and hearty. Great to refuel after a long day of adventuring.
This is in my top 3 favorite MH meals, so good....
I'm a big fan of mountain house meals. I've had a handful of them and this one is towards the top.
Strong off with stroganoff
Familiarity:

I've put it through the wringer
One of the best dehydrated meal ever, the only rival is lasagne. One is usually enough to do ya right. I always save my strog for a celebratory meal after I crush a peak out.
One of the better mountain house meals for sure!
One of the better meals from MH
Beef Strog + pro pack = win
all the awesomeness of beef strog in a smaller pack. This is my go to MH for dinner.
I saw a video and read many reviews of how you need to get the two serving entree instead of the one serving entree. Backcountry was out of the 2 serving entrees so I ordered a couple of the 1 serving entrees instead. Made the mistake of making both of them one night out on the trail and didn't eat the other one because the first serving was PLENTY. And I eat a lot, too. It's just so filling that 1 serving is plenty. Super delicious, too.
Great entree, use less water
After over-stocking my pack, I actually dined on this a few days after a two day packing trip. Tasty entree and the sauce didn't make a huge mess. One tip: use a bit less water than suggested (12 oz v. 14 oz); you'll wind up with less funky bear bait to pack out.
Mountain House Beef Stroganoff
This stuff is so yummy. Seriously, I would eat this at home as a regular meal. Whenever I backpack with this stuff, I actually look forward to dinner time.
Just like mama use to make.
OK not really, my mom wasn't that great of a cook. This stuff was better than her cooking.
Taste pretty much like a you basic "hamburger helper" style stroganoff. I really liked the taste if anything I might add a pinch of salt to it, but again I ate it as is and I liked it.
The day I ate it was not a particularly physical day, and the amount was just right. On a long day of hike I tend to eat quite a bit more and this wouldn't have been enough to satisfy my hunger. I think most hikers already have a pretty good idea of the amount they need per day, but I thought I'd point this out in case anyone was debating the amount.
Was needing some energy on a cold day above the timberline and this really hit the spot. I literally licked the bag clean.
Would definitely get this again! Very tasty and filling! Almost as good as homemade!
Watch out for the mushrooms
This meal tasted pretty good. I absolutely hate mushrooms so I had to pick those out. Guess I need to read the package next time.