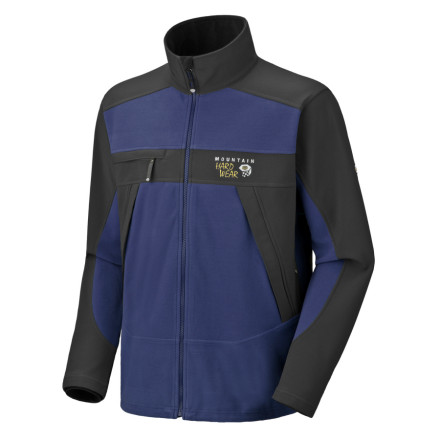 When Mountain Hardwear introduced the Men's WindStopper Tech Jacket, it was revolutionary. Fleece outside with a Gore WindStopper membrane inside, this was one of the first softshells on the market. Thanks to get-it-right-the-first-time design, the WindStopper Tech Jacket has remained virtually unchanged, and it's still a best-seller thanks to it's classic looks and dependable performance.
Great do everything jacket.
It sheds a bit of rain and it is windproof. I use it mainly for around town. Add a shell jacket or a down vest over it when it gets a bit chillier. Awesome product.
Great layering jacket.
Gender:

Male

Familiarity:

I've put it through the wringer
This jacket is amazing for layering, or stand alone on those windy fall days. In the dead of winter I usually wanted more insulation, but I have worn layers underneith this jacket, and gone ice climbing or snowboarding. Great jacket!

Disclaimer: I tested this jacket for Gore.
Best looking all around jacket.
I use the Alchemy Jacket from Mountain Hardware as my everyday jacket. It looks good and is has a comfortable fix. The inner lining is nice and soft. In fact the entire jacket is soft. I am a Gore-Tex Mountain Tech and received this Gore-Tex soft-shell jacket to test. Since I received this jacket over a year ago, I've been using it almost every day. It is not too warm, so spring and fall, and even cool summer morning I put this on before heading out to work. In the winter in all weather except the coldest and wettest, this is the jacket I use. Good looks and a great feel.
This may be a bit subjective, but how well...
This may be a bit subjective, but how well does this jacket breathe? Does it breathe about the same as a Gore Tex Pro Shell jacket? Along those lines?
Best Answer
Kur. This jacket is made with a fleece that is laminated with a windproof E-PTFE membrane called AirSheild Elite. It is completely windproof and air permeable by design. Because of the nature of this fabric (thickness, construction etc.) it will 'breathe' much better than a Gore Pro-Shell and compares more favorably to Windstopper. I hope this info helps!
Can someone tell me how stuffy this jacket...
Can someone tell me how stuffy this jacket is? I like most fleece since it breathes pretty well and have never worn a fleece with a windproof barrier.

My blood runs pretty warm and I was looking for a jacket (with a fit like this one) that I could wear for outdoor pursuits as well as casually.
Well, windproof fleeces don't breathe as well, by design, but with the pit zips, this is a great casual jacket with performance potential. If you run hot, the pit zips definitely help.
I have had this jacket for about a year and still really like it but it has its limitations... it is good as a around town jacket or single pitch climbing day jacket but beyond that it is too heavy for backpacking or long trips. I do love the pit zips
Breathability leaves a lot to be desired, even after just a brief walk. It was advertised as featuring an interior pocket -- no such feature. Generally good workmanship, but ran very large in size XL, my standard size I wear with MH.
Mountain Hardwear Windstopper Very Nice!
This is my second and it will be worn many times in the tall pine country of Arizona. Fit is perfect to size and detail, pit zips and more make this a great choice.
Hi I am 6"1, 210 pounds. I wear a large...
Hi

I am 6"1, 210 pounds. I wear a large in most Patagonia items (e.g. Patagonia Storm Jacket), and a large in North Face soft shells. A Marmot Zeus down jacket fits pretty tight in Large but I wear it with a thin sweat shirt only and layer over it with the shell.

I would use this jacket as a mid layer with a capilene sweater or maybe a thin wool jumper.

Will a large be okay?

Would you use this under a three layer goretex jacket with a good baselayer for skiing in the Rockies?

Thanks from Down Under!
ria. I would stick with a large on the Windstopper Tech Jacket. It will work great as a mid-layer on the coldest days of Winter and as a stand alone windproof fleece in the Fall and Spring. Again, if you wear large from the other brands then a large should fit you well from Mountain Hardwear. Cheers!
I don't know that I'd recommend the Windstopper as a mid layer. That windstopper Gore comes at the expense of breathability, and would get -super- hot. Just my preference, but I like my mids to be either primaloft (Nano Puff) or 200wt Polartec (Arc'Teryx Covert) that dump heat better through shells pitzips and front zip.
Would this jacket be sufficient to layer...
Would this jacket be sufficient to layer up and use for downhill skiing or snow kiting? I'm looking for something that is windproof but is still very flexible and maneuverable. If so would it be good to go up a size to fit thicker layers underneath? Thanks!
Best Answer
Absolutely! It's an awesome jacket to use under a shell. You can size up slightly if you need to, but most times these coupled with an outer shell should be pretty warm, for some people, as long as they're coupled with a good synthetic baselayer.
I'll be spending a few weeks in torres del...
I'll be spending a few weeks in torres del paine in the middle of their winter. Avg. daily low is around 25 F. I bought one of these fleeces a few months ago and love it. Would I be able to layer this fleece under a marmot trient jacket? Would I even need to? Would a plain 300g fleece (minus the wind proofing) be a better midlayer due to increased flexibility? I'm kind of a novice when it comes to these things.

A better question would be, what will keep me warm around 10-15 (I want to give myself a bit of wiggle room).

Thanks!
Best Answer
After looking at the Trient, I don't think I would layer this jacket under it, as I don't think you'd need to. The Trient is a great jacket whose capabilities overlap the Windstopper jacket only slightly. Standalone, the Windstopper is more of a 30-50F jacket, that blocks wind and rain effectively, with good core venting. As you noticed, the jacket, when paired with a midlayer becomes even more capable. I've gone snowmachining in 15F with a Nano Puff pullover and the Windstopper and been comfortable, even a bit too warm. The Trient is going to be a 5-30F jacket, with super insulation, water resistance and mobility. If I had to only pick one of the two for your trip because of budget, I'd go with the Trient. If you can afford the Windstopper and another piece of gear for your arsenal to cover more climates, I'd get the Windstopper and a good midlayer.
Hi Christopher,

Thanks for your advice! I've already got a MH windstopper, so I figure I'll hold on to it and just pick up a nice midlayer. Any specific models that you recommend? I was looking at the Marmot Powder 8, Patagonia Better Sweater, Arc'teryx Strato, or the Marmot Power Stretch but I can't really decide (i.e. I don't really know what I'm looking for haha). I'm willing to shell out for quality stuff that will last a long time.
Sorry I missed your question, Alex, the RSS feed doesn't extend to other answers, just new questions. The midlayer I use depends on conditions. In the picture, it's an Arc'Teryx Apache AR. On that trip, I also had a Patagonia Nano Puff pullover that I used as a mid, which, when paired with the Windstopper, was a really solid and warm combination. If you can find a good deal, I'd totally recommend the Nano Puff pullover. It is phenomenally useful, not just as a mid or outer, but for almost instant warmth anywhere. I use mine as a face shield for my sleeping bags. Keeps my face and shoulders warm, without drafts, and regulates the temp inside the bag. The temperature range it covers for unexpected cold snaps combined with the packability makes it super useful. The Apache AR from Arc'Teryx is useful as well, with 200wt Polartec fleece, reinforced elbows, and DWR finish.. but it's not quite as versatile as the Nano Puff.
I've been nitpicking over a jacket to replace a 13yr old Windstopper Tech (made in the USA!), as you can tell by some of my posts on here already. I have purchased both new and old versions (plus my OLD old version that I already owned), and thought I'd provide my 2 cents as someone who is pretty obsessive (both are size sm, black. My original grill jacket is a medium, and I just never quite grew in to it like my parents had hoped haha. I'm 5'7, 140 lbs). 90% of the time, this jacket is a normal everyday jacket for me, and only maybe an optimistic 10% of the time will it actually be doing anything technical like backpacking or camping. I wear it all the way through the winter in NYC with just a lined hoodie underneath.

My overall consensus is the same as the other person who did a comparison: the new version is a better technical piece, but only marginally. And that margin shrinks if you aren't engaging in high-abrasion activities like rock climbing. For those still on the fence and looking to lock down a jacket that they don't have regrets over, here are all my observations:

Fit - Tie: This is pretty close. I feel like the new one fits a tad bit closer to the body in the arms and lower torso, which I like. There are extra panels that go from the back of the shoulder/underarm down to the bottom, and they have a very slight taper to them, whereas the old jacket just has one giant panel that covers the entire back from arm to arm. The fit benefit from those panels in the new version is so slight that I don't think it's a big sway one way or the other. The new jacket has a stiffer feel from the softshell, the older one fits loose like a sweatshirt. The new jacket is 3.5cm longer at the front zipper and all that length is added on below the pockets, so it comes down further than your belt now rather than falling right at the belt-line.

Pit zips - Tie: The review on here that says the old ones are "25%" larger is a huge exaggeration. According to a ruler, the old pit zips are 2.5cm larger. The new version has a double zipper so you can really fine-tune your pit comfort. I say it's a tie because your pits won't notice that additional 2.5cm on the old, and as far as the new double-zipper, are you really going to fine-tune your vent that much? I sure won't. I'm going to zip it open, and closed. Maybe sometimes halfway open. Oh my! But it'll always be from the same side. I guess it gives you the choice which side I prefer to zip/unzip from and can concentrate my zippers there.

Pockets - Old: this dead horse has long been beaten, the old one has an internal chest pocket. (personal note: I stopped using my internal pocket on my old jacket for a couple weeks to see if I could live with out it. I didn't think I could. Sometime around this week I forgot I even had an internal pocket. So personally, I'm not using this as a criteria to decide. But you might). Other pockets are identical; the hand pockets are still mounted nice and high so they are accessible/out of the way of a pack hip belt.

Draw string - New: The old version has the draw string sheathed in the same nylon that's on the shoulders. On the new one, the drawstring is more on the inside along the bottom hem of the jacket, right along the inside of the bottom of the fleece. It feels put together better. That nylon got pretty brittle and eroded away in a few parts on my old jacket, but 0 parts of the fleece wore through, so I have more confidence in the fleece holding up over time.

Collar - New: The new collar fits nice and snug with a soft microfleece liner and a chin guard. The old collar is loose around your neck and sucks at keeping the wind out. And to answer the question I posed earlier, yes, the new collar folds down just fine.

Cuffs - Tie: With bare wrists, I find next to no difference in the cuffs. I thought the new cuffs would bunch up with a hoodie on, but they work just fine. The old cuffs ("powerstretch") were accused of stretching out and losing their snugness. If that's true, it's pretty minimal, cause my 13yr-old powerstretch cuffs on my old-old jacket are still fine. I don't ever pull my jacket sleeves up on my forearms, so there's that I guess.

Waist - New: The waist fits a lot more snug, maybe thanks to those tapered panels along the sides. Maybe you like a loose waist, and untucked sheets when you're at a hotel. I like being tucked in.

Lining - Depends: The mesh linings are identical, but the new version also has microfleece under the areas that have the softshell (shoulders and down along the top of the arms). Next to skin, the new version feels nice and cozy. With a sweatshirt on, I never felt particularly hindered at all once the jacket was on, but getting in and out of the sleeves the microfleece presents a bit more friction. That microfleece is definitely warmer, and more durable than the mesh (experience note: first areas that broke down in my jacket were the mesh lining in spots that, on the new version, would have that microfleece. Once that mesh came apart in spots after many years, then the windstopper followed shortly after).

Durability - New: Higher impact material on the outside and the inside along the shoulders and arms will certainly add some toughness. Zippers feel great on both, slightly sturdier on the new one. Also the way the draw string is sewn in, and the newer jacket just has an overall sturdier feel to it. I am weary of the double-zipper on the pits on the new one, but that's just from an assumption. That said, my old-old jacket made it through everyday use + backpacking trips through the Rockies + a host of other abuse, and the outside never broke down, not even on the shoulders or elbows. It was the lining that gave way and left the windstopper vulnerable to damage. After a decade.

Warmth - New: The softshell adds even more weather resistance, yes, but I think the real difference is the microfleece along the arms. That, plus the more snug collar and waist, and added length in the torso too keep drafts from coming in around the belt area.

Weight/packability - Old: The old jacket compresses more and is some slight amount of weight lighter.

Subtlety - Old: Maybe only matters if this is your "around-towner," but the black old is much more discreet. The nylon blends pretty well with the fleece and it doesn't look transformer-y. The softshell material on the new one stands out against the black fleece. Both jackets have MH logos on the left chest, back of the collar, and "Windstopper" embroidered on the wrist of the right sleeve. New guy also has a MH logo on the left bicep.

That's 3 ties, 3 wins for the old version, 5 wins for new, and one that's personal preference. Overall, I'd say if you want it to just break the wind but mostly let your base layer(s) do the insulating, want a more subtle look, and are really in need of that internal pocket, you'll be happy with the old version. If you want to sacrifice casual style for techy style complete with an additional MH logo, you want a jacket that will both break the wind but also provide some coziness if you're just wearing a t-shirt, and you want the one that will deal with serious winter weather better, then go with the new one. As of writing this, I'm on the brink of moving to a warmer climate, so I don't yet know which jacket I'm going to keep. Ah, decisions. Either one will be a great companion for many years
I bought this at Dick's Sporting Goods for $59.98 and it's probably the best investment I've ever made (that or the other $450.00 worth of MH stuff I got at 66-75% off from the clearance rack).

Wind, no problem. Warmth, again not a problem. Durability, I haven't had it long enough to say how it'll stand the test of time, but it's got a soft shell material in all the right places.

When I read reviews on this jacket post purchase, I noticed all the comments about an interior pocket being one of the design changes. I wouldn't mind one there, but to me it's not a deal breaker by any stretch of the imagination when you consider all the other great attributes. While the zipper would be nice, the only improvement I could realistically see is to have the soft shell material around the waist where straps would go.

Bottomline, this jacket is going to be my go to jacket in a variety of conditions. I'm 6'0 and about 175, picked up a large. There's room for a fleece underneath and it should things go from bad to worse, I could toss my Typhoon over it for rain protection.
Can the collar on the new version still...
Can the collar on the new version still fold down, or is it sort of an "always up" kind of deal? I tried on an Android, which is made of the same deflection softshell material that's along the arms, shoulders, and collar of this new version of the Windstopper Tech. I didn't like the Android's collar because it was too high to leave flipped up all the time with the front not zipped all the way up, but too stiff around the zipper to fold down. I use a hoodie under my old-version WS Tech and it's nice to fold the collar down when I have a hood flopped over the outside of the jacket.
I'll double check my jacket when I get home, but I think even the old style had the deflection softshell on the collar, and it folds down just fine.
Thanks for checking. The old style is what I have now (which is on its death bed), and it has just a nylon/denier sort of material across the collar and shoulders. I think there also may be a slightly different cut to it. I'm debating between buying the new version or scrounging up a new-old version online, and my distaste for the Android collar is what prompted my concern about the new WS Tech collar
Best Answer
My mistake, it's not the deflection material, it's just the old reinforced nylon taslan stuff. I think the real dealbreaker might be the lack of interior storage. The new jacket is a step in the right direction with the tough fabric all over, but it needs the pitzips, interior pockets, plus the colors of the old style (ranger, rattler and otter), a bicep pocket and 300 weight Polartec, and I believe it might be -the- perfect softshell.

I commiserate with you on the search for a great softshell. I wear a Sierra Designs Gnar Hoody under my old style windstopper, and it's a bomber combo.
It will fold down some after you get a few miles on it but not like the old version.
The old model Jacket has much larger pit zips and a zip inside pocket, which is absent from the new model. In addition to Fleece the old model's shoulder and arms have a "Reinforcement fabric" made from something called Polyester Taslan. (seems to be a basic polyester fabric with little or no wind and water repellant qualities.) The Lining Fabric is Polyester Tricot Knit. The cuffs are "PowerStretch® cuffs" basically soft elastic cuffs. In my opinion, this jacket is the more attractive of the two for casual wear. The original list price is $185. This was not the jacket I received when ordering the Windstopper at Backcountry (always my 1st choice). I was very sorry upset about this. When my jacket came I immediately noticed the absence of the inside zip pocket (an essential feature for me as I carry a cell phone, music player and wallet (when I use this jacket as a casual as opposed to technical jacket.)The new model jacket, which I received, also had pit zips but they are about 25% percent smaller (which makes a surprisingly big difference in it's capacity to cool you off, which, in turn, makes for a narrower useful temperature range.) The neck, shoulder and arm reinforcement has been changed to Deflection soft shell panels. The neck is is more elastic for a slightly tighter fit. The interior is lined with Schoeller NanoSphere; which has some technical properties not present in the old lining.(such as being softer, naturally water, and oil resistant) The cuffs are Mountain hardware's Jersey cuffs with the soft snug interior inside and deflection material outside.
When I wore it out once I was so upset with the smaller zips and lack of inside pocket; that I sent it back, with an angry, letter. I stated how the purchase of Mountain Hardware by Columbia has inevitably lead to a situation where they cheapen the jacket to appeal to the general public and increase sales. I searched the web and located the old model, and returned the new model. I am thrilled that I was still able to find it. I and am very happy with my NEW, old model Mountain Hardware Windstopper jacket.

However, upon reflection it is possible that I shouldn't have been so critical of Mountain Hardware's model changes. I own the Alchemy and wear this when am putting my soft shell to technical use or when rain is expected, if I don't want to wear a hard shell. I bought the Windstopper, to be my everyday jacket from about 40 degrees to about 60; with only occasional technical use. However, if you are buying this jacket primarily as a soft-shell, or technical jacket, the new model is the superior piece.

The new reinforcement material, Deflection soft shell, is vastly superior to the old Polyester Taslan in its water resistance and wind deflection capacities. This new material is exactly the same as as that which is used in the arm tops, front and rear or my Alchemy; and that jacket is basically bullet proof in no small part due to this fabric. The jersey cuffs are certainly better for all technical and most other purposes then the power stretch (and I don't think they will stretch out and lose elasticity over time as the power stretch will. (Only down side is if you use mostly Mountain Hardware gear most of their jackets have these cuffs and the don't stack great) The neck on the new jacket makes for a tighter fit, with no air getting in. The list price on this jacket is $20 less then the old one at $165.
In conclusion the old Jacket is the one I prefer but that is based on my intended use, and the fact that I own other soft shell's. The old jacket looks better and is my favorite everyday jacket but the new jacket is cheaper and is a much more weather resistant soft shell. The new model is very well suited for technical use.
I'm retiring a 13+ year old MH Windstopper...
I'm retiring a 13+ year old MH Windstopper Tech (took about 5 of those years just to grow into it!). It's had a good run, but the Gore laminate is finally coming apart in the chest. I was all set to buy another one but I'm pretty disappointed to hear that the internal chest pocket has been nixed. I used it more than the external since it was vertical, even though it meant unzipping the jacket.

Owners of the new version, how do you like the softshell material on the shoulders and arms? Does it feel any stiffer in the arms now?
Can anyone recommend an alternative jacket to consider that is the same versatility, weight, and packability of this guy? It seems like pit zips are few and far between anymore, but I think the windstopper/pit zip combo is what let me do EVERYTHING in this jacket. I'm open to fleece or a softshell that plays more of the role of a mid-layer than a "shell," much like this jacket.
Best Answer
Chris, the new style looks good but I still wear my old versions much more and prefer them. I realized I liked the old style better so I ordered a couple of them and put them away until I need them.
I got my first Mountain Hardwear WindStopper Tech Jacket as a sophomore in high school. i bought another one years later as I finally accepted the fact that i outgrew the 1st one. i kept the 1st one, and now the wife wears it.
I wear mine almost daily in my commute in cold weather. i wore it over a hoodie as a winter coat as a freshman in college where the wind chill with 40mph gusts got down to -50. last time i went backpacking and the temps dipped into the single digits, i layered with a 100% cotton long sleeve tee, this jacket and my rain jacket in that order. I was sweating like it was 90 and humid within 3 miles. i shed the rain jacket when the precipitation stopped and was fine the rest of the day. i find the DWR coating from the manufacturer loses its usefulness after about 20 washes. i have had good luck with the nikwax sprays. that's all i have ever used. this jacket still amazes me. the underarm vents work wonders. i have tried many other brands of fleece and softshell type jackets including columbia, the north face, spyder and patagonia. i still take this one with me in the backcountry every time. pockets are well placed and plenty in number. never snagged a zipper. i would recommend storing the jacket with the waist cinches in a relaxed position and they will lose some of their elasticity over time. my 1st jacket is over ten years old and this is just starting to happen. if you have a long torso like me or plan on having many layers underneath this, i recommend going a size up. i am 6'3" and am now down to 204. i have the XL. i would like to mention that i recommend against the sapphire. my 1st one was sapphire and faded into purple after a lot of washing and many years. i have caught this jacket on sale at the end of certain seasons for around 110. But you should know i paid full retail both times and would do it again if this thing should ever wear out.
Used my WindStopper Tech Jacket to go downhill skiing in Wisconsin in 20 degree weather. Had a merino wool crew, a cotton shirt and light wool sweater as underlayers, and I was completely toasty! My weekend host insisted I needed a heavy winter jacket for my trip to the ski hill, but I most certainly did not.
This is a great jacket - very windproof and warm. It has a good fit that allows for a layer underneath without feeling too tight. I love it!!
I BOUGHT MY HUSBAND THE MOUNTAIN HARDWEAR WINDSTOPPER TECH JACKET FOR CHRISTMAS.I ORDERED THE LARGE BUT THE SLEEVES WERE TOO LONG,AND HE HAS LONG ARMS.SO I REORDERED THE MEDIUM HE LOVES IT.YOU CAN DRESS IT UP OR YOU CAN DRESS IT DOWN.JUST A GREAT JACKET