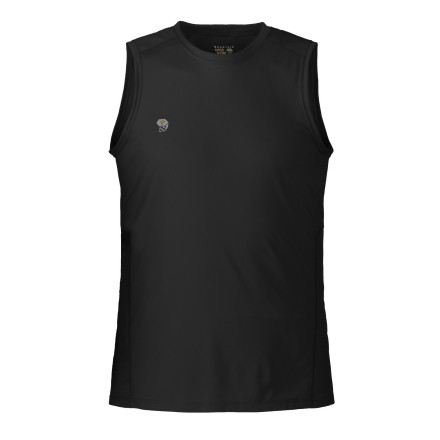 Slim fitting shirt that keeps you cool when the temp goes up. I've also "hit the deck" a few times due to my clumsy foot work and am happy to report blood, sweat and dirt wash off this shirt very easily. Would buy again!
The shirt is very lightweight. Perfect for a hot, muggy day. Works great in rain. I'm a big fan of this shirt.
I found this to have an EXTREMELY tight fit. The shoulder panels are very narrow--as the title says, think "tank" not "sleeveless". So, I found it to run quite small for a medium. Fabric felt great though.
, ☃bcs_badge_alumni_label☃
Can't believe it!
These shirts are great! As soon as I threw it on it felt like nothing was there and I was in love. So far it has taken the abuse of lots of bushwhacking and offwidth climbing. And the best part, if you are headed off on a hot backpacking trip, and would like to go super light, this shirt packs extremely small and will still smell fine after 3-4 days of heavy use!
perfect for that sweaty guy. . . you know who i mean
This tank is awesome for any outdoor adventure that requires endurance of that blistering Sól. I am definitly that sweaty kid that sits in class boiling away as the teacher spout out about supply and demand, so imagine me on the trails. Before i got this shirt, I had to go bear backed to keep myself cool. But with this shirt, I feel 10x better. It keeps the moisture on your back and chest to a minimum keeping you sweat free and much more chilled to enjoy the hike and bike. Fit is true to size when using the sizing chart. It is stretchy, as a base layer should be, so if you got that keg below your chest, you'll fit right into it. I highly recommend it.