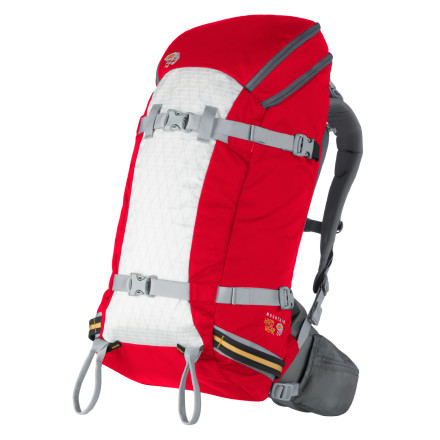 Back up and zip your pack up. The Mountain Hardwear Wayback 30 Backpack is as eager as you to hit the backcountry, but make sure you have the goods first. Built with burly Dyneema and ballistic nylon, this touring must-have lives up to the Mountain Hardwear name.
Accommodates a hydration reservoir for longer touring days
Diagonal ski carry lets you strap your planks in an unobtrusive fashion
Shovel, goggle, and other pockets help keep you organized and prepared
What do you think about this product?
Have questions about this product?
The pack sags horribly - there's no frame whatsoever.
Some good ideas here, some bad ones too
This isn't going to pass the living room test phase for me, and I'm sad to say so because it has a lot of potential. I have 3 other Mountain Hardwear packs from 2009-2010 (Dihedral, Direttissima, South Col) and I think they are the best packs I have ever used in their respective size ranges, so I had high hopes for this one.

Good stuff:

-The materials and construction are first rate, typical for M.H.

-The S/M size fits me ok (I'm 6'0'', 170lbs). A true M would be better.

-There are a good assortment of loops, attachments, pockets, etc. The rear-panel zip is especially nice for skiing.

So here are the deal-breaker issues for me:

-There is no hard structure to the pack, no stays, so it sags when loaded. It fails to transfer weight to the hip belt. A 30L pack is big enough to load up, and it all goes to your shoulders. Granted I don't want lots of weight in my ski packs, but I prefer at least some vertical rigidity in packs of this size.

-For a pack designed for skiing, it fails to A-frame carry skis effectively. This is due to the buckle choice and location on the upper side compression straps. The buckles do not lock, and they fall directly on the ski/binding when skis are attached. This allows the ski to pull slack through the buckle, and you end up with your skis flopping around. This happened immediately while simply walking around my living room with K2 Backlash skis attached (92mm). This gets the 2 star rating, sadly, because the primary purpose of this pack is to ski.

-The 2010 vintage packs from M.H. had the side compression straps isolated from the cargo lashing straps by a locking buckle piece. This pack doesn't have this feature, so when you cinch your skis down (temporarily, see above) it squeezes the cargo lashing straps as well.

A locking or relocated buckle on the ski attachment compression strap, a stiffener in the back panel, and 2010 style straps across the front, would make this pack a real winner. If any of these observations are user-error, someone please let me know.