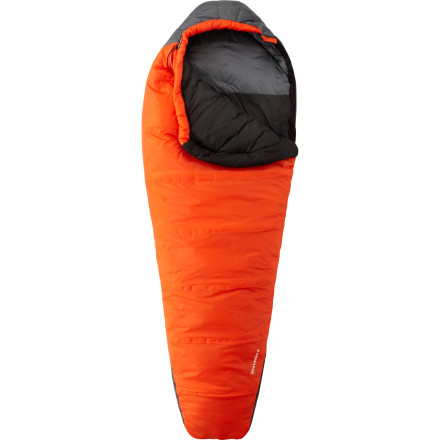 Synthetic insulation used to be synonymous with heavy and bulky; not so with the Mountain Hardwear Ultralamina 0 Sleeping Bag. The Thermal.Q synthetic insulation is highly compressible, maintains its loft, and performs far better than down in wet conditions, which makes this bag the obvious choice for backpacking in cold and wet climates.

Rated to 0°F for reliable warmth in spring, summer, fall, or mild winter weather conditions
Thermal.Q synthetic insulation is highly compressible, maintains its loft, and insulates better than down if it gets wet
Ripstop nylon shell is ultralight and highly wind resistant
Performance mummy cut reduces weight and bulk while increasing thermal efficiency
Lamina construction attaches the shell directly to the insulation, eliminating cold spots caused by typical baffle construction
Comfort Footbox accommodates the natural position of the foot for improved warmth and comfort
Ultralamina weighs in at just 3.5 pounds
Single 3/4-length zipper further reduces weight and bulk
Stuffs into an included 8.5 by 15 inch stuff sack for compact transport
Includes storage sack
Couldn't Be Happier
Familiarity:

I've used it several times
In terms of synthetic zero degree bags, the weight of this bag is almost unbeatable. Had it down in the single digits near Mt. Guyot and it held warmth like a champ. The neck baffle is a crucial feature in containing heat. The bag compresses down to almost the same size as some down bags I have seen and easily one of the more compressible synthetic zero degree bags on the market.
Warm and cozy
Familiarity:

I've used it several times
I agree that this is a fabulous bag, the only issue I ran into was that I sleep on my side and it's a little narrow for that pose. And for the zipper I added a beaded charm thingy on mine to make it easier to pull and to quickly tell it apart from my husband's (he has the same one and loves it too)
I was a little hesitant to get the bag because I hadn't seen a neck collar on the Ultralamina 0 photos, but my version has a draft collar for the neck.



The Thermal.Q synthetic material with the relatively lightweight shell stuffs down smaller than other synthetics at this temperature rating. Because Thermal.Q is a short-staple fiber synthetic, I suspect it will lose loft over the years. However, the gold standard for durable synthetic warmth, Climashield Apex, doesn't stuff down as small as this does. Climashield also feels stiffer and less flexible in my experience.



As far as the zipper, I've avoided snags. The nylon zipper cord as it comes from the factory goes through BOTH holes of the zipper, and this is a real problem when you are trying to OPEN the zipper. The thickness of the cord sits against the zipper pull and the zipper itself. This obtuse angle makes opening difficult. Rethreading the pull cord through a single hole as pictured which allows the zipper handle to pull straight down and makes opening easier. Because of the stiffness that the thicker synthetic loft gives, the zipper gets stuck far less than my Ultralamina 32.



My girlfriend uses this as her '15-degree' bag. Backcountry doesn't carry the MHW women's Ultralamina 15 which has an EN T-comfort rating of 15F and T-limit of 8F at a higher weight. Ironically, I believe that this men's 0-degree is not as warm as the women's Ultralamina 15, but MHW's 0-degree bags are not EN rated since EN ratings tend not to be as reliable at colder temperatures.



My only quibble is that I wish the zipper were full length. I'd be willing to pay an extra ounce or two penalty for the utility of a full-length zipper. The prior version had a 3/4 zip on one side and a 1/4 zip on the other. This allowed use of the arms while mummified. This feature will be missed. :(


Is anyone who used this bag missing the...
Is anyone who used this bag missing the existence of a neck collar? I'm all about weight savings, but I'm used to a plump neck collar to prevent drafts from entering on 0-degree bags.
Hmmmm...that's a good question. I haven't noticed any draft entering in through the head area, but I'm usually totally mummified when I'm camping.
WooHoo!
Familiarity:

I've used it several times
So, I would definitely consider this to be my first real nice sleeping bag. The difference between this one and my old one is indescribable. It's super warm and comfy beyond belief. The only thing I wasn't super stoked on was the compressibility of it, but I knew that before I bought it and if I ever need one to compress more I can. But for now, I'm definitely stoked on this bag.
Awesome bag
Familiarity:

I've used it several times
I love this sleeping bag. I am the person who is freezing all the time (I wear a sweatshirt in the summer in Phoenix and people think I am crazy). I had tried other zero degree bags and froze to death on 40 degree nights. After reading many many reviews I decided to give this bag a try. This is the first bag I sweat in, literally, cold nights and I am unzipping. It is a true zero degree bag. I would have gone with the 15 if I would have completely believed all the reviews I read.



My only negative complaint is the zipper is difficult. You cant just pull it up you have to kind of push it up. I thought it was just my bag so I sent it back for a new one, but my new one has the same problem. So middle of the night trying to zip or unzip is a pain but at least I am finally warm and can get a good nights sleep!!
for a right handed person, do I order a...
for a right handed person, do I order a Left Zip? or a Right ZIP?
Best Answer
Hi Mom,



There's a few factors to consider: Assuming you wanted to open it up, which side do you sleep on ?(the unzipped side facing down is usually more comfortable) Would you ever want to couple it with an opposite zipper on a compatible bag or have access to your partner? Do you have a preference in which side of the tent you sleep on, and do you want to slide out of your bag toward the middle of the tent? Are you right or left handed?



All things considered, most right handed people prefer a left hand zip and vice versa.



Hope this helps.
The warming power of this bag is unreal. Easily a great 3 to 4 season bag depending on where your camping. It weighs next to nothing which is surprising for how lofty and bulky it is out of the stuff sack. Getting it into the stuff sack is a chore, but I assume this would be the case for any sub-15 degree bag. I took away a star because I struggle with the zipper a small bit, and the cinch cords around the hood and inner heat guard around the shoulders are difficult to manage. Once you get it all set up, your guaranteed to be nice and toasty.