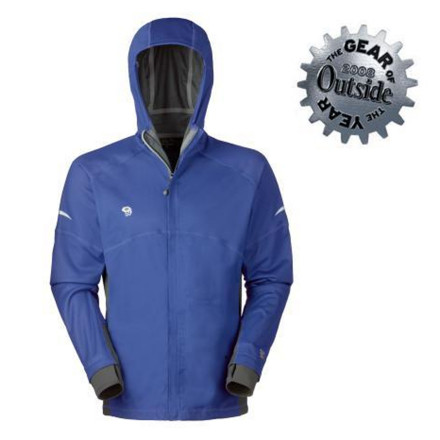 Community Images
For aerobic activities, the Mountain Hardwear Men's Transition Jacket is in it for the long run. Whether you're lapping a hollow on Nordic skis or trail running in late fall, this ultralight jacket won't disappoint. Highly breathable and totally windproof, the Transition Jacket's Windstopper Featherweight fabric lets air circulate without letting the cold get in. Stretch side panels and articulated arms give you a full range of motion, and stretch cuffs with thumbholes provide a fluid fit with gloves. This Mountain Hardwear hooded windbreaker has a slim performance fit and taped construction, so you can throw a parka on over it without bunching or pressure points.
Share your thoughts
What do you think of the
Mountain Hardwear
Transition Softshell Jacket - Men's
? Share a...
Unanswered Question
They don't make it anymore! And I'm kicking...
They don't make it anymore! And I'm kicking myself for not having bought 3 when I had the chance. Mt Hardware's new version of this is thinner, less breathable and more water resistant. Not what I need - doesn't breathe enough for running or cycling

Any suggestions on something that is similar to this jacket? Mt Hardware or otherwise
Great jacket, exactly what I was looking for, light, effective and not going to overheat you. Cool looking jacket, I also dig the thumbholes, wish more jackets came with that option. Only caution is that while very good tool for the job, do not get it if you plan to bushwhack as is it not built for that and will tear up in no time, great though for cool windy days on the mountain! MH is the best fitting gear for tall lean guys! Only reason it got 4 stars is im waiting for some future space jacket that can do it all and take a bullet!
Hi, prob very old question but how does...
Hi, prob very old question but how does this compare to the Marmot driclime for cutting the wind and wicking? Thanks Adrian.......
Adrian. The Marmot Driclime is made with a light basic wind shell with a hung poly lining on the inside of the jacket. The Transition Softshell Jacket is made utilizing the Windstopper Laminate from Gore. It is essentially a three layer fabric (meaning all the layers are laminated together as one fabric) that is completely windproof, water resistant, and highly breathable. I hope this info helps!
I was a little underwhelmed when I got this jacket. Let me tell you that after wearing it for everything from trail running to slot canyonearing and back packing this jacket is the bomb! I love it, it is much warmer than expected yet light enough for warmer days. It also has exceptional rain retardence for a soft shell. Two words...buy it.
How does this compare to the Marmot ROM...
How does this compare to the Marmot ROM jacket?
pdp. The Marmot ROM Jacket is partially windstopper and partially made with softshell panels, it is not taped, and weighs 19oz. The Transiton Hooded Jacket is made with 100% windstopper fabric, the seams ARE taped, and it weighs 13oz. So, perhaps a little more weather protection out of the Transition Jacket in a slightly lighter package. I hope this info helps!
I can't say enough good things about this jacket. I use it for everything! Shoulder season rock climbing, winter runs in the northern midwest, nordic skiing, casual spring/fall wear, anything that I can throw at it, it handles with style and ease. It stops even whipping mountain winds with ease, yet breathes amazingly well. The only thing that I would change would be to add a chest pocket to be able to hold something, but that's it. Other than that, this jacket is perfect. I give it a 5/5 hands down!
I love my transition jacket and use it for...
I love my transition jacket and use it for trailrunning and nordic skiing in any condition.
My question is, is there a jacket in the mhw range with same great athletic fit and material BUT a tad burlier and with a helmet compatable hood? I just ripped my ice/alpine climbing jacket during a fall and need a new one. I wear a medium in this and it's just right, can fit a powerstretch top underneath. I have had real problems finding a good alpine softshell that isn't baggy around the waist.
Best Answer
dju. I would consider the Mountain Hardwear Dragon Softshell Jacket. It is made with a windstopper softshell fabric and is almost as breathable as the fabric use in the Transition Jacket. It's a bit more durable and works great as a climbing shell. Hope this info helps!
i have a mhw g50 and a medium fits good...
i have a mhw g50 and a medium fits good is the sizing simalar for this jacket?
mccarron. I think you would still be a medium but the fit on the Transition has what we call an 'athletic' cut. This piece was designed with running, nordic skiing, and climbing in mind and that is why the fit is more athletic. i hope this info helps!
I'm trying to decide between the Transition...
I'm trying to decide between the Transition Softshell Jacket or the Dragon Jacket. I'm going to use it for backcountry skiing mostly. Is one too light and one too heavy? Which one will breath better on the up and still keep me dry trying to get down?
gunnieddie. If you are looking for a jacket to keep you protected going both up and down... I would suggest the Dragon Jacket but its probably not going to breathe quite as well as the Transition. If you are looking for an awesome layer to get you up and then have something in your pack for the way down like a lightly insulated shell like a Gravitor Jacket (http://www.backcountry.com/mountain-hardwear-gravitor-insulated-jacket-mens) or other waterproof/breathable shell... then I would say get the Transiton Jacket. The latter system is exactly what I use in the Backcountry. I hope this info helps!
This has been a favorite jacket of mine for the past two years for many reasons. It fits great (I'm a skinny guy at 6'3" and 180lbs, and the L fits perfectly), really stops the wind and keeps you surprisingly warm for its weight, and the light weight means that you can always bring it with you.

What's wrong then? Well, the back pocket is sort of a miss - I'd much rather have a single chest pocket (Arc'teryx style). The thumb loops make no sense to me, but at least the arms are long enough. More importantly though, the fabric isn't the most robust. After two years of frequent, but far from daily, use, I can see that the fabric on the shoulders and chest is starting to fray, probably due to wearing a backpack while biking and hiking. Not surprising given the low weight, but still a bit disappointing to have to replace it after two years. That being said, I like the jacket a lot, and will probably buy a new one to replace it.
I am 6'5" and looking at this jacket, would...
I am 6'5" and looking at this jacket, would it be long enough for my height?
jak. At 6'5" I would definitely consider an XL size wise. As for whether or not it would be long enough? You'll have to check it out for yourself. Hard to say not knowing your dimensions. If you do know your dimensions, check out the sizing chart for some clarity on what we consider an XL. Hope this helps!
Wore this on several occasions. Once backpacking in January in Utah and it kept me super warm and was very breathable underneath a Primaloft MonteBell puffy. I also use this when I run and ride my bike. I wish it had a front pocket somewhere just because reaching around back sometimes is a pain if you're layering. The scooba hood and thumb-holes rule! Bottom line is that this jacket rules for layering and stops the wind like a champ so much that you once you get warmed up on a hike you can stay warm and breathable on some of the coldest days.
Great fabric, light on features.
Very well produced pure minimalist item. Gets a lot of use cycling. On the fit, it fits slim but have found the arm length great. Note: There is only one pocket (mp3) on the small of the back , low down and offset to the right. There is no other internal pocket. I'd love a united version of this jacket, with the features of the hoody and superpower jacket combined...
A fantastic cold weather running jacket. I have to give this jacket the edge over the TNF Cipher because of the fit and weight. So light you barely notice it. Not an ounce of wind gets through this thing. Very trim athletic fit throughout, so buy accordingly. Im 5'10'' 190 and the large fits like a glove without being constricting. You will only be able to get one layer underneath. For the purpose of running or x-c skiing, this jacket performs bettter than you think it should. If you are looking for style, or a casual fit, THATS NOT WHAT THIS IS FOR.. Want a casual jacket, go to the Gap
Fantistic, apart from the wrists.
I use this product for running/xc skiing, with a shirt underneath if it's quite chilly or even without one if it's just brisk. This jacket breaks wind almost as well as a little league team at a chili-feed. I think you could fit a thin fleece underneath this, but it is a pretty snug fit. I like that though.

The wrists are a little restrictive, pigeon-holing you into one mode of wearing, but the jacket is fantastic. However, the hood is Fantastic! with it, a small beanie is all I need for skiing even when it's quite cold out.

The pocket in the back I could take or leave. it's ok, but not great, and even a heavy set of keys bounces with you if you're running. I think my ipod nano was great though.
Got this two days ago and already love it. windstopper fabric throughout, areas that dont have that still offer considerable wind blocking performance, and a good athletic fit. there are only a two reasons that this isnt 5 stars. one is that there is no waist draw string but as the fit is good it doesnt render the jacket useless. my other problem is the pockets or rather the lack of pockets. it would be really nice if this had two high hand pockets but instead there is one small back pocket. not a big deal since the majority of the time im in the jacket im moving. if the back pocket were an inch and a half bigger in any dimension you could stuff the whole jacket into itself which would be great. All in all a super solid jacket that I would buy again in a heartbeat. im 5'10" and 140 pounds fitting into a medium with a bit of room.
i love the stretchiness for the thumbholes! I wish every jacket i owned had this feature! super comfy and light-weight! highly recommend
Wicked Awesome For Winter Runs & Ski Touring
i got this jacked two years in a row as part of the montrail ultrarunning team kit. two years ago it didn't have a hood. i found the coat great, but this version is even better with the hoodie. it's perfect for cold morning snowy runs. it's got just enough breathability and the bomber wind stopper. i have started wearing it as my main jacket for backcountry skiing. skinning uphill in this jacket is just perfect. if it gets windy i put the hood on and go. it's got the thumb holds that give you that extra bit of hand warmth. i just throw a puffy on when i get to the top.. it's a thing of gear layering beauty.