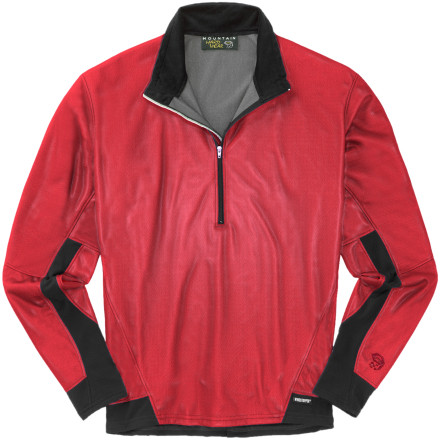 This featherweight shirt has been great to wear under cycling jerseys for windy New Mexico almost spring days (low 40s F). It works to stop the head wind yet it vents and has great moisture transfer too. Due to this combination of features, I stay warm and dry. The shirt doesn't flap and make lots of noise in the wind either. Not surprisingly, I don't find it good for staying warm when not exercising.
Mountain Hardware's Transition Featherweight Zip top is great! It is very versatile, and will function well in numerous situations...base layer, light insulation, etc. The "WindStopper" material is the feature that sold me...especially good for taking the chill out of those breezy mountain days, or, while cragging in the cool of the early morning. On the downside, it is a bit pricey (retail), so look for good deals.
Out of the package the material was heavier than I thought it was going to be so, the first time out I assumed I would overheat. I didn't. The material breathes really well. It does an excellent job blocking the wind. I have not worn this in wet weather so I am not able to comment on that aspect. The fit is snug so if you are thinking of using this as a mid-layer or don't like a tight fit, order a size up. There are stretch panels but the material itself does not stretch.

As far as weather, In my case I get hot real easy so this is going to work excellent as a winter layer and spring outer layer.
Jacket feels great, cut of sleeves too long
This jacket looks like it would do the trick. But I don't think that I will be able to find out because the sleeves are way too long. Mountain Hardwear tops and jackets, I own about 4 or 5, all large and all fit perfectly. This one the chest and shoulders fit great but there is about 5 extra inches of sleeve there. This might be for cyclists or runners who don't want to wear gloves, but if you don't want to wear your thumbs through the jacket, there is about 3 inches of fabric bunching up around your wrist.
The Transition top works!
I have skate skied in this top at 10 F with a Transition Vest and never got cold. I where this top biking down to about 40 F with no problems. It also works well under a soft shell skiing in moderate temperatures. This is a great light weight top that delivers a ton in performance.
This is an amazingly versatile piece of gear. It's now my go-to piece for cold weather running, climbing and ski touring. I can wear it alone, or with a light base layer if it's colder and it works great. Especially for ski touring, it's great for the skin up and when I get to the top I put on my puffy jacket and am ready for the ski down. It's a really simple, lightweight and effective system. It has replaced my midweight layer altogether, and I even use it for cool weather mtn biking.
Great at what it does - but some flaws
I'm a huge fan of Mountain Hardwear, but in my opinion they missed the mark slightly here. Like the other reviews say, this piece does its job well. It keeps you warm and dry in cool weather. Unfortunately I find it very itchy and irritating, especially around the seams, which seem quite thick and obtrusive. I've read this from other reviews as well. Maybe it's just a few people that have sensitive skin, but I have similar style garmets from other manufacturers and none of them have these issues. Of course this is all solved by putting a light base layer underneath, but then it kind of defeats the whole purpose of 'N2S'.
I recommend sizing up on this one...I usually wear a size large, but with this particular brand I need to wear an XL with their shirts. It's a good shirt for running in cool weather.
Ran the DC, it was going to get up to around 50 degree,s so I was concerned about being to hot, but it was windy so I stayed comfortable. I was also worried about chaffing and had no problems- none. Great piece with a wide range of uses.
The fabric is fantastic, this N2S stuff really works. The only downside: it fits a little bit too stiff.
Mountain Hardwear Transitions Featherweight Zip
Great fabric, but it fits too tight in the armpits so you might want to order one size up.
The Mountain Hardware Transition Featherweight Zip has been a perfect solution to those cool, windy (and sometimes wet) days on the trail. I mountainbike a lot and this jersey has taken the place of all of my long-sleeve bike jerseys. The MH jersey (my second) stops the wind better that anything else in my closet.
Mtn HardwearTransition Zip-T
This is a great item! It is perfect for hiking or skinning in the late winter/early spring. Keeps you dry and comfortable in a variety of weather. It is even water proof to a point. The only drawbacks are that it is cut a little close (really long sleeves and tight, short waist for my pretty average frame), and it is not very comfy as a base layer as advertised by Mountain Hardwear. Definitely worth the money though, in my opinion. Order a size bigger than you normally wear, in my opinion.
N2S is best for active sports
These N2S (next-to-skin) products enable you to be comfortable over a broader temperature range (while engaging in aerobic activities) than anything else I own. They are simultaneously the most breathable and most wind-resistant items I own. It's a base layer, not a shell, so you wear at most a single wicking layer underneath. They are sized small, so you may have to order one size larger than your usual size. I use them for cold-weather running, cross-country skiing, and cold-weather bike riding.
I wrote a review above but forgot to mention a few things. I thought this was overpriced but read the reviews and all good things were said, it's right on the money. Once you consider what you're getting, it's a bargain. ORDER 1 SIZE UP. The athletic fit is nice but snug. The only problem is once you size up the fit, everywhere but the sleeves fits well. The sleeves are long, which I guess isn't terrible because it leaves room for them to go over your hands if you don't have gloves.
Completely changed my ski layering system. Windproof, comfy, and looks fly when you are boozing after a hard days work. Keeps the wind out and keeps you warm without the need for a fleece.
A must own at any price. Thought 95 bucks was expensive but I wear this everywhere. Completely changed my layering.
Not what I was expecting, but very pleased regardless. Great for warmer windy days or if layered for the colder ones. Stretchy down at the wrists so it can be pulled over your hands. Trim fit which is nice if you are tired of baggy jackets. Not abrasion resistant but windproof and damn close to waterproof, very nice.
winter biking made possible
This light, yet heavy-duty piece of equipment makes one hell of a winter biking shirt, wind and water don't stand a chance. It may be pricey, but for what you can get out of it with skiing, hiking, and as I've discovered, road cycling, it is a must own.
This is an amazing piece of gear. It's windproof, breathable, and extremely lightweight. It's totally changed my layering system. My only complaint is that they need to sew the tags flat.