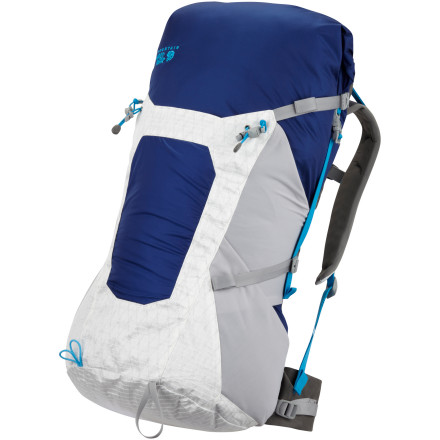 Detail Images

Videos
Flyweight materials, compression capacity, and high-tech suspension make the Mountain Hardwear Thruway 50 Backpack ideal for the serious thru-hiker who demands both reliability and comfort.
Modified Alpine UL suspension system features removable hip belt and HardWave framesheet for customizable stability
Minimalist roll-top design for easy access and reduced weight
Super-stretchy mesh side panels provide convenient extra storage for water bottles, tent poles, or anything else remotely cylindrical
Padded, breathable shoulder straps won't cause irritation against bare skin
Carry loops easily hold ice axe and trekking poles
Huge front compression panel allows over-stuffing for those AT-esque endeavors
Can't wait to hit the trail!
Gender:

Male

Familiarity:

I've used it once or twice and have initial impressions
My Thruway 50 arrived today and I have to say that I am very impressed with both fit and finish. Getting a new piece of gear is always exciting, but I honestly can't remember being more pumped about something straight out of the box. I immediately loaded the Thruway up with my standard gear (minus food) to get a feel for the pack and ... so far, so good! I'm 5'8" and the Med (reg) fits nicely. I was able to dial in the fit very easily and felt like I could run a marathon with the fifteen or so pounds that I had in it. While padding is sparse, it is effective, and I actually plan to augment that by using my Thermarest as the pack's "frame" anyway. With the right fold, my inflated pad created a very comfortable back panel. The included foam sheet is not enough padding to give me a good night's sleep, but it will make a fine campfire/vestibule mat and dog bed. By replacing my older pack with the Thruway 50, I was able to drop about two pounds from my load while gaining comfort and volume. I can't say how this pack will feel fully loaded for a week long trip just yet, but it should be perfect for weekenders where my total weight stays under 25 pounds and definitely has room to fit a few more pounds of food for longer hikes.



Final notes: Many have complained about the lack of hydration compatibility. There is plenty of room to fit your full bladder in the frame sleeve (between the back panel and the pack's main compartment) and even a plastic ring on the shoulder straps to stow your drinking tube. Personally, I'd consider this pack "hydration system compatible". Also, it should be made clear that the "mesh side panels" are not actually pockets, but a part of the "front compression panel" that covers the entire exterior of the pack. The stretchy mesh side panel fabric held a Gatorade bottle in place just fine, but require the pack to be, well... packed in order to hold anything in place.
Awesome pack for the lightweight minded
Familiarity:

I've used it several times
I never review things, but I took this on a 4 day - lightweight hike in Yosemite - Grand Canyon of the Tuolumne loop, and it rocked my world. I did hike with a 2L Camelback, and just put it on the very top of my load, and rolled one side of the top a few more times more than the other... it worked fine. Light, comfortable and missed none of the features of a heavier pack. They designed this pack exceptionally well. I bought another one for my wife - I liked it so much... I was skeptical of the soft foam back, but it never caused me any discomfort. Really enjoyed this pack! It shined...
Used on 2013 AT Thru Hike
Familiarity:

I've put it through the wringer
I used this pack the whole way on my 2013 AT thru Hike. It was simply the best light weight pack on the trial in my opinion. I sold several of my fellow thru hikers on the pack, who ended up buying it online and using it to finish their hike. Benefits are its light weight, durability, water resistance, ease of access. I would recommend to any day hiker or future thru hiker.
I saw this pack in a store today and was...
I saw this pack in a store today and was intrigued. I find it hard to believe that the lack of a hydration pocket and hose port in an oversight. Seems to me the reservoir would be placed in between the frame sheet and pack, much like many folks used the old GG Vapor Trail. Am I correct there? Otherwise, where would be the primary spot for a platy, or would one just use a bottle in the side pocket?
Hey Scope,



Its not so much that it isn't hydration compatible but that their isn't a designated hydration pocket or hose ports. That doesn't mean that you can't fit a bladder in the sleeve that holds the ground mat or anywhere else you find convenient. The lower side pockets according to Mountain Hardwear are the only point designed to hold a water bottle.
If you are in the market for a truly minimalist, lightweight backpack, look no further. Mt. Hardwear has taken some of the best features and innovations from recent cottage industry designs and applied them to this pack. Keeping in mind its intended use, for me, it fits the bill. I appreciate that it doesn't have lots of pockets, straps, bells or whistles as I would not use them. I also like that it's not attempting to reach the mass market of backpackers through a one size fits all encompassing design.

I loaded the pack with 27lbs, including food & water and found it to be quite comfortable to hike in for the weekend. One unique touch to this lidless design is the zippered pocket on the roll top.

Additionally, since I line my pack and place the bladder on top of the inside, I'm not concerned that it doesn't have a designated hydration pocket, however, I do wish that it had a port for a bladder to come through. While I've modified mine to allow for this, I was really hesitant to start cutting. Hopefully, future versions account for this oversight.
Definitely hits the mark for quality, light weight 50 liter pack. I had to return because fit all wrong for me. I need women's specific and torso adjustable to dial in the fit. No matter how many unisex packs I try it just doesn't work. But how I wish it did. This would be a keeper. Only one negative for me was no hydration pocket inside pack which is pretty standard.
Great idea, but poor execution (at least for me)
I was in the market as they say for a light backpack (trying to keep my total load around 25lbs), and a bag that weighs less than 2 lbs sounded very promising to me. I wasn't too concerned about its virtually non-existent individual compartments/zippered pockets/lid/etc. In fact, I found its Spartan setup quite refreshing. The issue for me ended up being its suspension. Now the shoulder straps and the hip belt, despite their thin composition are very comfortable, but its frameless design made the load lifters ineffective in that the frame wasn't strong enough to properly lift the load off my shoulders. In fact, the top of the frame just curled towards my shoulders (and this was with about 20 lbs of load. I'm not sure whether it's technically correct to call it a frameless suspension, but it's essentially a combination of light plastic frame sheet and a foam pad - offers nowhere near the rigidity that other backpacks in its class offers (e.g. Granite Gear AC 60, Osprey Exos 58, Boreas Buttermilk 55). Additionally, the pack has absolutely no provision for a hydration system, and it's also more expensive (not by much but nonetheless) than its competing models. I do love the idea/intent of the bag, hopefully I'll have a better luck with it in their future models. I believe it may have still worked for me for loads under 15 lbs. And just because I had issues with it doesn't mean it won't work for you, everyone has a unique body and propensity. For reference, I'm 5'11", 170-175 lbs (depending on whether I'm lifting or not), 31" waist with 21.5" torso (I do have a long torso for my height).
Mountain Hardwear Thruway 50