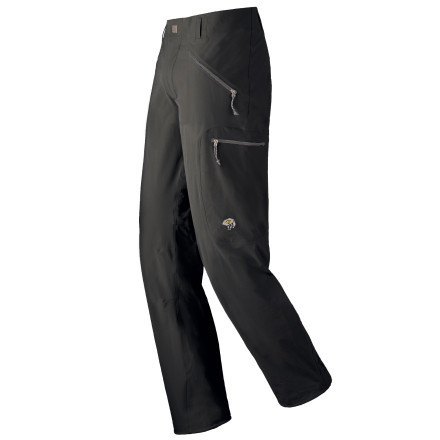 Community Images
Absolutely the best outdoor trousers i've ever owned!
These trousers are extremely comfortable. They are very flexible so you'll never feel cramped even while climbing. They are very resistant to wear and tear. Feel fine over a wide range of temperature as well. The only you could keep in mind is that because i bought black trousers, i noticed that if it's hot and the sun is really shining, your legs will be really warm.

The wide range of sizes is also great. Regular sizes tend to have legs to long for me, but here i was able to pick a size that fit me perfectly.

Fully deserves 5 stars (just because you can't give 6).
I have had one of this for over a year, the freedom of movement is excellent, feel is great and it was fairly good a shedding water for the first months. Now the stitching are starting to rip from the rock friction. Held up pretty good all in all. But after I had to restitch it four times I`m going for my second pair.
These pants shed water really well. I zipped up my phone in the pockets during a heavy rain and my head/torso got SOAKED but my phone stayed dry no problem. These pants stretch a lot, so they are very nice to climb in (easy to lift legs high). The zipper is shielded on the inside by felt-like material for the commandos out there.
all reg? no LT?? i hate it~ i really need...
all reg?
no LT??
i hate it~
i really need the size 33/36 or L/long or LT.
so sad~
Unfortunately not, I suggest contacting Mountain Hardwear directly.
Bought these for my college age son. He wanted a pair of techy pants, and these fit the bill. Although he's fairly slim, a large was too tight at the waist, so we needed to exchange for an XL.

A thinner material than Patagonia or more expensive brands, but a nice price.
I know the mediums come in 32" inseam. Is...
I know the mediums come in 32" inseam. Is there enough fabric in there to lengthen them to 34" inseam?
NO not more than 1" cuff on the Med. We are returning for large size. Saw someone elses comment and also find that the fit was poochy in the man package area and too clingy in the butt.
Would you say the material on these are...
Would you say the material on these are pretty thin? How would they compare to the MH Mesa pants? Sizing and fabric feel the same?
Pau. The material is relatively thin like on the Mesa Pant the only difference is that these have much more stretch. Here are the material specs for the Talus Pant: 85% Nylon and 15% Elastane... Elastane = stretch! Here are the material specs for the Mesa Pant: 100% Nylon. So, I think you can see the difference. The Mesa Pant has a "relaxed" fit and the Talus Pants are "Semi-Fitted" so the Talus will fit a little tighter but they are stretchy! Hope this helps.
Old-Schooler Loving 21st Century Climbing Pants
Wore these on two outings so far.

Incredibly comfortable via its' super lightweight and stretchy material.

On one part of the second outing, I was climbing a foot-trail that exceeded 25+ degrees angle for approx. 30m and was very impressed with how the pant felt like they weren't even on! There was virtually no resistance from the pant as I stepped (Like climbing a ladder; three rungs at a time).

I liked the pocket placement; Two on each quad. No rear pockets.

I also love the blousing straps/cords on the pant hem. It makes for a snag-less pant. As well as a drier water crossing, which I did on part of the trail. I stepped into a creek above boot-line with the pant hem cinched and tucked; absolutely no water penetration from either pant or boot!

Being an old-schooler, I'm concerned about durability because the material so thin. However, as long as I don't glissade down a long boulder face, I'm sure the pant will be fine!
great hiking pants durable very light and has harness friendly pockets
how noisey are these pants when walking,...
how noisey are these pants when walking, do they rustle alot? i have a pair of arcteryx rampart pants, which i find quite noisey, are they similar to these or quiter?
Best Answer
They are not noisey at all a light softshell material thats very cosey and does not sound like a potatoe chip bag!
I wore these pants on a hot 90 degree day up trail 133 to the top of Trapper Peak in September and my legs stayed cool and did not over heat. There was no chaffing or harsh rubbing. I am also currently wearing these pants over a base layer for my winter hikes. The nylon-elastane outer fabric is like Teflon against the snow, my legs stay dry and warm. The position of the pockets offer quick access and the zippers glide so easily that they operate one handed. The pants have a tailored fit, not too tight and not too baggy, almost like you're not wearing anything at all...
I love almost everything MH and these pants do exactly what I wanted them to do. The stretch fabric makes it feel like I am wearing nothing and the freedom of movement while hiking and bouldering are incredible. They are a little tight, but for backpacking I think they are wonderful. The glued seems work well for me so far, I have rocked these on lots of hiking trips in the Whites and havent had any problems after washing. The belt loop is great too because they are glued on, no awkward rubbing on the hip belt. I love these pants, fit is excellent and they are great for hiking and backpacking!
I am 5"7 175lbs and the large was just slightly too big. I would recommend anyone with a 34" waist to go with the medium
Huge fan of this pant....can't even look at 9 out of 10 pants because they won't make the inseam long enough for a climber at 5'11", 150lbs, did not know I was such an abnormality. Anyway, the pRana Canyoneering pant was a good pant, made a long inseam, but the built in belt was breaking on all of them, so broke down and just decided to buy a pant with loops....and this is a tough pant, willing to put up with a lot of abrasion (I mostly climb limestone and sandstone)...best improvement for me was the ease of opening the front pockets with one hand while belaying...vs how pRana had done that Canyoneering pant with too small of a zipper cord.
These pants are extremely comfortable!! The material allows for great freedom of movement and they have become my go-to hiking pants while in the backcountry. They breath really well even on those hot humid days in the Whites. Because of the material though they do seem to stretch out quite a bit after just wearing them on two hikes. The fit is true to the size, I was worried the large would be tight but being 6'0 and 200lbs the large fit just right. I enjoy that they have belt loops as I am not a fan of built in belts on my hiking pants but the belt loops seem a bit flimsy and I can see them detaching with a bit more use. Overall, extremely comfortable pants, great material and fit, a bit skeptical on bomb-proofness....
I wanted to give these pants a little use before I actually used them. I'm 5'6'' and 130 pounds and the small fits very nice, although the inseam maybe just a little too long, it's nothing too major though, especially for you taller folks. I took these pants fishing for a day and they kept me comfortable from the morning cold to the mid day heat. I also took it on an overnight backpacking trip and they held up pretty well throughout. I didn't experience any tearing or coming apart of the hem around the ankles or excessive stretching like some of these other reviews but then again I may not have used them as much yet. Overall, the fit is great and these pants seem quite durable.
When the pants "stretch" out after a period...
When the pants "stretch" out after a period of time do they return to normal after washing? Or are they "hammer" pants from then on?
Best Answer
I've owned these for 6 months and have washed them several times and they still fit like brand new.
These should remain fitted and 'stretchy' for a long time. The material feels pretty solid for a light pants. They're super stretchy but snap right back to their original shape.
over a year and half old and I play in them quite a bit they are in constant rotation whith 2 other light softshells wich i wear for almost anything now adays .. but thease have not changed since the first climb!
Not sure what happened to the other reviewers pants, but these are the best pair of pants i have ever owned. They fit great, the stretchiness is really cool and makes bouldering and climbing really easy. They are very durable for me and have lots of pockets. The soft chamois lining is great for carrying a heavy pack too. They also look really cool. I absolutely recommend these pants.
The water resistant material works well. When they do get very wet, they dry quickly just as advertised. They are comfortable the waist is extremely soft and fits well under a pack. After hiking 21 miles and carrying my wife's pack also they were breathing wonderfully. When I had to start carrying my son and both of our packs, the still held up. They began to become a bit loose midway on the trip and that was aggrovating and the main reason for 4 stars instead of 5. Also, I prefer to have a back pocket. The pocket preference doesn't lose them a star but the material stretching and becoming too loose does remove a star. All in all, good pants but I will be trying something else to be my main pair of pants.