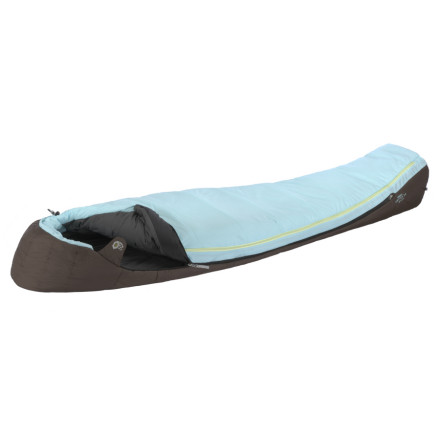 Mountain Hardwear Switch Sleeping Bag: 20 Degree Synthetic - Women's
View Larger Image
You have room to toss and turn around inside the Mountain Hardwear's Women's Switch Sleeping Bag thanks to the Quantum expander, which zips open when you want a little more space in the bag. The panel is fully insulated to eliminate cold spots, and extra insulation in the roomy footbox and a tailored hood keep you cozy during cool nights on the trail.
Women-specific comfort mummy cut designed to maximizes weight savings without being overly constrictive; additional fill place in strategic zones
20-Degree rating ideal for shoulder season, use at low elevation, or summer use at higher elevation
Quantum expander zips open to add 8 inches of room to the bag; keep it zipped closed for maximum warmth or leave it open for extra room
Synthetic Thermic MX insulation traps in gobs of warmth and keeps you warm even if it gets slightly wet
Baffled construction delivers superior loft and prevent cold spots
Comfort Footbox follows your foot's natural shape for maximum warmth and comfort
Face gasket and tailored hood block drafts and seal in warmth
Full-length, #8 zipper features double sliders for versatile ventilation
Included nylon compression stuff sack and mesh storage bag make storage and transport a breeze
How small does this thing compress? I've...
How small does this thing compress? I've been borrowing my dad's for camping trips and such, but his is to big for my taste, so I'm looking for one of my own compressed as tightly as I can. So how tight is that?
Hi Caroline,
The Switch 20 degree will compress to about 7.5 x 15 inches. You probably could compress it a tad bit more if you use a compression sack, but the 'delivered' size is fairly small. thanks!
Hi there, I just receive this sleeping bag...
Hi there, I just receive this sleeping bag from you and notices that the nylon stuff sack and mesh storage bag are missing. I thought this bag comes with a Nylon stuff sack and mesh storage bag?
Hope on Live Chat to get your issue sorted out.
rickoon. It should be shipped with both. I would click on 'LiveChat' and let the folks at Backcountry know what is up. Thanks!
Live Chat did solve my problem. You guys Rock!!! Thanks again!!!
Exactly what I needed at a fair price for the quality.
Most of the camping I do is early spring through mid fall. This bag has been perfect for taking on far road trips and spending weekends at sites. It compresses great although I would recommend buying a different sack than the one that the bag comes with. The extension zipper is really nice and gives extra wiggle room. The colors are great and the material feels wonderful. The mummy zip is nice for the cooler evenings. I camped mid June and the temperature ranged from 40 degrees and raining to 90 degrees and humid. The bag worked out well. Definitely choose synthetic over down-- It won't bunch up. Mountain Hardwear is a brand I trust for sturdy and long-lasting gear.
The zipper is driving me crazy!
Yes, the bag is warm and comfortable and packs down to a descent size, and it has two convenient storage pockets inside and the expandable zipper for when it's not below freezing...I would give it five stars, except I've been sleeping in it for a month and a half and have yet to manage an effective way to zip it up without it snagging. At best, I can get it 90% zipped, but it's that last 10% that is nightmarish. And it's cold, so I want to get it zipped all the way up...but it ALWAYS snags. Always.
I really can not say anything bad about this bag. I love it.