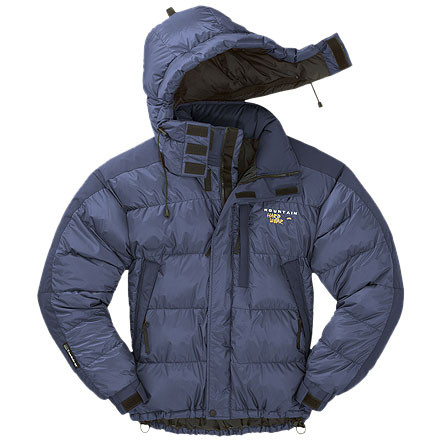 Community Images
The Mountain Hardwear Men's Sub Zero SL Hooded Jacket surrounds you with 650-fill down for the coldest possible conditions this winter. Mountain Hardwear's most popular down jacket, the Sub Zero SL is cloaked in Conduit SL—the company's proprietary water resistant, breathable fabric, allowing you to wear the Sub Zero SL skiing in drier climates and cruising around town while those fat flakes pile up. The seams in the baffles are not sewn-through, much like a high-quality sleeping bag. This means there is no true separation of the insulation at the seams, so you stay warmer and more comfortable, without the cold spots common in sewn-through down garments. The hood is detachable, and the fleece-lined collar and hand pockets keep you extra comfortable. An interior mesh water-bottle pocket is super handy for backcountry excursions, and of course, Mountain Hardwear's quality is legendary—there are few companies that match their excellence.
Share your thoughts
What do you think of the
Mountain Hardwear
Sub Zero SL Hooded Down Jacket - Men's
? Share a...
It is bomber and all, but it is also big and bulky. I feel like the stay puff marshmallow man when I wear it. I think there are better options available in the recent year. I have mainly used it knocking around Whistler and having drinks out on the many patios in the village and on the mountain. I will be using it on Rainier this spring/early summer. It is a great coat for snowmobiling .
Since the Mountain gear Sub Zero Jacket...
Since the Mountain gear Sub Zero Jacket has been discontinued what is the closest substitute? I will be using it for the really cold days in Vermont.
Best Answer
Michael. The Sub Zero has not been discontinued the name was simply changed due to some unforeseen legalities surrounding its name. If you are looking for the Sub Zero look no further than the Hunker Down Jacket on this here website! I hope this info helps! Enjoy!
I'm probably headed to Denali next spring....
I'm probably headed to Denali next spring. Would this be a good jacket? I've read that the absolute zero may be a better option?
T Wired. I would look in to an Absolute Zero if I was going to Denali. FYI, Mountain Hardwear is also coming out with a new jacket in Spring of 2012 that we built specifically for Ueli Steck and his alpine climbing adventures. It is called the Nilas Jacket, insulated with 850-fill down, utilizes the AirSheild Elite laminate and will be out sometime in February of 2012. So, it would be between the Absolute Zero and the Nilas. The Sub Zero SL I would pick for my lower 48 adventures. Hope this info helps!
How well does the jacket pack down. I am...
How well does the jacket pack down. I am thinking about using this piece of clothing for late fall and early winter bicycle riding.
William,
Thanks for your question. The Sub Zero SL Hooded jacket from Mountain Hardwear will pack down some, but it is not really your most packable option in my opinion. If you are looking for a down or synthetic insulated item for your purposes, I would check out the Nitrous Down Jacket, the Zonal jacket, or Zonal 1/4 zip pullover. All of these are lightweight, with great warmth to weight ratio's, and much more packable than the Sub Zero SL. I hope this is helpful for you.
I have the 2008 version of the non-SL...
I have the 2008 version of the non-SL jacket. Does this model lose as much down as my jacket? By spring my car seat is covered with down that is lost through the shell of my Sub Zero jacket.
I pick out a feather or two a month. Nothing I'd consider remotely serious.
Lounging in a Sub Zero jacket
Hanging out in the Arctic Circle (Svalbard) in a MHW Subzero jacket.
Best down jacked I've ever had !!
I got this one 7 months ago and I love it !

I've been using it on top of Glaciers here in Iceland and up there is -25°C, didn't get cold.. never.
This is simply the best down jacked I've ever had or tested, and the price is not bad, a jacked like this would cost around $640 here in Iceland !
Write your question here... what is the...
Write your question here... what is the weight of the jacket, medium size, if possible
Best Answer
36 oz/1.03 kg is the weight of a medium.

Please Thumbs Up if this helped. Thanks.
i can probably guess right on this question...
i can probably guess right on this question but, if you have wettish clothes on and you put this on, like a synthetic jacket, will it dry the clothes or just get really wet?help me, please.
Marcello, I would think if your clothes were wet this jacket would absorb a small amount of the moisture (as any down jacket will do) but your clothes will remain damp.
Best Answer
Yep, if you guessed that it would absorb moisture, and soon be at least somewhat wet too, you guessed right. If you're looking to insulate your core and dry your clothes at the same time, you would be better off stripping down to bare skin, then throwing on the jacket, and using the air to dry your wet layers. Down does zero good when wet.
TOP QUALITY, GREAT WARMTH
TOP QUALITY, GREAT WARMTH
The Mountain Hardwear Subzero SL Jacket is extremely warm, wind resistant. and nearly waterproof - due to the Conduit SL Laminate Shell. This is the "current best bet" for any of you Gear Heads, who were thinking of buying the Moutain Hardwear Subzero SL PARKA.
Mt. Hardwear after years of great sales of the Mt. Hardwear Subzero SL Parka - has discontinued it - because they think they can even improve upon - they have told me in phone calls. The improved PARKA version will be out in a few months. For now, the Mt. Hardwear Subzero SL JACKET should suffice and do a great job for most winter days. It is top quality, and will keep you warm down to minus 20 wind chills at least.
Durable and Reliable Warmth
The SubZero SL has proven to be a very consistent performer. Always very durable, great fitting and excellent warmth. I love the cuffs, the fleece lined pockets and THE HOOD IS AWESOME! Has kept me warm (warm enough) in neg 25 temps and high winds, while layered over a softshell. Make it a part of your winter arsenal. Sizing: I'm 6ft 185 and wear a Large. It fits a tad bit large, but I use as an outer layer in cold conditions, so perfect!
I wanted to love this jacket...
But I could not due to it's poor zipper design. I had a terrible time getting the zipper started and experienced so much frustration that I decided to just stop using it. Thanks to BC's policy, I sent it back. It is very warm and cozy - not light weight but definitely a jacket you are glad you have with you on a cold day.

Bottom line - if your good with zippers, then maybe this is the jacket for you.
If not sewn thru, what keeps down in...
If not sewn thru, what keeps down in place...or as one comment, does it move/bunch up?
Anon. Baffles. This jacket is baffled like a sleeping bag and the baffles are what keep the down in place. You can either sew through a jacket or you can baffle a jacket. The reason you would want to build a jacket with baffles is because it gets rid of cold spots. On a sewn through jacket, each stitch line represents a cold spot. This is fine for lighter weight or thinner down jackets. But, if you are building a jacket for warmth... baffles are the only way to go. I hope this info helps!
could you please tell me the main differences...
could you please tell me the main differences between this jacket (Mountain hardwear Sub Zero SL Hooded) and the Millet Expert Down jacket?, which one would you recommend me?, thanks
Alejandro. Both Jackets are nice and will keep you very warm in cold conditions. The Sub Zero SL Hooded Jacket utilizes the Conduit SL laminate throughout the jacket that keeps the weather out. It is a waterproof and breathable fabric but the jacket is not taped so we cannot call it completely waterproof. Typically in the coldest weather the air is very dry and complete waterproof-ness is not needed. The Millet Jacket utilizes waterproof fabric in "reinforcement panels" not throughout the entire jacket. This is probably the main difference. Again, both will keep you very warm in cold weather. I hope this info helps!
I am heading to Fairbanks to photograph...
I am heading to Fairbanks to photograph the aurora - means some standing around at night ( lows -15 F), but I am short and squat (5'6, 220). Being a short cut this jacket is looking like the best choice for me, is it? other suggestions?
Best Answer
I think this jacket would work perfect for what you are wanting. I would also look into buying some snow pants for those temps.
That actually sounds a bit warm for Fairbanks this time of year, but it's no matter, the jacket will shrug off the cold either way. I routinely go out in a T-shirt and this jacket in Alaskan winters. It's that warm. The short length is best balanced, like Mike said, with snow pants. Because of the short cut length, bending over sometimes lifts the hem of the jacket, letting cold air in, and high snow pants or bibs help with that.