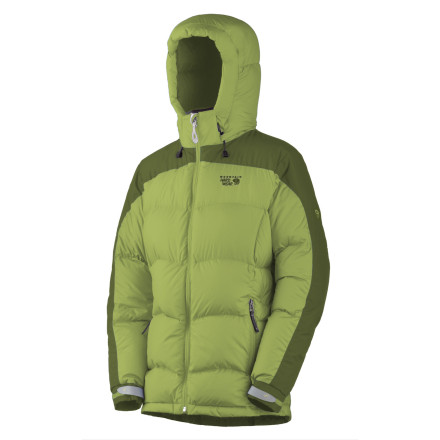 What do you think about this product?
Have questions about this product?
This jacket is great! I live in Alaska and wanted a really warm jacket for the winter. I really like it because its super warm and longer in the back so it covers my bottom. It's not too puffy and has an great hood to keep you covered! Excellent choice!
why is this coat not waterproof?
why is this coat not waterproof?
Down isn't designed for wet, wet environments. Could you put down in Gore-Tex and still retain the loft that is down? I doubt it. You need lighter weight fabrics so down can be effective. It says this coat has a DWR finish so it'll do in a light, sporadic rain or occasional misty spot. If you want a coat that gives you insulation in a wet environment you'll have to stick with synthetic fibers & good ol' layering. Down is for bitter-ass cold that freezes your nose hairs and sometimes makes you wish you lived in the tropics. It is not for wet crud and heavy weight fabrics that crush it's loft. Did this help?
I will be needing a coat for temp down to...
I will be needing a coat for temp down to -35 when I will be in Lapland in January. Will this coat fit the bill?
E.Rudwick. Not sure what you will be doing in Northern Norway but if you are going to be spending a substantial amount of time outside... perhaps herding Reindeer with the Sami, I would consider a warmer jacket such as the Absolute Zero Jacket from Mountain Hardwear (warmest) or the Sub Zero SL Hooded Jacket (warmer). This jacket is extremely warm but -35 is pretty darned cold and depending on how much time you are hanging out in those temps one of our other down jackets might suit you better. Hope this helps.