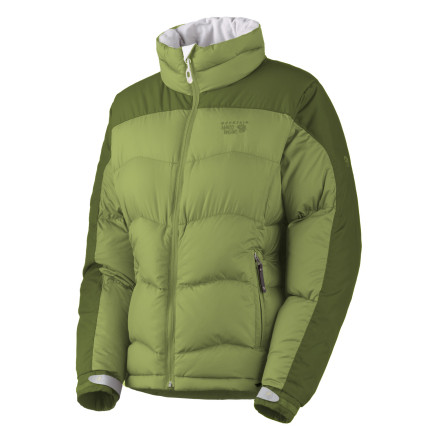 Overall, I am pleased with the jacket. I have broad shoulders and long arms and it fits me well. The only negative is that it is not very flattering. A little puffy....but warm.
http://www.backcountry.com/mountain-hardwear-sub-zero-down-jacket-womens
Used it not only for belaying, but for ice climbing as well (over my climbing shell) on a specially cold day. It held up great even though it was snowing, and had no problems rappelling with it over rock and tree branches. Not a scratch, looks like new. It's definitely a hardy jacket, absolutely love it. Would be even better if it had a hood.
is the 2009 better fit than 2007?
i bought the 2007 sub zero jacket in a small, i'm 5'3 118 pounds. the length is right at the waist which is fine unless you have a long torso or until you raise your arms, i had to keep pulling it down. and the sleeves are ENORMOUS. way too big for anyone who would order a small jacket...there are no people on the planet with arms that big that would order a small jacket. on the other hand....super warm, if the waist stays down. very unflattering fit. i just returned it for this years model shown above (2009), does anyone know if the fit has been streamlined at all? are the arms still huge and the waist too short?
This thing is great! I bought it for my fiancee anticipating a few outdoor excursions this winter, and it hasn't disappointed! She gets cold really easily, and has never complained with this jacket. The shoulders and arms have a fabric that feels plenty strong enough to sit under a pack if necessary. Best of all, she's willing to wear it around town! She just looks warm, not ridiculously inflated. She absolutely loves it. The Fire Brick color was my choice, and honestly I think it looks better than any jacket on the market.
Does the jacket cover your rear end? I...
Does the jacket cover your rear end? I have a tendancy to get a very cold butt and would like a jacket that covers it, without being the style that goes to your knees.
This jacket will come down to just above your butt. If you are looking for a jacket to cover your butt... check out the W's Sub Zero Parka from Mountain Hardwear. For us, Jackets are shorter than Parkas... so, the Parka should work well for you. Hope this helps!