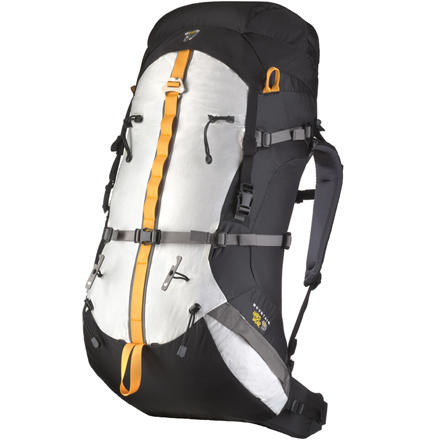 Community Images
Ed Viestrus designed the Mountain Hardwear South Col Backpack for guiding on Everest. He wanted one pack to go from base camp to the summit, and this is it. Ultralight 100D Cordura construction and a super-clean design helps this large 4600cu inch pack keep its weight under four pounds. Need to go lighter? Just take off the lid, remove the hip-belt, and strip the frame sheet to shave 1 ½ pounds for that summit push. If Ed declares the Mountain Hardwear South Col Backpack good enough for the big E, chances are it'll get the job done on your next Mt Rainier trip.
Like Pack,...Except!
Familiarity:

I've put it through the wringer
Have spent quality time in pack, mostly Rainier. Performs well except the gear loops are significantly obstructed when wearing. Tried a work around suggested by MH Warranty, but still doesn't work. Advised to 3rd party to have loops installed correctly at my own expense. Not cool MH. The only way to partially free up loops is to dump the horizontal stabilizer straps on waist belt. The problem with this is the stitching gets diagnally pulled. The stitching is already starting to stretch and show signs of eventual failure of the shoulder strap. A serious problem if it happens on the mountain. Currently on it's way to Warranty department. Based on my previous conversations Inwas told this should have brought up when I bought it at a fit test. Ed may have designed the basic feature requirements, but I certain he'd want to hear loops free and unobstructed. Let you know what MH does in a couple weeks.
is this a top or side loader?
is this a top or side loader?
Best Answer
This is a top loader.
I really like the design of this pack, its comfortable and light. But the stitching is pretty poor quality, ive used mine only about 10 days in the mountains, it still looks like new but the stitching is coming apart in about 3 different places.
yes, how do you use those fancy clips on...
yes, how do you use those fancy clips on the back. the bungee is not long enough for mysleeping pad, having a hard time figuring the best way to pack this with tent, pad , bag etc. any suggestions
What about using the long, yellow daisy chain? You'll most likey need an extra gear strap(s) to fasten that to the outside but it would work, with the use of a biner, you could prevent any sway which may occur. Looks like the grey compression on the side could hold a tent and I'd put the sleeping bag inside. Pretty much the bungess are for ice tools though.Good luck though, very nice pack and I'm sure you'll enjoy it.
Unanswered Question
Do you have any idea how spacious South...
Do you have any idea how spacious South Col really is? 82 liters (size L) is mentioned but I also know that many manufacturers overstate volume.
Perhaps the Tech Specs need updating? e.g....
Perhaps the Tech Specs need updating? e.g. "Ice axe loops: 1, Gear loops: none, Ski Carry: No" I have one of these packs and there are 2 ice axe loops (as seen in the Backcountry.com photo). Also, I asked two experienced mountaineers what the two shallow pockets and bands were for (white and gray in the photo), one on either side of the back of the pack. The answer: Carrying skis, A frame style, or pickets, or tent poles or wands or crevasse probe poles. Besides the gear loops for the two ice axes there is a loop at the end of the yellow orange stout webbing going down the back. What is that for? One guess is that it is a gear loop for an additional tool, such as a shovel that could be attached as one would an ice axe. I wish that Mountain Hardwear provided the answers on its web site. There is a link to a manual, but this pack is not mentioned in the manual. I am planning on several climbs with this pack and will rate it later. It looks good so far.
Best Answer
Hayes. The traditional ice axe loop at the bottom of the daisy chain (stout yellow webbing) is for carrying perhaps a single ice axe when mountaineering or more precisely when approaching a climb. Your friends are absolutely correct regarding the shallow pockets on either side of the pack. We try to provide many options on our packs for carrying stuff into the hills - wand pockets, A-Frame ski carry capacity, two ice axe carrying loops in the form of bottle openers, full wrap compression straps, webbing belt for climbing, top compression strap, and last but not least the traditional ice axe loop. As for providing the answers as to how to use each feature? We would rather leave it up to the individual user to decide the best way to utilize the pack for their particular use or trip. Thanks for checking it out and I hope it works well for you on your climbs!
Not sure why the stats on this page say Ski Carry: No... this pack has an excellent A-frame carry ability and with the full wrap compression system, you could probably rig all kinds of vertical and diagonal situations as well. The pictures shows one of the straps on the back of the pack (above the ice axe attachments gizmos), but there are two and they are huge. You could strap a keg of beer to the back of this pack.
Has anyone bushwhacked with this pack yet?...
Has anyone bushwhacked with this pack yet? I'm curious how the lightweight fabric holds up to this kind of puncture/abrasion (on long gnarly approaches).

Also, what are peoples' opinions of the fancy ice-tool/bottle-opener gizmos, having used them in the field? Were your tools held down tight, or did they flop around? Did the adze of your axe protrude beyond the side of your pack and get caught on things? Would the little attachment-thing get ripped out easily if the axe gets stuck on a branch or rock?

Lastly, has anyone actually packed this thing to capacity - like expedition-stuffed full? It looks from the photo that this pack has that "hourglass" shape that is increasingly popular (you know, skinny waist and lumpy hips) -- my experience is that hourglass-shaped packs are challenging to fill efficiently. While packing, did the lightweight fabric lead to more lumps and bulges on the surface (because the fabric is stretchier)?

So far, I'm considering this and the Arc'teryx Khamsin 70 - anyone else have 60-80L recommendations (of packs withOUT a separate sleeping-bag compartment)?
I have not bushwhacked with this pack... but, it is safe to say if you want a lightweight pack you will have to give a little on the durability side. This would be the case with ANY lightweight material. With that said, many a climber have taken this pack climbing up high were crampons and tools have been needed without complaints of puncture or durability issues. I mean if you are bushwhacking through Devils Club in Alaska... the durability of your pack will be the least of your worries. As for packing for capacity, I just took a Mountain Hardwear Directissima to Peru and had it packed to capacity multiple times. Packing your stuff into the shape of the pack is easy to do. It is not a bucket or haul bag... but, it sure carries a hell of a lot better too. Hope this info helps!
Best Answer
The fabric is not the most water resistent or durable, I packed through multiple days of straight washington rain then snow and the inside was moist. Plus I have some small punctures from either pulling a picket out over my shoulder where the mangled beaten down edge either caught or just forced against it hard when cinching it down. But I grab this pack every time before grabbing my Bora because it's half the weight and I found it to be extremely comfortable when loaded up for something so light. The other things can be dealt with and are worth the weight savings.
Alaska Mountaineering School 12 Day
I have an 18-19 inch torso lenghth regarding...
I have an 18-19 inch torso lenghth regarding the suspension system, which size pack (S; M; L) is aproipriate for me in this pack? I would rather have one that is a slight bit too short than one that is a slight bit too long. I am guessing either the S or the M.
Mike. I would go with a medium and I think it will fit your parameters perfectly. Hope this helps!
A medium pack ranges from a 18.5" - 21.5" torso length (depending on the manufacturer). If you are a solid 19", then a medium would be your fit -- across the board of manufacturers.

Also, for others, if you find yourself a solid 21" torso, then going with a large could be the best way to go. Most packs have a cutoff of 21" - 21.5" (again, depending on manufacturer). You should get fitted by a professional, if you are at an "in between size".

I am a 21" torso, and am using a large pack. Don't use my example as gospel though, you really should be fitted before buying any pack online.
Ultralight, not too comfy
Nice and big--fit all of my equipment perfectly and at ~4lb it's hard to go wrong. Be wary of the comfort though--I took around 45 pounds ascending around 5000ft and had some unpleasant bruises on my hips afterwards. Nothing horrible, but some tenderness for several days.
Is there an explanation somewhere on how...
Is there an explanation somewhere on how to use the "dual Axe-S quick release ice axe toggles"
Don't think there is an explanation anywhere... but, the "dual Axe-S quick release ice axe toggles" refers to the two bottle opener looking things attached to the back of the pack. Basically, most mountaineering axes are produced with a hole of some sort in the head of the tool. When you want to attach an axe to the back of our packs you thread the bottle opener, aka dual Axe-S quick release ice axe toggle, through the head of the ice axe and pull the bottom cord to tighten. It is extremely simple, lightweight, and if you are looking for a bottle opener after you get back to your car to crack that beer... you can either use a carabiner or that sweet bottle opener on the back of your pack! Hope this helps.
does it have ski holders on the side -...
does it have ski holders on the side - kinda looks like it does (?).
Yes, there are gray webbing loops on the side of that pack that you can slide the tails of skis into when carrying them in an 'A' frame fashion.
I'm 6'1" 195 and got the large. Fit good, comfortable for 3 day hike ascending from 5,800 feet elevation to 12,000 feet and back. Needed to carry volume but wanted to go as light as possible for 15 mile long trail ascent. Large is 5,000 cu.in. and only 4 pounds. I had no problems, but I only had 20 pounds in it. It's a bare bones pack. Not as comfortable or sturdy as my Arc'Teryx Bora 80, but 3 pounds lighter. It was perfect for my situation.
This pack performed excellent! Its light and durable with a lot of different compartments. I used it for an Alpine seminar on Mt. Hood..stuffed it full(with crampons inside) for the approach to camp at twin rocks and then used it on summit day with just neccesities. It was great! The only thing is you have to cinch the top compression straps tight or the frame will "ride" too high inhibiting cervical/head extension i.e. looking up.
Great pack! Light and durable. I used it on an alpine seminar on Mt. Hood. I stuffed it for the approach hike to camp(including crampon inside) and used it with just neccesaties for the summit climb. The only issue is you have to cinch the top compression straps tight or the frame will "ride" too high inhibiting cervical/head extension IE looking up. The ice axe loops work well also.
THIS PACK IS AWSOME! Ultra thin, ultra light and ultra tough! The review above states that it "seems" like a brush with an ice axe and all your contents are spilling out..well i put crampons inside, snow shoes outside stuffed it to max capacity, brushed with trees, fell and had to self arrest, and pretty much beat the hell out of this pack for 3 days in the cascades and it is like new!!!! no problems no complaints (accept i wish there was a water holder on the outside, i just clipped my water container to the shoulder strap) and i am completly satisfied with this pack!!!! I highly recommend it to anyone looking to get into alpine climbing. p.s. i cant spell for s@#t so my appoligies:)
What is volume (cubic inches) for each...
What is volume (cubic inches) for each size?
4200 small, 4600 medium, and 5000 large
Do you have any info on the sizing of this...
Do you have any info on the sizing of this pack?
Best Answer
The sizing chart for MHW packs is as follows.Torso Lengthsmall - less than 17inmed - 17-19.5inlarge is over 19.5inTo find the right size pack, use the torso length measurement system. To find your torso length, measure your back along the spine from the the top point of your hipbones to the knobby bone at the base of your neck. This will give you a measurement in inches that will determine the correct pack size. I would use the aforementioned procedure & find your correct size.
An incredibly light pack indeed, but the material is so thin that it seems as if the slightest brush with an ice axe and all your contents are spilling out. It does has some great features, but I had to return it as the waist did not fit. I am a size 32 and it was too big, (I couldn't tighten it enough).