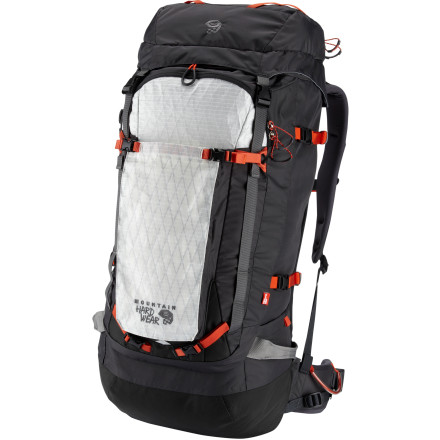 Description
One pack that functions like three.
Go ahead, buy three different packs for different sections of your ascent―good luck carrying them all. If you'd rather not strap packs onto your packs, you can just bring the lightweight Mountain Hardwear South Col 70 Outdry Backpack, which is basically three packs in one. It's got plenty of space for a two-day winter mountaineering trip, and strips down to the basics to help on the summit push—you can pop off the top pocket, slide out the padded Hardwave suspension framesheet and aluminum stay, reduce the padded waist belt to a simple nylon webbing belt, and go fast 'n' light all the way to the top.
When you're carrying a heavier load, leave the suspension in and walk cross-country in comfort. Along with rugged nylon fabrics, the South Col is kitted out with an OutDry waterproof membrane, which will keep all the gear in the main pocket dry as a bone, and features a front zip pocket that's easily accessible and maintains its volume, even if the bag is stuffed full. There are tons of lash points and straps for carrying skis, ice axes, and poles, an easy-access crampon stash pocket, and a top skirt that extends to give you an extra 300 cubic inches of space. Never bring two packs again.

Removable Alpine HardWave suspension, aluminum stay, padded waistbelt, and top pocket
Small/Medium fits torsos from 16-19 inches
Carries up to 60lbs
Top access
Durablie nylon fabrics with OutDry waterproof membrane
Front gear pocket and easy-access crampon pocket
Ski, ice axe, and pole carry
Compression straps
Unanswered Question
I've been looking at this pack as well as the women's ozonic 58 outdry pack and have seen great reviews on this one but am wondering about the fit for a woman vs a man on this pack. I have a small frame and am concerned this pack may not fit well compared to the other I was looking at. Advice?
Backpacking and climbing!
Familiarity:

I've put it through the wringer
I have had this pack for about a year and have put it to the test. I have used this pack for more of a climbing pack to carry all of my ropes, cams, harness, shoes, water, etc, and still had quite a bit of room for more. The durability of this pack is incredible. I have accidentally rolled it off the base of Castleton Tower and the back had no tears or frays in the material. I have even had this pack in a complete downpour and the not a thing inside was wet; even in the brain. The hip strap with single buckle is a neat feature as well. Easy to tighten and loosen and the hip cushions are extremely comfortable. The only complaint I have about this pack is that it sags on to my belt and causes them to sag.
Hey Donovan,

So thats a replacement waist belt. Lots of alpine packs have this feature so you can strip the pack of extra weight and features for summit pushes. Also a bulky waist belt often will not fit over a climbing harness.

Enjoy!
The weight of a piece of foam padding is negligible in my opinion (but I'm old and tough:) Considering the lower comfort and that you have to carry it to begin with, I consider it a gimmick unless you start with it , or re: the harness issue Pitman notes.



That strap you touch in the photo is another matter, the larger belt seems to have two, but those are cinches.
Can this bag carry "Snowboard"?
I know it can carry "ski".
KS,



This pack can't carry a solid board vertically or horizontally. But if you have a splitboard and have it in split mode, you can carry it A-frame style like a pair of skis.



Shoot me an email anytime you have questions!



Jared D.

Expert Gearhead

801.736.4336

jdowns@backcountry.com
Of course it can. It looks like it has more than sufficient points where you could attach a couple solid straps, bingo you're in.



You don't need, "... they say that's what this is for," if you can, "do it yourself." I'd bet anyone I can make a snowboard hang on this.
Good to summit Baker and Rainier!
Familiarity:

I've used it several times
I used this backpack to submit Mt Baker and Mt Rainier and it worked pretty well. I like the option to go full size for the approach to base camp, then reduced size for summit day. I was a bit concerned by the lack of hydration pocket, but I used the back pocket and it worked well (as long as your hydration bladder as the appropriate tube length). The durable nylon fabric looks good and you don't worry to put your bag in dirt mud, rock or ice.

I left the bag outside the tent each night and no worry to get stuff wet inside. So far I like very much this bag and do recommend it.
Well-designed, purpose-built pack
Familiarity:

I've used it several times
I looked long and hard before buying this pack- my needs were pretty specific, but surprisingly hard to satisfy. I was looking for a pack that had capacity of 65-80 L to be filled up with winter camping/ski mountaineering gear and get me to a destination, then be stripped down to be used as a summit/day pack. It had to have a good ski carry system, ice axe carry, and crampons holder. Finally, it had to be reasonably lightweight (4 labs MAX!!) and in general be able to withstand the abuses of ski mountaineering (trees, rocks, snow, etc.)

After spending several weeks looking unsuccessfully, I was preparing myself to go the way of expensive small bag makers like CiloGear, etc... then I came across this bag, which seemed to have been almost tailor-made for my purposes. I've now used it on two, two-day ski mountaineering hut and/or camping trips and it works exactly as advertised! The OutDry system really does work as advertised, as my most recent trip involved lots of rain and a small tent with no vestibule. And the dyneema on the crampons holder is bomber (and can also fit in a pair of ski crampons, nice!) and a nice touch.

Two minor gripes (but not worthy of removing a star):
A) crampon holder doesn't close on top. This is basically just an academic gripe, since I've never had an issue where my crampons would fall out (would require the pack to be fully upside down and shaking, in which case you have bigger problems).

B) There are no other tie loops for attaching a pad, etch to the outside of the pack if you're carrying skis. This has not yet been a problem for me as I've fit everything inside the pack (my preferred way to carry), but if you're up against the limit of what 70L can carry, then it could be a problem for you. Overall, right now, I prefer the clean look without gratuitous features.

So in summary, great pack for multi-day ski mountaineering trips, one of the only ones I could find built for this purpose, and at a great price too!
I read that the pack does not have any hydration options built in. Is there anywhere I can keep a bottle or bladder in the pack easily accessible without taking the pack off?
I used the outside pocket in the back and it worked pretty well, you just need to check the length of your tube
Is there an older version of this pack which is NOT made with OutDry technology? Do all South Col 70 packs made with OutDry have an OutDry label on them?
Answering my own question here after doing more research. Yes, there is an older version of the South Col 70 which does not have the OutDry technology.
Mountain Hardwear OutDry Technology
Rookie at the Mountain Hardwear factory!
Familiarity:

I've used it once or twice and have initial impressions
We were about to return this pack after my wife kept complaining about the discomfort when she wore it, fortunately I came here to see that it was just the metal wire had been installed the wrong way! Ha! Easiest problem solving ever. And it looks like there's a few other people with this problem...



Anyhow we haven't put this baby through the wringer yet but from what other people have said this is pretty much the next best thing to one of those Cilo custom packs... For half the price!
Mountain Hardwear OutDry Packs
Question on fitting the South Col or BMG...
Question on fitting the South Col or BMG 105 OutDry backpacks: One important aspect of fitting a new backpack is to make sure the stays conform with the lumbar region of the hiker so that the load will be transferred to his/her hips, not the shoulders. The photo below shows a side view of the stays (actually one continuous metal stay bent into a U) of my new South Col OutDry backpack right out of the box. The plastic sheet (visible near the top) goes between the metal rod and the hikers back. The hiker would be on the right. Also in this photo is my template stay that has been bent to shape my lumbar region. Note that the curvatures are opposite. My initial thought is: Has someone at Mountain Hardwear assembled these stays backwards? The BMG 105 OutDry backpack stay came with the same orientation as the South Col. This is easy to correct by unzipping the Velcro strips holding it in place and flipping the stay around before adjusting (bending) it to fit. However, if I attempted to use either of these packs as they were delivered from Backcountry.com, the bottom of the U-shaped stay would dig into the top of my lower lumbar, sacrum and coccyx and make for a very painful hike or climb. Am I overlooking something here? Thank you.




I got the bag and was wondering about the same thing actually.
Best Answer
Hayes and Ven,



You are definitely not overlooking anything and your assessments are spot on. From the picture that Hayes included in the question, it is evident that the pack shipped with the aluminum stay reversed. The lower section of the aluminum stay needs to follow the lumbar curvature of the wearer, as with the template stay that Hayes also pictures.



It is an easy correction to make, but our sincere apologies for this shipping oversight from our Mountain Hardwear factory. The rectification is to un-hook the lumbar section, slide the stay out of the hipbelt, slide the stay out of the backpanel (easiest to also remove the plastic framesheet) flip the stay around and re-assemble.



Also remember that part of beauty of this pack is its flexible design, which allows removing pack components (i.e. swap the padded hipbelt for the included webbing belt and/or remove the top pocket, frame stay and/or framesheet when climbing with lighter loads). The minimum weight for this pack is approximately two and a half pounds with these components removed and the hipbelt swapped.



Thanks,

Alex @ Mountain Hardwear
Mine was backwards too. I have been in an alot of pain my last few trips with it and it just thought it was something I had to deal with. Thank you for the feedback on switching the stays around.
I have a question for Mountain Hardware >the photo above showing the U-stay,is it in the correct, or incorrect position.

My Pack arrived with the U-stay pointing inwards toward my back

I measured my spine/back and I come in at 21 inches, however the pack seems to ride low on my back ,rubbing the top of my Butt.

MY U-stay came pointing inwards unlike the photo which seems to be pointing outward, as you can discern from my comment I'm quite confused by the photo and the pack.

I have not trail tested the pack yet, perhaps it just a situation of me getting used to the new pack.[ Yes,I have adjusted the straps]

So ...should the U-stay be pointing inward's toward my back ,or outwards .......

Thank you for your response.

stan
Hi Stan,

The "copper"-looking stay that comes with the backpack (it actually anodized aluminum) in the above photo is installed backwards. Mountain Hardwear only shipped a few batches of the incorrectly assembled SouthCol and BMG backpacks and, once they became aware of the problem, quickly corrected it in all future shipments.

First, check to make sure your backpack is assembled correctly (the reverse of what is showed in this photo). If it isn't correct, you can easily take it out and reverse it. The next step is to adjust the stay if necessary. This is much easier in this new version of the SouthCol because you can take the U-shaped stay completely out of the frame. Before bending it, I suggest viewing some of the youtube videos on how to adjust a backpack stay (e.g. the HPG Ute Internal Frame Backpack Adjustment video]. Then bend the U-shaped stay to fit the lumbar region of your back. What I did was to first purchase from a hardware store a 1/8" x 1/2" flat aluminum piece 3 feet long and shortened the length to 26 inches. I practiced bending it to fit my back before adjusting the actual stay. This inexpensive aluminum rod is now a template for the stays of my backpacks. That is the piece of aluminum you see to the right in the photo above. If you have any additional questions, do not hesitate to ask. Good luck and good climbing! Hayes
HOW MUCH OF AN IMPROVEMENT IS OUTDRY?
Gender:

Male

Familiarity:

I've used it once or twice and have initial impressions
One way to answer this question is to do an "OOPS, I FELL IN THE CREEK" TEST. To simulate this dunking, I filled a laundry tub with six inches of water and placed a 25 pound lead brick in the pack and lowered it into the water. Parts of the pack were submerged to about 8 to 12 inches well above the bottom seams. Each pack was left partially submerged in water for 10 minutes and then removed.

a. Results of dunking my older, and well-used Mountain Hardwear South Col backpack (my favorite backpack, but not OutDry): After 10 minutes of partial submersion, this older South Col backpack had a pool of water inside. It took up 700 gm of water, enough to fill a 1 liter Nalgene water bottle 2/3 full.

b. Results of dunking the new OutDry backpacks: There was no visible pool of water inside the South Col OutDry backpack but it felt damp. To measure how much moisture seeped in, several sheets of dry paper towels were weighed and then used to swab the inside of the pack. The paper towels gained about 4 gm, so they had absorbed 4 ml of water. The BMG 105 OutDry backpack is much larger and thus had much more fabric and seams exposed to the dunking. Again no pool of water accumulated in the new BMG 105 OutDry pack. The paper towels used to wipe the inside of this big pack gained 20 g. Conclusion: The OutDry construction is a big improvement, reducing the water uptake by over a factor of 100 in this test (700 ml/4 ml= 175). This is not a perfect test because I do not have an older South Col in new condition to compare with the new OutDry version, although I have treated my old South Col with waterproofing sprays in the past. No backpack is completely waterproof under all weather and exposure conditions. I plan to continue packing my sleeping bag and spare clothing in dry bags.

I give the OutDry fabric/treatment 5 stars. I am impressed with the new features on both backpacks but reserve a rating of the packs until I have had more experience with them.
I like the weight, size and the fact that...
I like the weight, size and the fact that it is waterproof but no place for a water bladder? What are the options for hauling and accessing water on this bag? From the pictures, it doesn't look like there are easily accessible side pockets but it is hard to tell. Thanks.
Chris,



A reservoir/bladder may be carried in the floating top pocket or in the front zippered pocket (though the latter is not ideal for weight distribution). Water bottles may also be carried in the top pocket, front zippered pocket and/or front crampon stash pocket (presuming you're not carrying crampons).



This is a mountaineering pack so Nalgene water bottles are usually carried inside the pack since they tend to freeze at higher elevations if they are outside the pack. Even though it's a mountaineering pack, the reasons you noted (weight, size and the fact that it's waterproof) make it a great backpacking pack as well!



Alex @ Mountain Hardwear
Awesome pack!
Familiarity:

I've used it several times
This is an awesome multi-purpose pack. It's designed for multi-day alpine climbing trips. It would make an awesome pack for Mt. Rainier or Aconcogua. It would also be a good all around backpacking pack. The OutDry membrane keeps everything in the pack nice and dry. Great for the Pac NW and the AT. Really comfortable with around 45-50 lbs. Super durable too. Just a really good pack.