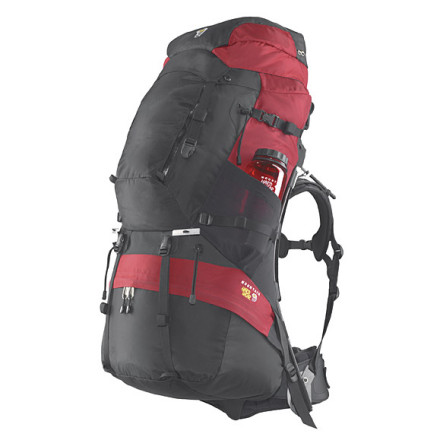 Detail Images
Share your thoughts
What do you think of the
Mountain Hardwear
Solitude Backpack - 4800cu in
? Share a...
Nice features, but uncomfortable and breakable
I owned this pack for over a year and used it on around 5 overnight mountaineering or hiking trips. I really liked the pockets and features of the pack. Great for organization and the ice axe connections are perfect. The water bottle pocket is nice too.

The shoulder and waist straps are very stiff and I thought they were generally uncomfortable. The pack seems very good at distributing weight to your hips, but they need to add a little more padding. There is a lot you can do to adjust the straps, which sometimes helped, but anytime I took it off, the straps would bend back to an uncomfortable position. I don't think you should be spending lots of time on a trail trying to readjust things.

The plastic shoulder yoke broke and I returned the pack. The plastic parts are strong enough when it's on your back, but can't handle the motion of getting the pack on. I was lifting it (fully loaded) onto my back when the shoulder yoke snapped.

And as others have stated, it is difficult to store the pack on airplanes or in cars, as the shoulder and hip pads are very stiff and will not bend like typical packs (although this wasn't a huge deal to me).

If it was comfortable, I probably would have asked for a new one instead of a refund. The durability combined with the hard padding makes me believe this is not a good option.
I'm an avid backpacker and really loved this pack. I broke it in on a couple of weekend trips and it preformed great. I'm a tall guy (6'5) and the large pack with its adjustable yoke fit me fantastic. There is plenty of storage room inside the pack but it could use a couple more external pockets. I took it on a four month backpacking tour through Europe and that's what did it in. The shoulder straps have plastic built into them so they are stiff. It provides a snug fit but after getting stuffed under train seats and into overhead bins enough times they began to break. What killed the pack was a trip in the storage area of a bus. I forgot to disconnect the plastic yoke and it snapped. I have been looking for a replacement piece but have not been able to find one. Without the yoke the pack becomes unbalanced and therefore unusable. If anyone can tell me where to get one I'd love to know.
It's a good pack, but i feel you can find equally as useful or comfortable packs for cheaper. Also, I'm 5'6", 135 lbs, and bought the small . . . it was pretty much unusable. The yolk system is a cool idea, but make sure you get it right the first time, otherwise you might be spending more time adjusting it than actually out in the mountains.
Made for a serious backpacker
Here's the deal... I purchased this pack because Mountain Hardwear is a great brand and the price was appealing. Unfortunately this was not the kind of backpack that I needed. After about 2 hours I finally assembled the thing and still didn't have it completely correct. The instructions were terrible and the entire Yoke System in itself was just too complicated. It's a great idea, and if you have the time and patience to set it up correctly, I don't doubt that this pack will be extremely comfortable. However, it appeared that there were a lot of plastic parts, which worried me. I fear that this pack would be susceptible to breaking if not taken care of. If you are planning to hike regular steep climbs and need a pack to fit like a glove that you don't plan to take off frequently, then this pack may be for you. In my case, I chose to return it.
Are there ice axe loops on the Solitude?...
Are there ice axe loops on the Solitude? I dont understand the answer on the Q&A. Thanks
Best Answer
There are two ice axe holders on this pack. They are built in the form of bottle openers that are designed to fit through the hole that exists in most ice axe heads. So, you fit the ice axe holder/ bottle opener through the hole on the head, turn them perpendicular to the hole so they are laying flat against the ice axe head, and then pull the whole deal tight against the pack. They work really well and when your done with your long slog out of the Backcountry... you don't have to go searching around for that bottle opener to open that fine beer that has been chilling in the car. Hope this makes sense. It's a little hard to explain... but not hard to understand once you see it in real life! Cheers.
I've seen a lot of mixed reviews. Is this...
I've seen a lot of mixed reviews. Is this a pack that is going to last or not? I had a gregory pack that is roughly the same size, but it doesn't fit me well. Is this a good pack to stick w/for weekend/weeklong trips? Does it break easily?
Best Answer
This pack is no joke! It does have lots of parts, but I have never had a problem with durability. If you need a pack that is comfy with a load you found it here..
did Mountain Hardwear quit making the...
did Mountain Hardwear quit making the Exodus frame? They don't have anything on their website with one.
We did. Sorry to say. But, alot of what we learned with the Exodus frames have been applied in our new packs. Many of the same features too. Check out the Mountain Hardwear Intention 75 to see what I mean. Cheers!
Fantastic! I just hiked the Kalalau trail on the Na Pali Coast in Kauai and the pack was very roomy and comfortable. Gave me no problems and an edge on all my buddies hiking with other packs. No regrets!
Is there a sizing chart for these MH...
Is there a sizing chart for these MH packs?
On the third day hiking Presidential Range,White Mountains,NH,two things broke -
yoke and plastic clip on the belt.I was carry 45 lbs.Otherwise very comfortable
pack.Possible cause of broken pieces - low temperature ??It was something like
0 F and pretty windy.
I'm still big fan of Mountain Hardware ,but can not recommended this pack to anyone.
Would this pack be good for a month in...
Would this pack be good for a month in Europe? Particularly for storage?
Andrew. I would want something a little more versatile. Something that is huge and could be a storage pack, backpack, and luggage all at the same time. The frame of this particular pack would make storage an issue and it does not compress down that small as it is. This pack is brilliant for long backpacking trips where you are living out of your pack. Not necessarily for train hopping and hostel hopping across Europe... Good luck!Andrew, I did five weeks across Europe a few years ago with my North Face Badlands 60L pack. I couldn't tell you what year it is from (10 years old now?), but it is a top-loader with only a single external pocket on the front. With a small day bag, that was enough space to carry all that I needed for cool to cold weather throughout (street clothes, not camp clothes). I also found 60L easily managed on trains, public transit, shlepping from hostel to hostel, etc. I wouldn't go any bigger than that. If I could give you one tip, though, it would be find something with a variety of external pockets. It is key for easy access to the toothbrush, emergency TP, etc. In short, though, this bad boy is way more than you need and the size, in my opinion, would be a liability. Enjoy!
Uncomfortably Complicated
Too much work to get comfortable fit, and way too many parts that could break. Cool idea.....
are there ice axe loops on this pack?
are there ice axe loops on this pack?
no there are not, it you looked carefully they are on the side below the name of the product
Second trip to Alaska Dall Sheep hunting was to much for it. Loaded down the rivets between the yoke and the back frame ripped apart. Luckly I had a shoe lace to tie it back together, amazingly enough it fit very well on the hike back, to this day I have not had it fixed and it works just as good. Mountain Hardware needs to fix this problem. Other then that great pack!
wow..... I have nothing to say
great backpack! If only it came with a bathroom. Very durable, frame work is awesome. Great for heavy loads. I recommend this to anybody. " Built mountain tough"
Way awesome pack for the real hunter in the mountains
I have owned my pack for about 1 year. I have hunted fished and camped everyplace in the Rocky Mountains with it and all I can say is where was this pack all my life. Well designed once you get it assembled. At first I thought it should come assembled, but then realized it is so you become familiar with the components. You can jam about anything into this pack and still find load management easy even in very steep country. It is simple to attach weapons and spotting scopes to the outfit with the generous attachment points. The zippers are top notch and keep out moisture very well. I like being able to remove the lower divider in the pack to make a huge tube, if you will, when it is pack out time. There may be a better pack out there but I have never seen it. Weight distribution with the yoke system make huge loads of meat easy to pack with no low back strain. Don't delay buy one today.
WAY to much thought went into this pack
Who ever designed this pack spent too much time trying to make this pack fit. The idea behind the design is awesome, but it's just too complex. There are adjustments on the adjustments. All the adjustments sound dandy in theory but when one gets messed up you have to re-do the entire process. The irony of the whole thing is that with all the design put into making the pack fit and reducing the amount you have to adjust things like the hip belt, you really just end up adjusting more things more often. When the pack is fit, the foam and padding are very comfortable but keeping it that way is just way to hard. Although the design and fit are some what flawed, the construction of the pack is awesome. Very very well made. Mountain hardware just needs to take it down a notch with the design. Save your money and buy a Bora or a Naos
Nice pack; just not for me.
Well-made pack; the pack bag is well-thought out, and seems to be of good quality. The frame supports a load very well, and it distributes it to the hip-belt. I found the hip-belt very uncomfortable, but this would likely change as it became broken in. I returned the pack because I found the yoke unpleasant; I could not get the degree of adjustment that I can with load lifters. Some people might like the yoke, but I did not.
The Mountain Gear Solitude Backpack was the worst. I used it for Mt Blanc, The Matterhorn, and The Eiger. I hated it so much, I returned it. First, putting it together was a huge pain. Then, the fit was awful. The function of the pack was awful, it's hard to believe they actually did any real field testing. The pack kept separating from the frame which was a huge pain.
I would say, stay away!

Thanks
JoeF
The frame is very rigid and flexible, all the loads hang to both sides of the waist. I walked throuth the Northan Alps in Japan for five days, started with 22Kg load. I recommend this pack for serious backpacker who walks steeper mountains with heavy load. This is a
revolutionaly designed backpack. To our regret, the agency in Japan doesn't sell. So, I recommend this pack in my HP (http://psycho01.edu.u-toyama.ac.jp)