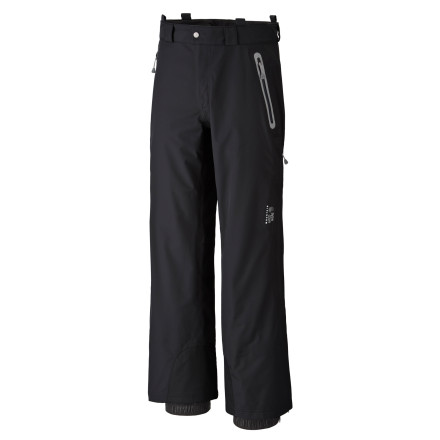 Detail Images

Community Images
The weather on the hill may be frightful, but the climate inside of your Mountain Hardwear Snowtastic Pant is always delightful. Built with a Dry.Q waterproof breathable membrane, the Snowtastic keeps the extreme weather away so you can play longer in the mountains.
Dry.Q Elite waterproof breathable membrane provides 40K-rated protection from extreme alpine conditions
Welded seams prevent rogue water drops from sneaking past the fabric's defenses
Eighty-wash DWR treatment encourages water to bead up on the shell fabric's surface
Removable suspenders and drop seat add functionality when you have to go
Three-quarter-length leg zips allow for ventilation and easy on/off
Internal powder cuffs prevent snow from throwing a party in your ski boots
Ambush edge guards protect the ankle inseams from sharp ski edges or crampons
Bomber all around ski pant
I've been using these all season for resort and backcountry skiing. They are perfect for both. Repel moisture and breath well (side leg zips are key). I like the fit a lot! They aren't unnecessarily baggy, or Euro style tight, just right. No signs of wear and tear after 60+ days
Unanswered Question
So, the Medium Autumn Orange is not selling...
So, the Medium Autumn Orange is not selling at the $119.98 price? Only the XXL???
Great non-baggy snow pants
These have worked great for me so far.

They've proved to be totally waterproof for me.

They're one of the warmest pair of non-insulated pants I've tried but remain super breathable, they've been less humid when working hard or over layered underneath than my Gore softshell, HyVent, or 20K/15K Oakley pants.

Seems like strong (40mph+) wind is able to penetrate them a bit more than my other pants, but in a dull, diffused way rather than a sharp biting cold.

I've only got 10 or so days in on mine, but they seem like they will prove to be very durable.

I find them to be very comfortable and non-restrictive through a full range of motion, thanks to both the cut and the fabric.

I've gone over the sizing and cut in some detail in other questions and comments, so I won't rehash, other than to say the L and XL fit very true to the sizing chart and are cut much like straight fit jeans aside from the flare in the cuffs and a bit more mobility in the hips and crotch. As I mentioned previously, I could probably have used the Large Long size in these for strictly snowsport usage, but the regulars cover enough boot to not make me self conscious and are just about exactly the right length when wearing street or hiking shoes.

At a 30% off sale price these seem like an awesome value.
Just how tight is the fit on these? I'm...
Just how tight is the fit on these? I'm 6'2", 185-190lbs, normally wear a 35 waist/ 33 inseam if available (34-36 waist, 32-34 inseam in various brands/cuts), hip measurement is right around 42" and crotch to ankle is ~31". The vast majority of ski pants feel a little overly baggy to me, but I'm also not looking for the plum smuggler/skin tight super alpine fit many of the softshell touring pants seem to have.

Is the large going to give enough room to feel comfy w/ a 260 weight merino base and enough length to maintain coverage down below the second boot buckle through full range of motion. Is the XL a possible fit w/o requiring extreme belting and/or suspenders and general bagginess?
Best Answer
Sid N. The Snowtastic Pant is a more fitted pant and not so baggy as other ski pants on the market. I would call this more of a traditional alpine fit that is perfect for backcountry skiing and even some climbing. It sounds like your measurements would dictate that a large would fit you just about right. If you want them to be slightly more baggy and don't mind some "belting", albeit not extreme, you would probably do fine with an XL as well. I hope this info helps!
Yup, that helps. I think I'll give the XLs a shot, the DryQ Elite membrane sounds like it's the bomb from what I've read so far and I like the feel of a softshell face and lining.

Is there enough circumference on the bottom of the legs that these will comfortably fit over an average 28.5 downhill boot?

Unfortunately none of my local stores carry these so I've got to rely on the kindness of strangers for fit advice. Thanks again!
Hey Sid,

The pants are cut so that they flare out at the bottom. I have had no problems fitting them over 28.5 downhill boots (Dalebello Rampage) or my AT boots, 28 Scarpa Maestrales. I have noticed snow getting past the gaiter in deeper snow because it is not extremely snug, although this is more of a problem with my AT boots which are less burly. The pants come with suspenders which are removable. I think XL will be too big for you, and recommend the large based on the dimensions you give. For reference, I am 6'2" (inseam 32"), 175# (waist 32") and the medium long fit me very well, and also give enough room for a thin pair of fleece pants or medium weight merino base layer.
Turns out the larges fit almost exactly how I want them, almost like my favorite jeans but w/ enhanced range of motion through the hips and crotch and more flare in the lower leg to accommodate the boot.

If I lived in a world of limitless credit lines and free return shipping, I'd probably opt for the Large Tall for skiing. Length in the regular seems sufficient to allay any deep seated fears of kids making fun of my highwaters in the lift lines however, and also means that I'm not tripping over or dragging the cuffs around when I'm wearing street or hiking shoes. The cuffs and gaiters also seem to do a really good job of staying put. They seem like they might be pretty nice for cold weather backpacking as well as long as I don't get too close to the campfire.

Thanks for the help.
I bought these pants as a hybrid BC and lift ski pant. They have a slightly more athletic fit than many of the steezy ski pants out there on the market, which makes them practical for active usage. I have a 32" inseam and went with the Long (34") inseam to get the fit I wanted over my ski boots. The 3/4 zip is crucial for hiking when I need to dump heat and the pants have held up well to the elements so far. I have been happy with the DryQ Elite membrane and it seems to be a very breathable waterproof membrane. The pants have a brushed interior that is comfortable on bare skin, although it provides minimal warmth. The suspenders are a nice touch to help keep the pants up if you take a spill. I own the pants in Grill and was stoked to finally own a not-black color of ski pant. My only suggestion for making this pant better would be to increase the size of the scuff guard as they are intended as a ski pant.