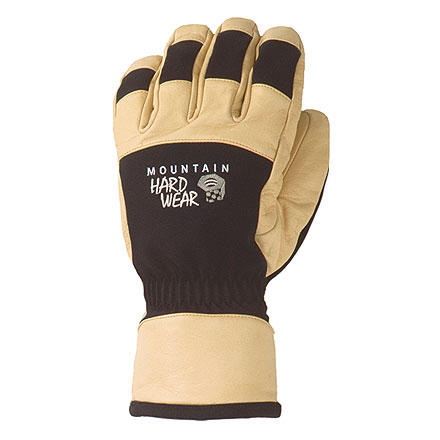 I bought these at the end of last season and only used them 15-20 days. I've been using them all this year as well, no complaints yet! I've worn them both backcountry and resort. They excel at both, making BC skiing more pleasant on the hands. I put them on for the skin up and they don't come off until I'm back at the car. Peeling skins is even easy with these gloves! They're stylish to boot!
I bought these gloves after I trashed a pair of Grandoe's which were pretty good. I thought if I went with the leather that Mountain Hardware raved about they would be good. They are decent gloves but as other reviewers have posted they don't breath very well especially on bluebird days. Also, which I found the ultimate annoyance, if you're sitting on a chairlift and you take your hand out its almost impossible to get them back in. The fleece liner which is removable is too big for the glove. The fingers get all bunched up and to try to get it straight is a pain. They are fine work gloves as long as you don't take them off but I wouldn't buy these again.
Outer glove is definitely great, good dexterity and durable enough. Liner is rather cheap and ill-fitting, though. May be better if mtn hardwear decides to put all the insulation in one peice. Until then, use a different liner and the glove is great! Warm enough for the Himalayas in May.
This glove has a great shell going for it. Unfortunately, Mountain Hardwear seems to have taken advantage of this and saved money on the liner. With a power stretch liner (also made by Mountain Hardwear) this glove would be great, unfortunately with the bulky, uncomfortable liner it comes with right now it doesn't make for a very good ski glove.
These gloves have great style and durability, and are super warm with the included heavy fleece liner. However, the breathability could be better for bluebird days, and I found that without the liner, while they fit my hands in length, they are too big in width. Overall a good choice for leather gloves.
I have used the gloves at several football games and they did very well. We had a snow storm and I was outside several hours and for the first time in years my feet got cold but not my hands. I have been moving fire wood with them and they don't show any wear or scuffing yet. I think these gloves are worth the money.
These gloves are a good buy. It is two gloves in one with a removable fleece liner that I haven't had need to use as a liner yet but perfect for around town, walking the dog, etc. I think I might have a sweating problem or it's just that these gloves are so warm on the hill. They are waterproof but judging by my sweating problem I wouldn't say they are the most breathable glove on the market. If you have huts that you can dry your glove when they are off like Aspen and Snowmass then you have nothing to worry about. All around an awesome, multi-use glove.