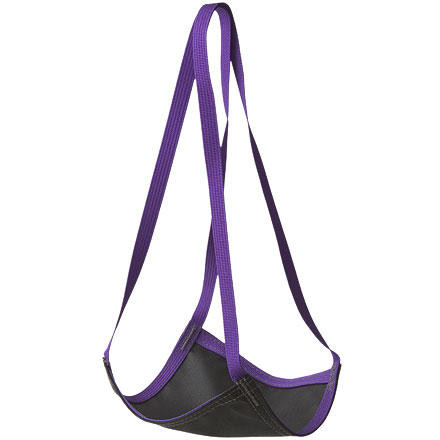 Community Images
The best advice we can give about putting stakes into sand and snow is don't do it. The Mountain Hardwear Snow and Sand Anchor is a much better option. Fill the pocket with sand or snow and bury it and you now have a bombproof anchor that won't pull out at the first hint of wind. Set of 4.
A la Braveheart. Looks like these pups will serve their purpose in snow and stone. Worried bout my desert ventures. Can't wait to try em!
Solid Anchor but needs a bigger brother
MH does it again with an overbuilt solid piece of gear. The only downfall of this little guy is that, well, he's little. It works well in the rocks but in the sand this anchor needs a bigger patch of real estate to hold it's ground. (puns intended) The anchor is super well built and gives you the option of using your own style of connection to your tent or shelter. MH if your listening, keep us beach bums happy by offering a larger version. If your looking for an anchor for your beach shelter go with the Exped Anchor, you even get an extra 5th one! --> http://www.backcountry.com/exped-snow-and-sand-anchor-5-pack?rr=t&cmp_id=&rrType=ClickEV&rrProd=XPD0006
Having tested them in the sand. They have to be buried deep and pack down good to the top of the webbing and even then it depends on how large your tent is, for them to hold and how strong the wind is blowing. I'm trying them on a Kelty Sunshade 10'X 10'.. They are made very well, but just wish the pockets were alittle larger/wider. I'll keep them for my smaller tent and hopefully they'll work on both tent and Kelty Sunshade dome....
These are handy for keeping your tent right and tight in snow. I usually only use 4 and put them in at the corners. Then using stuff sacks, skis, ice axes, etc you can finish up the job.
These anchors are absolutely fantastic. The materials used for the "pocket" and the webbing loops are absolutely bombproof. Not only are they great for snow, sand, or other loose substrates (e.g. a gravel bank alongside a river); they work fantastically on hard surfaces (e.g. rock) where there is no way to penetrate the surface. Just fill them up with large rocks and optionally stack more rocks on top of them. You'll have a shelter that won't budge. Peace of mind is invaluable and certainly worth more than the little scratch these will set you back. I haven't tried other brands, but why bother? These are built to last and it's a certainty that your shelter will collapse before these fail. Beach camping will never be the same...

Some specs:

Quantity: 4 Per Pack
Fabric: Polyester Pack Cloth 900D
Weight: 9.5oz
they also work pretty well on rocky terrain where you cant find a tree to which you can guy out. if you can find a flat spot, pack each one of these with a softball size rock and weigh that one down with more on top depending on wind and weather. it worked pretty well for me. not a labeled use so i thought i would mention it.
This is a great addition to the collection! Not a lot to say about them. Fill them with snow or rocks and you're tent stays put! They've worn a very long time and I've never had a problem. I pack them everywhere....better safe than sorry. Nice product and extremely easy to use!
How many come in a pack? If there's only...
How many come in a pack? If there's only 4, would you recommend 2 packs?
Depends how you are going to use them. 4 in conjunction with other means of staking out your tent is usually enough. Again, depends on how you want to use them.
how long are these?? (top to botton, as...
how long are these?? (top to botton, as seen in picture)is the material durable enough to be used with rocks more than once??
Best Answer
Not sure on the length...couple feet? but definitely durable enough for rocks. I have used them that way in the desert when there was no solid ground to be found. Cheers.
These units are within the area of 14" long from the bottom of the bag to the top of the webbing....
my friend had these last year when we went camping on mt rainier and they worked so well i immediately bought a bunch for my tent. they wouldn't work so well in powdery snow, but in packable snow they are perfect. they work best if you first attach them to your tent with small caribeeners and stretch them out to see about where you want them. then dig a hole about 1-1 1/2 feet deep. then make a large grapefruit size snowball to put in them to start. pull them taught, and pack more snow around and over them, stomping it down tight. i was in a snow storm the first time i used them for myself and the tent never budged.
Tested and Proven Reliable
This is what is being used by many mountaineers for tents on Denali expeditions. That says a lot about this product.
I have been camping for uears,but I've...
I have been camping for uears,but I've never seen a tent anchot. What's it for and How do you use it.
Best Answer
When you are camping in sand or in snow it or anything that won't hold a tent stake... it is really nice having these. You can fill it with rocks... snow... sand or anything to help keep the tent in place. Hope this helps...It's actually an anchor to provide stability in unstable situations.
nice idea, but these are just too small to do much good. I looked around and found a larger, similar design. They were a bit more expensive, but on two trips they have worked much better than the smaller ones. I think I got the larger ones at www.pahaque.com.