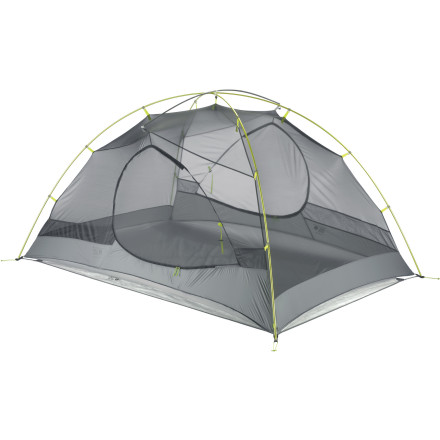 Colors

Detail Images
Description
The obvious choice for rainy weather.
When you're backpacking through deciduous rain forests in the northwest, rain can start to fall at almost any time. With the Mountain Hardwear Skyledge 3 DP Tent's innovative DryPitch technology, you can quickly pitch the fly before the tent in rainy weather, which allows you to stay dry while setting up the tent under the protection of the two vestibules. Dual doors allow you to get to your sleeping bag without stumbling over your two tent mates and tough construction materials provide ample protection for spring, summer, or fall excursions. Plus, the DryPitch system allows you to set up an ultra-light minimalist shelter using only the fly, poles, and DryPitch footprint.

Poly knit mesh canopy provides ventilation, bug protection, and star gazing on clear nights
Nylon taffeta floor has a fully taped perimeter and welded corners to keep wet conditions out
Nylon ripstop fly is fully taped with a 1500mm PU coating for guaranteed watertight protection
DAC Featherlight poles provide structural support while keeping weight to a minimum
Two dry entry vestibules and doors provide easy entry and gear storage
Steep wall design maximizes livable space and comfortably sleeps 3 adults
DryPitch technology allows you to pitch the fly before the tent so you can set up the tent in the rain and stay dry
DryPitch system allows you to set up an ultra-light fast-pitch shelter with just the fly, poles, and included DryPitch footprint
Trail weight is just 4 pounds 2 ounces, fast-pitch weight is 2 pounds 9 ounces
My Tent
Familiarity:

I've put it through the wringer
My friend and I probably have between 30 and 40 nights in this tent over the past year.



Between the Skyledge 2 and Skyledge 3, I would have purchased the former had it been a wee bit longer. At 6'2'' we both appreciate the extra inches in the length, while the additional 8" width and height has proved it to be a palace for two. Stretching out in our winter sleeping bags, we have just enough room not to touch either end.



I've hauled this tent to distant crags, mountains, forests, beaches, lakes, and canyons. It's been hit with wind, rain, snow, tree limbs, sea spray, and I suspect an animal may have even urinated on a corner. In none of these instances has the Skyledge faltered in its duties of structural integrity and atmospheric isolation.



The thing pitches tight, which really helps shed some prodigious winds. The fly attaches securely to the thick poles at the anchor points providing a rigid structure. However I do wish the vestibules would extend an inch or two closer to the ground, as during higher winds you can feel a gentle breeze through the mesh body. Great on summer nights, but when the mercury drops we place our packs on the inside edge of the vestibule and this keeps everything in check. At the same time ventilation has been second to none. On past winter adventures with other tents I would wake up in a snowy breath-induced microclimat. Not so with the Skyledge, I have yet to see any frost forming on the fly, even at 8F.



The tent colour, I like it. The musty green strikes a good balance to the eye. Unless I'm 4000 meters up the side of a mountain, I don't need or want a bright red/orange tent.



From bag to ready I would say takes about 5-6 minutes if you're wanting to guy out all the lines. Unless I know I'll be pitching atop snow I generally keep the footprint attached to the body to speed things along in that regard.



Speaking of the footprint, it's that tyvek material. I know loads of people rave on about this, but I'm not convinced of its durability. Many of the places I frequent have some seriously rocky ground. I've had to patch a few small holes, and one particular spot is showing some moderate abrasive wear. I suspect that in the next 12 months I may need to replace it. Luckily the body floor still looks perfect.



Another slight oversight on the part of MH are the included pegs. I might as well use pegs of moderately viscus butter, at least then I could use the broken bits in my food. They're lightweight Y shaped aluminum pegs which look like they'll do the job until the pointy bits folds over and the heads pop off (and I am so gentle). Probably lost 3 the first night. Replaced with groundhogs and haven't looked back.



As I have hinted at, the Skyledge 3 makes a great 2 person tent. It would be possible for a third to squeeze in head to toe. As a comparison a friend of mine has the 4 inch wider Orion 3 tent and we feel this is the minimum for three people to be comfortable. I wouldn't been too keen on cramming that extra person into the Skyledge 3.



In conclusion, when I weigh the Skyledge's shortcomings to its achievements I'm left rather pleased. Do wait until this thing is on sale though, at $550 it's nearly twice what I pay in rent each month! I would call this Skyledge a featherweight bomber 3.5 season palace for two.
What happens if it is cold? Like -4oC ? Does it works ok this tent?
Best Answer
The cold is mostly dealt with by using a really good sleeping bag. This tent would run into trouble when in high winds/ heavy snow. That's where the 4 season comes into play. As far as cold goes, this would be fine, you would just need a really good sleeping bag rated for that temperature.
Great all around tent
Gender:

Male

Familiarity:

I've put it through the wringer
This is a great tent and is incredibly light weight. It would be a bit small for 3 people but fits 2 people very well and given the weight, it is perfectly fine in that regard. It is very easy to set up as well.



I am a tall guy (6'2'') and this tent fits me fine.

I use to have the previous version of this tent, had an issue with it after a few years that was not related to wear, sent it back to MH and got credit to buy a new one. Between MH and Backcountry's return policy, it makes it an easy purchase. That being said, do wait for a sale if you can since it is regularly 20% off.
Superb tent, but wait for a sale
I very much liked the two person version of this tent, but as I wrote in that review, in my opinion the Skyledge2 is too short for taller folk. Well, this Skyledge3 addresses those concerns.



A few extra inches of length make all the difference, and the constant width is a welcome change from the Skyledge2's tapered foot area. The Skyledge3 is just eight inches wider than many two person tents, which apparently motivated Mountain Hardwear to call it a three person (I personally don't know many people only eight inches wide, even sleeping head-toe, but okay).



MH naming philosophies aside, I think this is a superb two person tent, ideal for two taller guys (6'1"+) or even wider guys and you won't feel cramped. The no-drip over the doors really works, the structure is incredibly strong, and the materials are top quality. I believe the Sky3 will work just fine as a four season tent (with suitable pad and bag). No, it's not for winter assault climbers or extreme wind conditions on the side of cliffs, but for snowcampers, snowshoers, cross country skiers, this is an exceptional choice.



I don't like MH forcing me to buy their overpriced footprint. In my opinion, $550 is too much for this product, but I won't knock off any stars for that. It's frequently on sale for 20-30% off, making it much more reasonable.



No, it's not as light as some Big Agnes tents or the 2014 Hubba line from MSR, but those tents are nowhere near as strong as this one. If your trips demand more than just lightweight, this is a superb product.
Check out the details of our new and versatile Dry Pitch technology!