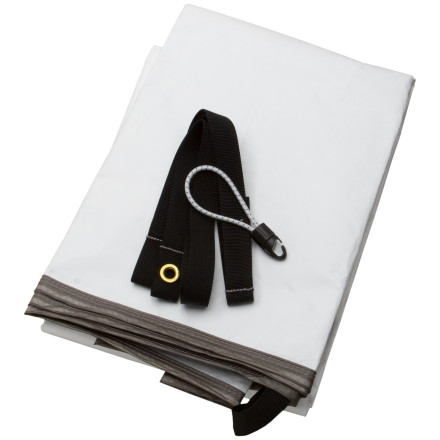 Use the Mountain Hardwear Skyledge 2.1 Footprint to safeguard the floor of your tent from backcountry shrapnel. This lightweight Tyvek groundcloth blocks water seepage and rock, um, gougage. You can also use the footprint with just poles and the tent's fly for a superlight open-air shelter.
Unanswered Question
What is the hook with the elastic band...
What is the hook with the elastic band for?
it seems like everyone who has purchased this items is skeptical when u open the box. When I am packing the footprint after use it seems too delicate. However, after 7 uses, no holes, wear spots or tears. Let's hope for the best but I recommend a nylon alternative for peace of mind. Description: like sleeping on a extra crisp dollar bill
Unanswered Question
I have the old spire tent and am looking...
I have the old spire tent and am looking for a ground cloth for it, the dimensions seem very similar but I wanna make sure it will fit before ordering (I'm overseas so returning is not an option)
Really light weight and just as basic as any foot print, but the durability is sh!t. I had holes from pine sticks after the first use! Good thing it isn't very expensive.
After using a few times, I noticed that the bottom side was beginning to wear away; holes, rips, tears. It's really light weight, but not very durable. Luckily these aren't too expensive.
This footprint is super-light and made of a material similar to Tyvek. It seems like a much better material than the old-style polymer footprints Mtn. Hardwear was making before. The only downside is that when you shake off leaves or dirt before packing it is kind of loud. Extremely durable.