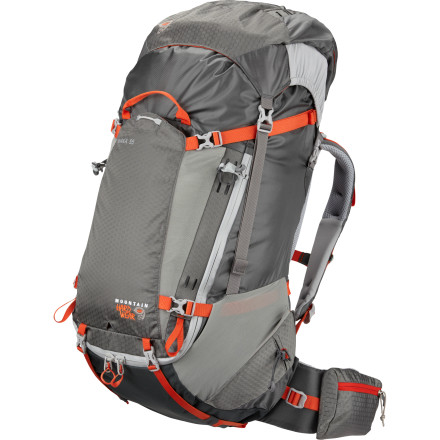 Detail Images

Community Images
Designed with the ultralight backpacking crowd in mind, the Mountain Hardwear Shaka 55 Backpack is ideal for everything from quick overnight getaways to minimalist multi-day treks. The HardWave suspension and aluminum perimeter stay are designed to match the shape of your back and waist for excellent load transfer and improved mobility on technical sections of trail. Even better, this feature-rich pack weighs in at just four pounds.
Corrugated HardWave framesheet suspension conforms to the shape of your back and transfers the load to the hip-belt without increasing pack weight
Torso length adjusts three inches for a custom fit (small size adjusts between 15 and 18 inches, medium size adjusts between 17 and 20 inches, large between 19.5 and 22.5 inches)
Aluminum perimeter stay locks into the hip-belt for greater load transfer and pivots slightly for improved comfort and mobility
Pack is designed to comfortably carry between 25 and 55 pounds of gear
Small pack weighs in at below four pounds, helping you stay light and nimble on the trail
Burly nylon fabrics and water-resistant zippers provide trail-worthy durability
Large J-shaped zipper provides quick side and lower access to gear
Multiple compression straps keep the load tidy
Curious if this pack would be a good choice...
Curious if this pack would be a good choice for a teenager? He's 14yrs old, 5ft. 7in. about a 28" waist. Thoughts?
It is best to fit backpacks by torso length which is the measurement between the C7 vertebra (that large bump on your back where your shoulders and neck meet) to the top of your hip bone. This pack in a size small fits a 15 - 18 inch torso length and would come the closest to fitting your kid. Also, keep in mind that this pack can fill up really quick and you should keep the weigh less than 20% of their own weight.
I agree with Wayne's comments above. Mountain Hardwear website also says that the Shaka 55, in size small, fits a waist range of 27 to 31 inches. My 19-year-old son recently wore his new Shaka 55 for 40 miles on California's Lost Coast trail and loved the pack's fit/features. See pic that I posted on 4/5/14.
And one more follow-up comment regarding backpacks for young teenagers... I recommend the least expensive pack that's sized for the intended use (overnight or weekend or week-long trips?) and that fits really well. Reason: This pack will likely be outgrown in a year or so (my son went from a size small Osprey Atmos to a size large in 2 years!). I also recommend trying the pack on in-person and having knowledgeable sales staff help fit and test-load the pack (to simulate trail weight). If you save tags and take reasonable care of the pack, you'll likely be able to sell it for a decent price when your teen outgrows it.
is this compatible with any hydration...
is this compatible with any hydration system?
Generally speaking, packs accept any hydration system... you just have to worry about the volume of the bladder. I find that most accept up to 100oz without trouble.
Yes! This pack has a sleeve - accessible from exterior of back - that works with Platypus, Camelback, Osprey, etc. hydration systems. My sons and I use Platypus systems because they are the lightest and have proven to be very durable over the years. See "drink tube" coming out of pack in pic that I posted on 4/5/14.
Lowepro Camera Bag Lashed to Shaka 55
See Ryan Conklin's 8/27/13 question below. Ryan suggested that there might be some clever uses for the webbing lash points on the pocket-less side of the hipbelt. Photo shows my Lowepro Apex 60 AW camera bag mated to the Shaka 55 left hipbelt. The Apex 60 AW has built-in velcro attachment and the velcro is long enough to "grab" the top or bottom webbing, but not both. I usually attach this camera bag to my shoulder strap, just above the sternum strap. I haven't tried it in the field yet, but it might be nice to carry camera on hip rather than chest.
Are the hipbelt pockets removable? Or does...
Are the hipbelt pockets removable? Or does the pack only come with one? If it only comes with one (as pictured), your description might point out some of the clever uses for the elastic bands on the pocket-less side of the hipbelt. Nice-lookin' pack from MH, no doubt.
Best Answer
Yes, the pack only comes with one hipbelt pocket and it is removable. This pocket is set up for your right hip only. See photo below for details. The left edge of the pocket (closer to your hip) is attached to fixed webbing lash points (not elastic bands) with velcro. The buckle and webbing of the hipbelt strap slips through a loop on the right edge of the pocket. Since it isn't reversible (from right to left hip), I'm not sure why they didn't simply include two pockets. I've pasted a photo, further above, that shows my Lowepro camera bag, attached with its own built-in velcro, to the left hipbelt webbing lash points.
Does anyone know if this pack will fit...
Does anyone know if this pack will fit under the dimension requirements for carry-on luggage... less than 40cm by 55cm by 20cm...
Best Answer
It will really all depend on which airline you are flying with and who sees you with the bag. Some days you can get through without a problem other days, they check every bag. It definitely is over the size limits you state (the bag is longer than 55cm when full), but a backpack is sometimes excluded from scrutiny of the airlines. My backpack won't fit in the most of the carry on cages that you have to test, but I've never had them say anything. You're allowed a carryon and a personal item (backpack, purse or briefcase).