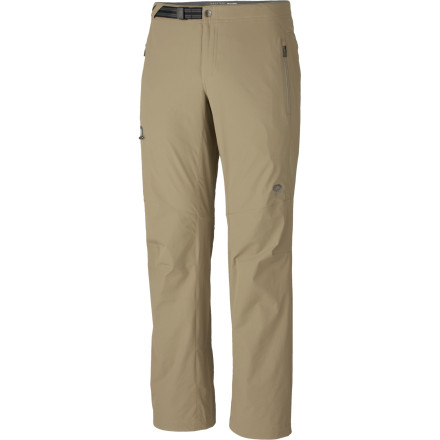 Detail Images
Perhaps it was your chaffed inner thighs or the saggy butt of the cotton pants you wore on the last backpack trip that made you curse the thought of another multi-day trip. Well, it's been a while, your skin is healed, and now you can count on the Mountain Hardware Men's Rifugio Trek Pant. The nylon and elastane blend is durable, stretchy, and incredibly breathable, so you can bet the Rifugio won't increase sweat or sag when that summer downpour hits.
Item # MHW2067 Mountain Hardwear Rifugio...
Item # MHW2067

Mountain Hardwear Rifugio Trek Pant - Men's is Waterproof ?
These pants are not waterproof. Rather, they are claimed to shed moisture and resist stains. If you sat in the rain or kneeled in a stream your pants would absorb the water. They are very breathable, abrasion resistant and have UPF 50 sun protection. If you are looking for a waterproof pant, I would recommend checking the rain and wind pant section. Here is the link : http://www.backcountry.com/mens-rain-pants
I took these on a multi-day hike up King's Peak, they held up in cold weather and heat.



Light, soft, stretchy, and highly breathable. Very comfortable and they look good; the semi-fitted look make them good for wearing around the city too. Fit is true to size.
I was drawn to the simple design of this pants. When it arrived i took note of how light it is. 10oz. Yet it has 3 zippered pockets ( no back pocket ) and a belt.



The material is soft, thin yet stretchy.

The cut is close yet not too tailored. MH claims its durable enough for the backcountry. I will test it when i go to Nepal in november for a 2 week trek.



So far i've only worn it in urban conditions. The material seems to keep clean as i hardly see any stains-even though i kneel quite often during my job.



There are some things which can be improved.

1) zippered hand pockets can be made a little wider



The pair i got from Backcountry was too big. It is a size 34 waist but when i measured it was almost 38!

I managed to get another pair size 30 which fit me perfectly! ( i am size 34 waist)



Overall this is my favorite Hiking Pants right now!
Is the sizing "true to size"? Should i...
Is the sizing "true to size"? Should i size UP or DOWN if my waist is 34.
Best Answer
The best route of course is to see if you can try a pair on locally and be sure, but these fit pretty close to stated size on most people and have both an adjustable belt and the material is slightly stretchy. †˙e great thing with Backcountry is the easy exchange/returns for the occasional odd piece that doesn't fit as expected. Also double check that the inseam in these is right for you. Great pants, BTW. Good Luck!
What color is shark? Is it like a graphite/dark...
What color is shark? Is it like a graphite/dark grey?
Best Answer
The shark color is a very dark grey.