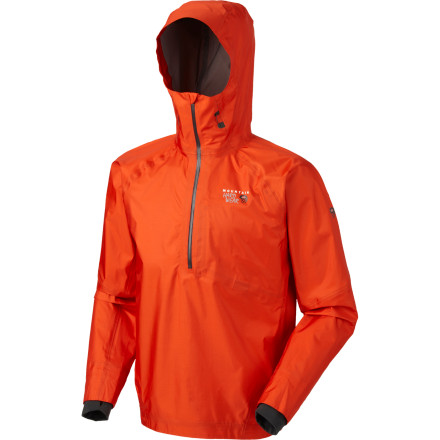 Detail Images

Community Images
After Ueli Steck fuels his body and checks his equipment, he slips the Mountain Hardwear Men's Quasar Pullover Jacket over his head. Why? Because the fastest man in the mountains needs lightweight, ultra-breathable, waterproof gear to comfortably move so quickly with such focus over iced rock.
Dry.Q Elite fabric is a true blend of waterproofness and breathability—ideal for backcountry skiing, rigorous mountaineering, or ice climbing
Half-length zipper offers ventilation while a tall collar helps seal out nasty weather
A single pull of the low-profile hood offers easy adjustment to shield your head without obstructing your view
Drawcord hem seals out wind and water
Awesome, simple shell
Familiarity:

I've put it through the wringer

Fit:

True to size
This is a great, no frills shell. Its great for backpacking and touring. Best of all, it breaths! IMO, it seems to work much better than a goretex shell. Didn't think I was going to like the cuffs (they're elastic, sorta like a sweatshirt, with thumb holes!) but they've turned out to work well. Comfortable to get on/off with the zipper length. I wear a medium in nearly everything and this fit true to size for me. I'm 6'2 and 175. Sleeves could be slightly longer. Material feels thin, but has held up to a full season of touring, trees, and pack straps.
So nice to see a jacket that is stripped down to the bare bones and no frills. Powder skirts, pockets and all the bells and whistles add up. I've been touring in this jacket all winter and I'm a huge fan. It breathes so well that you don't need pit zips and it's nice not to have to be constantly changing out layers. DryQ really works. The zipper took a bit to break in and I actually broke off the zipper pull, but MHW quickly and easily replaced it. Simple and solid jacket that really does all you need for the mountains in winter.
I really wanted to like the Quasar. Really, I did!



I wanted to enjoy a 9oz waterproof/breathable jacket. I wanted to have a lightweight shell that could disappear into my pack on trips into the mountains. I wanted to forget I had it with me until the skies opened up and reminded me that I needed it.



Alas, it was not to be. Mountain Hardwear just doesn't fit me.



I first tried a large. It fit in the shoulders, but was long in the sleeves and wide in the torso. I exchanged that for a medium, but it was to narrow in the torso for me to pull over my shoulders without serious contortion. If you're my size, there's just no happy spot in the middle.



The jacket itself seems well constructed. The fabric has a suppleness to it that avoids the technical crunchiness of normal shells. I didn't think the hood was big enough to fit over a ski helmet, but a climbing helmet would likely fit. The lack of a second drawstring on the hood to hold the sides back was a flaw.



Overall, if this thing fits you, it's a decent solution for a light-weight technical shell. If you're like me, however, it won't fit. I'll sacrifice the extra 2oz in exchange for the zipper and pockets of my Arc'teryx Alpha SL hybrid.
Fantastic! But had to return.
As others have pointed out this is a truly fantastic jacket - nearly perfect. Unfortunately I had to return the jacket because the hood does not have a cinch cord in the rear, so when I turn my head to the side the hood does not turn with me. I'm guessing this might be because the hood was designed to go under a climbing helmet, not over, but as a trail runner the system doesn't work for me. Truly unfortunate, I really loved the jacket.
Ueli knew what he was doing. . .the perfect shell
I have waited a while to give this jacket a review, and give it a bit of abuse too.
This jacket gets a 5 star rating, only because i can't give it anything higher.

This jacket makes me look forward to the rainy windy snowy days all summer long (the ones that seem to be getting more common in the Anchorage area. . .), and is the perfect shell for me for backcountry skiing. also is the only "rain jacket" i have used since i got it.

The very simple design (no pockets, half zip, one small stash pocket) helps keep the weight down, and it also prevents zipper pulls and pockets to get in the way or cause discofort.

This is the closest to a truly "waterproof breathable" fabric i have ever used. It breathes fantastically, while still having all of the waterproofing necessary. i have run in the rain for hours at a time and stayed dry, while not getting clammy and stuffy and sweaty on the inside of the jacket! it's great!

for me the fit is ideal. i'm pretty skinny (5' 11", 147lbs), and it fits with a bit of baggyness. this is what i want, because it makes for a perfect fit over an insulation layer (usually i am using either the 1/4 zip Moutain Hardwear Zonal (ideal because both are 1/4 zips), OR Transcendant Hoody, Montbell UL Thermawrap Hoody; in colder [below -5 Fahrenheit or colder] i have worn the Rab Infinity underneath, and that with it's much bulkier size has fit just fine!). when worn alone the fit is good too, not too loose, so it does not get in the way or caught in stuff. comfortable for running, nordic skiing, activity with lots of motion.

The cuffs are great! i love the removal of the velcro strap (personal preference i know), but i have liked it, and it is much nicer for colder conditions and snow. the only thing about the jacket that i do not like however, is the tightness of the little thumbcuffs that they have put in place, and the reason i would like it a little bit more loose is that i like to pull the sleeves up to just below the elbows during high output activities, and with the cuffs it is impossible for me to do that, though sometimes i can pull them up to the small point above the elbow, and it sits a bit too snugly there. but, i realize that the tightness ensures the ideal fit for when you are wearing the cuffs. (i do realize that most people do not pull up their sleeves, so this would be perfect, and not an issue at all. for me, it is not really an issue at all, just something to think about.) also, when it is really rainy the cuffs can get wet if you aren't careful with them, i suggest retracting the cuffs up the arm a little bit inside of the jacket, as this keeps them dry and out of the way, and has worked splendidly for me.

Great jacket, and totally worth spending a lot of money to get a shell that truly works great! to me a great shell is the most important piece of clothing to have, and this one really is the best.
Stan, hook up with them on "Chat Now" and they can give you a rough idea of when they expect another shipment.
I tried, there is an order in for more..but no one is quite sure when it will come in. On a side note In case anyone is interested, I am 5'11 155lbs i already bought this jacket in a Large. I've had it for a about a week. In terms of sizing i would say that this shell is roomier than most other Mountain Hardware alpine fit type shells. I had the Mountain Hardware Drystein Jacket in a large and the fit was great, allowing ample room for layering. This jacket however is roomier, i've tried various layering combinations..and even with the thickest layers...i still ended up with more room than i needed in the shell. Performance wise..I feel this shell breaths better than the Drystein both utilize Dry.Q elite but since this shell is made with a thinner material i feel it allows the Dry.Q elite laminate to perform better, especially in warmer temperatures. I have not done much Mountaineering this season but i am on my bike everyday in NYC. this is an all around great shell with can easily transitioning into spring and summer use.
Is the hood helmet compatible?
Is the hood helmet compatible?
The GearCaster says it is helmet compatible. I couldn't find anything one way or another on MH's site.
Best Answer
bill123. The hood, designed by Ueli and to his spec, is supposed to fit under a helmet. I have tried it under my BD helmet with good results. By designing it this way we keep the hood smaller and save a bit of weight on a very light jacket. It's a new idea in design and I think a good one! Hope this info helps!
I used the Quasar for a week in Alaska. The hood is tight and won't zip high over your face with a Large Camp helmet, but it works partially zipped, as it zips high over the nose. It breathes well, and after getting base layers damp, it allowed drying without taking it off. It blocked stiff wind well when I used it over light base, and soft shell. No pit zips are needed and allows better freedom of movement when skinning and easier packing. Light weight, no zips or pockets allow good breathing, easy packing. MH tops, the shoulders are not a big as Patagonia, which are designed for surfers. Don't need pockets which are covered by pack and straps anyways.

I liked the Quasar features (no pockets, pullover, hood zip over face) better than the Neoshell though I liked the Neoshell fabric better. Its the design and features that won out over the fabric.