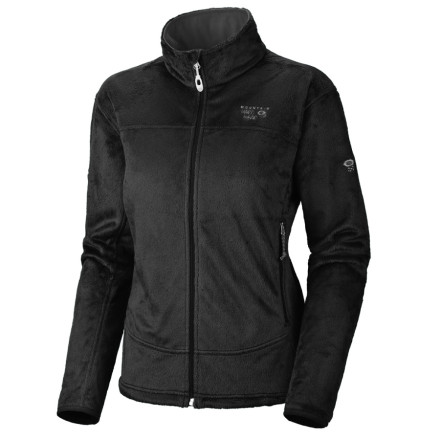 Detail Images
Zip up the plush Mountain Hardwear Pyxis Fleece Jacket for a quick afternoon powder session, throw a shell on top, and dust your friends all the way back to the lodge. If the stove fire just isn't cutting it, bury your hands in the comfy hand-warmer pockets while making weekend party plans. Luscious fleece makes you absolutely huggable in this Mountain Hardwear piece, and a zipper guard prevents chin chafe.
I just received my Pyxis jacket and love...
I just received my Pyxis jacket and love it..however now my fiance wants one. Do they make a guys version of the Pyxis? If so what is it?
kel. The closest thing to the Pyxis Jacket for guys from Mountain Hardwear would be the Monkey Man Jacket. The Monkey Man has been in our line for a long time and is a favorite of many! It is a little bit thicker than the Pyxis and may be a little warmer as a result. I hope this info helps!
I'm 5'10" and 175 - i usually wear l or...
I'm 5'10" and 175 - i usually wear l or xl. i want this jacket to be fitted like it is suppose to be and not to loose and baggy but want to make sure the arms are long enough as usually when i order large the body fits perfect but sleeves are to short. then when i order xl body is to loose but sleeves are long enough. what would you suggest ordering? do the sleeve by chance run long?
I ordered a medium and stand 5'3" and weight about 145. Here's the catch, I have an arm-spand of 5'7" (I have scoliosis). Anyway, I don't have any issue fitting in the sleeves and though it fits over my chest, it isn't incredibly slim down my body. This is great because I can layer!! A well made layer, and I would say have well produced arms.
How wind-resistant is this jacket? I am...
How wind-resistant is this jacket? I am trying to replace an old Patagonia wind-block fleece and the Pyxis looks very nice; it has fleece on the inside and outside, which I want... but does it offer much more wind resistance than just a regular 300 weight fleece?
K.H. The Pyxis fleece is a very nice and soft fleece jacket but it does not offer much wind protection. It would offer about the same protection as a regular 200wt. fleece with no barrier. It is super soft though and is a great mid layer in cold weather or a stand alone piece during the edge seasons. If you are looking for something more like your old fleece I would consider the Sable Jacket from Mountain Hardwear. It is a bit thicker and heavier overall than the Pyxis but it offers complete and total wind protection in the form of an "AirSheild Core" laminate. If you don't want to go all the way to the Sable then your other choice would be the Deflection Fleece jacket from Mountain Hardwear that utilizes a denser fleece that blocks much of the wind but not all. I hope this info helps!
This is probably the warmest fleece I own. It is great for layering or on its own as well, although it could be a little bulky under something that has an athletic fit. It isn't windproof, so you may want to consider another layer if wearing by itself on a really windy day. I wear this one hiking, shopping, and just around the house. My cat is a big fan as well...I often catch him sleeping on it!
I just got this jacket and LOVE it. It is...
I just got this jacket and LOVE it. It is so much warmer than I expected. I recently moved to NC and needed a fleece for the "winter" and this will definitely keep me warm on colder days. The material is so soft and the fit is wonderful. I normally wear an XS but it was a bit tight in the sleeves so I went for the S.

I do have a question about the material. I'm a little worried about the fleece looking ratty after a while (a friend had a Monkey Woman jacket and said the material started looking ratty after a while). Should I use a special detergent like Woolite or do you have suggestions on how to best keep up the fleece? Thanks!
I've had my pyxis since September and love it. It has got washed a lot since its the sky blue colour and shows dirt. I use an eco friendly washing liquid and tumble dry and never had a problem with pilling or it looking anything but as good as new. I would suggest air drying may make it look a little ratty, but tumble drying seems to fluff it up as good as new.
what does the inside of this jacket feel...
what does the inside of this jacket feel like and what is the difference between it and the monkey women fleece?
Emily. The inside of the Pyxis feels just like the outside. In other words, there is no lining. The Pyxis Jacket is basically a mid-weight medium loft fleece jacket. The Monkey Woman Jacket has a higher loft and is a bit thicker overall. The Monkey Woman Jacket will be warmer than the Pyxis Jacket. I hope this info helps!
Hello. I know that North Face Small fits...
Hello. I know that North Face Small fits me very well. I am 5'6" but petite and the North Face Smalls are long enough and fitted. Do the Mountain Hardware and Patagonia run as long and fitted?

Thank you!
Karen. If you are a small in the North Face then there is a good chance you would be a small in Mountain Hardwear and Patagonia. With that said, each company and in all reality each piece of clothing fits slightly different due to design, where the product is produced, and random variation so it is hard to pigeon-hole the fit of each brand. But, again... if you are a small in TNF then you would more than likely be a small in the other brands as well. I hope this info helps.