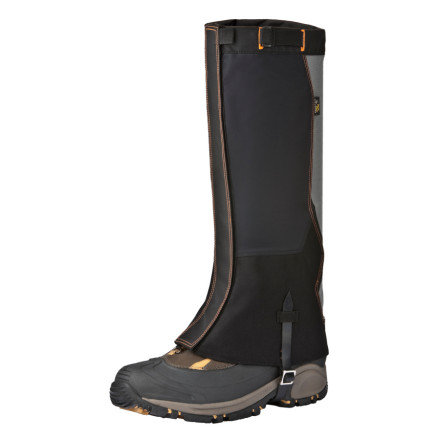 Community Images
Keep snow, ice, and scree out of your boots in harsh high-mountain environments with the Mountain Hardwear Pinnacle Stretch XT Gaiter. Flexible and tough, this gaiter features a waterproof breathable three-layer Conduit upper to block snow and moisture on its upper section, and a bottom forged from 1000D Cordura that resists abrasion and punctures.
Rear softshell panel flexes for better fit and mobility
Urethane under-arch strap with pinless buckle and an integrated lace hook keep the gaiter firmly in place
Cordura Scuff guard on inside cuff offers extra protection from crampons and sharp ski edges
Fits backpacking and mountaineering boots
keeps my pants in 1 piece
Familiarity:

I've used it several times
I used to use these more when I first started using crampons, but I've been finding them less and less necessary now - just added weight, if you are careful about your steps. I like how bomber these are - my last trip 2 different people broke the OR gaiters (bottom strap broke, buckles broke). These look basically brand new for me. My only complaint is the top strap is annoying to adjust (or it slides down, depending on which annoyance you prefer).
runs reallllly big
Familiarity:

I've used it several times
had to get a size small. i'm a solid M in OR crocodile gaiters. even the size small was kind of baggy around the ankle. I much prefer the ORs'.
Great gaiter if sized right
Gender:

Male

Familiarity:

I've used it several times
This is an excellent gaiter. It keeps you just as dry as the Rab, TNF, or OR, but it also has improved comfort and breathability because of the stretch back panel.

The key to buying these gaiters is getting the size right. I am telling you right now! Ignore MHW's sizing guide! It will only lead you astray as every other review will tell you. And don't pay that much attention to shoe size either. The key to getting a good fit is to consider the size of your lower leg and the type of shoes you will be wearing these with. The sizing on these gaiters has plastic mountaineering boots in mind, which doesn't help the veast majority of users. Plan on going down a size if you use non-plastic boots or even two sizes if your boots are very low profile. These gaiters come with an adjustable strap at the top which allows you to cinch them down considerably for an ideal fit. I have decent sized legs with mid size GTX mountaineering boots and went with a medium which fits great.
Great. But ran a bit big.
Bought these for my dad. He loves how tough they are. He starts hiking in early spring and needed something that was compatible for his winter boot and would hold up while using crampons. Getting another smaller pair for his summer boots since these run a bit on the big side.
Not bad, but a few design flaws
Picked these up for my first gaiter, and after a full winter season I can say they did a good job but a few annoying design flaws have me contemplating an upgrade for next season. First, and most annoyingly, the top of the gaiter has a small nylon strap to tighten, but it doesn't lock and over the course of a hike will loosen and slide down your leg. Easily fixable with a cheap velcro strap from any local camp supply store, but it would have made more sense to have a self-locking strap or something similar there. Secondly, the backs of the gaiter aren't as waterproof as the front. Not a huge deal either, but after a long sloppy day you may notice more water coming through the back. For the price, you can probably find fully gore-tex ones from North Face or a similar retailer that will keep you 100% waterproof all the time.
Durable, Great product
Gender:

Male

Familiarity:

I've put it through the wringer
I've been using these guys for awhile now. I've done winter hiking in the whites in NH and all over Utah and have been super satisfied. Waterproof, breathable, and tough. They do run big, had to return them for a smaller size after the initial purchase.
The waterproof laminate on soft shell material started falling off after only a couple uses. And I don't understand the benefits of this stretchy material, even if the waterproofing was fine. But, that's why I buy gear at Backcountry.
These are fantastic but I initially got an XL for a size 11 shoe and that was way too big even though the sizing chart Mtn Hardwear gives suggests that size 10 is okay for an XL. They are also pretty long as the picture indicates, I'm not sure you need that much overlap with snow/rain pants. The fabric is awesome and they are really well made.
These are are a tough mans wear. Get it and realize all others were made for the regular poptart.

so far, after several uses, they have been beat up pretty well, and still water proof, no holes, and the fabric just feels tough. i got them on an rei online sell, and i have never been so impressed by a product!

i will say, if you get a pair of gaiters, these ones are what you want. they work and last a beating. the velcros tough and lasting, and the bottom strap is some kind of tough indestructable tie. Get it.
After going through several pairs of gaiters that didn't cost as much, I decided to drop the dollars on these. I expected standard MTH quality, and that is what I got. These gaiters are quite durable, resisting shredding from crampons & rocks. They're really quite waterproof, no snow or dew or rain has penetrated the actual gaiter. They're quite breathable, yet also pretty windproof. They snug down great on the top of the boot, and also up on your calf.
I've only worn them a couple times, but I expect to get much life out of them. Now my brother just needs a pair so he can stop stealing mine.....
Durable and Resistant Gaiter
Very nice gaiter for larger/winter boots. They are extremely durable, breathe well and stay in place VERY WELL, which may actually be its best attribute. They look good, and also are easy to put on,and easy off. The bottom of the gaiter forms a very nice interface with the boot. I've used with Keen hikers, Scarpa leather and plastic boots. With size 11.5 - 12 boots, the Large fit is perfect at the boot but a bit big at the shin and knee, but no issues with slippage. Great gaiter, and I highly recommend.
The build is extremely good and the two tone colours make for difference, if you are into pure aesthetics. After unpacking them and taking a long severe look at them, I'm still at odds with a 'bit of plastic' to go under the arch of the boot as I can see this becoming ragged very soon on walking over rocks and other landscapes. Having said that - they are very waterproof- very hard wearing (the uppers) and comfortable. The hook and the velcro fastening took some getting used to. My old pair fastened at the back. My Asolo's will take the hook but it feels as though the gaiter is being pulled a little too much. The velcro fastener is rock steady and tight.

All in all, a very good gaiter for winter expeditions and cross country skiing; Spring and Fall hiking and well worth the investment.
I purchased these initially for a winter rogaine to keep my feet dry in the snow and they worked well for that purpose. I have since used them in a couple adventure races even though they are a little heavier than my short race gaiters. I have also used them when shoveling snow, and wore them every time I wasn't in the tent during a backcountry trip in Joshua Tree. The under-arch strap has shown virtually no sign of wear, which amazes me, but some thorny trees in JT did create a couple small tears. I have used Merrell and Montbell gaiters in the past, but neither compare to the Mountain Hardware pair.
Can't find a better gaiter
I just love these gators.

Pros:
- Durable
- Warm
- Excellent fit
- Stylish

Cons:
- A little pricey, but worth it.
- Sizing chart is off. I am a solid shoe size 12 and the XLs were too big. I return for those the Ls, which fit my boot and leg perfectly.

I wear these with the Salomon Beluha (black) snow boots. Snowshoeing is a blast!
How do these seal around the boot? Do they...
How do these seal around the boot? Do they have sometype of rubber stretch to keep water out?
The cut (shape) of the bottom of the gaiter will fit snugly with the boot. Once the strap is tightened this will create a tighter boot/gaiter interface. While presumably the boot, and definitely the gaiter are waterproof, the section where the two meet aren't waterproof, just a barrier. So, unless you're stomping around in shin to knee deep water for a long period, you should be OK. I just ordered these gaiters, so will report back on the exact make-up of the material where the gaiter meets the boot.
Chris, I wore the gaiters for the first time last night, sledding with my son. There is no rubber stretch material that forms a seal with the boot. However the gaiter is fashioned such that it has a 'cut' that fits nicely with the boot. Also, the tighter the under-arch strap, the more snug it will fit with the boot, but don't overtighten, just a snug fit should work fine. After I use them in the backcountry a few times, I'll post a review. Hope this helps.
Great insurance policy for your expensive mountaineering pants.
I love these gaiters because they have saved my mountaineering pants from crampon punctures/shredding. The quality is great and they feel like they will last forever. Once you strap them on, they are solid and don't shift around on your boots or legs. The back panel is stretchy, and definitely thin compared to the rest of the fabric on the gaiters. On really cold days, I can feel a difference in warmth between my shins and my calves.