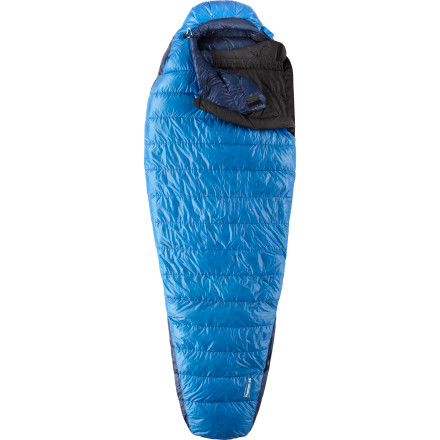 Videos

Community Images
Description
Extremely light and supremely warm.
Weighing in at just over two pounds, the Mountain Hardwear Phantom 15 Sleeping Bag is ideal for ski yurt trips and year-round backpacking in many environments. This easy-to-carry down-filled chamber is designed to keep you warm without weighing you down.

15-degree EN lower limit rating ideal for winter yurt trips and three-season camping in alpine environments
Performance mummy cut fits close for heat retention and weight savings
800-fill Q.Shield down resists moisture and retains maximum loft in damp conditions
Six-chamber hood design and down-filled face gasket maintain even loft for consistent warmth
Lightweight two-way zipper for smooth, easy entry and exit
Weighs just over two pounds (regular length) for an exceptional warmth-to-weight ratio
Includes stuff sack; compressed size is 7 x 12 in
Warm, but bad cut and terrible zipper.
Gender:

Male

Familiarity:

I've used it several times
First off, this bag is very warm for the weight. That's good but expected from a $500 sleeping bag. Also the DWR down on this is really good and the shell is very weather resistant.This makes it a really good wet weather down bag for when it's super humid but drops below freezing later in the night, when you want an extra safety margin of warmth.

But the zipper is TERRIBLE. I will be sitting there pulling at the zipper when it has no fabric caught in it, and it just wont move. It's always a two-handed job to get the fabric at just the right tension for the zipper to move. The coil zipper is light but feels really flimsly. It's a "stupid light" zipper. They should have just used a good molded zipper like the western mountaineering bags. Bad zippers are one of those things that you tolerate at first, but after many nights using the bag, a bad zipper will convince you to buy a new bag. I had another mountain hardwear sleeping bag that I ended up returning to REI because the zipper made me want to tear the bag in half out of frustration. Don't buy a sleeping bag with a bad zipper, you will end up regretting it after it's lost a lot of it's resale value.

Also the cut on this is just too small and I'm a thin person. I know that a narrow cut is intended for max warmth per weight, but if your concern is max warmth per weight then there is a really good chance you are going to push the limits of the bag by wearing an insulated jacket to sleep. My montbell mirage down jacket got compressed easily at the shoulders. In my opinion, a shoulder season bag designed for fast and light backpacking or climbing should be wide enough to accommodate a shoulder season weight puffy on a average build person. Western mountaineering bags have a much more reasonable cut for my uses. It's not like adding a little more width compromises the warmth that much. Combine the narrow cut and the terrible zipper and I got caught in this thing many times. Often the zipper would get caught when I was zipping it near my neck, and then the cut was so tight that it was difficult to move my body around so that I could get both arms up to mess with the zipper. If someone in the military used this out in the field, the zipper could easily get them killed by snagging and trapping them. Seriously. If you want a bag with these specs, then spend the extra $75 on a made in the usa western mountaineering versalite.
Wish they had a non Q-Shield option
Familiarity:

I've put it through the wringer
I have the previous version (non treated down) of this bag and I love it. I've taken it to 10-15 degrees multiple times with a BA Insulated AirCore and a Sea2Summit summer bag liner and Smartwool base layers and was fine. Draft Collar and Draft tube are clutch, don't buy a bag without a collar and expect to not freeze. The Collar tightens in the front and the back and has a velcro tab to fasten it. I use this in SPring and Fall in the White Mountains and the summer when I use my jungle jammock. Looking for one for my GF and they only sell the Q Shield down versions now which are more expensive by at least a Benji so I will sadly have to hit up another brand.
Outstanding but not quite a 15
Bought this bag in 2012. I love it. It's extremely light and packable and has the comfort of high- thread- count sheets. I've used it three times on winter trips and, in my opinion, it's about 10 degrees overrated. However, I like the bag well enough that I'm thinking of having down added.
Overall very nice bag.
Familiarity:

I've put it through the wringer
This bag is awesome. Really warm, packs really small, weighs little, super comfortable hood, and looks cool too. I had heard before I purchased that the zipper is delicate. Although I haven't had any issues to date, I would agree that the zipper does feel like it would give way if put under serious stress. So I have been a little careful, and I havent had an issue. On the plus side, the zipper doesnt get caught on the surface fabric at all.
We camped on a ledge about 6 pitches up on Infinite Bliss, up in Washington state. Our plan was to get up real early and get a jump on the rest of the climb. Unfortunately, due to alarm malfunctions, we ended up waking up around 10 and pretty much negating any advantage of sleeping on the route. But it was still great.
Great bag. Perfect for higher-altitude 3-season backpacking. I've spent about 20 nights in this bag from spring to fall, and have never been cold. Minimal down leakage and I really like the draft collar. Had to wash it due to a cat pee incident (somehow they know to find your most prized possessions and pee on them) and I can personally attest to how difficult it is to saturate this bag with water, even in a bathtub. However, once it gets soaked through, it will stay that way for a long time.



All the materials are extremely lightweight, so you won't want to be dragging this bag across sticks and stones, but your back will be thanking you the next time you are slogging up a hill. It's very light and packs down very small.



Almost took a star off due to the price being out-of-market but that's not really the bag's fault. One other quibble: the zipper does stick, like with all sleeping bags. This can make it a little claustrophobic if you have it zipped up all the way.



If you can deal with the price tag, or you get it at a discount like I did, buy with confidence. Especially if you are trying to reduce your weight and bulk.
Does anyone know if the zipper has improved...
Does anyone know if the zipper has improved over the previous model?
The zipper is still terrible. Overall the bag is quality.
Mountain Hardwear Phantom 15
New Technology! QShield Down.
Check out one of the many innovations from Mountain Hardwear for Spring '13... QShield Down.