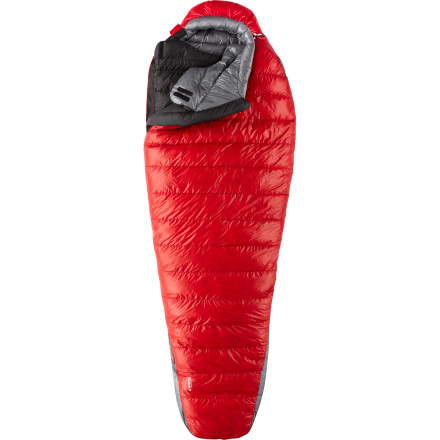 Description
Water-repellent down insulation and a sub-three-pound weight ... a one-two punch.
At just over two-and-a-half pounds light, the Mountain Hardwear Phantom 0 Degree Down Sleeping Bag takes a burden off your back and puts some Z's in your sleep. This sleeping bag packs down small, fits your body like a glove, and features water-repellent down insulation that fends off heat-robbing moisture so it can retain its loft and warmth. This ultralight mummy bag will become a welcome addition to your shoulder-season backpacking kit whether you're overnighting in the White Mountains or picking off summits in the La Sals.
Mummy shape is cut to feel snug and close to your body for maximum heat retention
Filament Weave nylon material makes this sleeping bag durable, packable, and ultralight
Q.Shield down insulation boasts a water-repellent treatment so it can resist moisture buildup that would otherwise inhibit lofting and warmth
800-fill down provides the maximum level of warmth for super-cold condition
Six-chamber ergonomic hood design maintains even loft around your head for consistent warmth
Ergonomic draft collar seals heat inside the bag with internal drawcords and a soft two-piece design
Stay Toasty My Friends
Familiarity:

I've put it through the wringer
I've been a fan of the Phantom bag for many years now and it continues to be my go to for winter camping and expeditions. It packs down so small that it doesn't eat up room in your duffle and it's warm enough for most winter outings. Just put on a few more layers that you'll already be packing if your heading to AK, or someplace really cold. The bag really packs some serious loft even after I've forgotten to take it out of the stuff sack for some time. The outer shell sheds water nicely and it dries off quickly even when you get that morning dew and frost on it. There are a few things you just can't skimp on and a good sleeping bag is one.
Unanswered Question
Adding Specs from MT Hardwear's site as some were missing
Measurements
Apparel Fit: Regular-Sleep Bags
Weight: 2 lb. 9 oz. / 1.17 kg.
Bag Shape: Performance Mummy Cut
Bag Loft: 7 in / 18 cm
Bag Stuff Size: 8 in / 20 cm
EN Rating: T-LIMIT: 2 F / -17C
EN Rating: T-COMFORT: 15 F / -9C
Bag Fill Weight: 793 g. / 850 g. / 1 lb. 12 oz. / 1 lb. 14 oz.
Inside Length Regular: 78 in / 198 cm
Inside Length Long: 84 in / 213 cm
Hip Girth Regular: 53 in / 135 cm
Hip Girth Long: 56 in / 142 cm
Foot Girth Regular: 38 in / 97 cm
Foot Girth Long: 40 in / 102 cm
Shoulder Girth Regular: 59 in / 150 cm
Shoulder Girth Long: 61 in / 155 cm
Spectacular Lightweight Bag
Familiarity:

I've used it once or twice and have initial impressions
Bought these sleeping bags for my husband and I for a mountaineering trip. When we got to the mountain we missed out window so we didn't get to use the sleeping bags. Haven't used them yet, however they are very light weight and pack up really small. The fabric is very thin, almost like a garbage bag but pretty durable. Dogs jumped on them while they were out in the living room and no scratches or holes. I would not suggest you let your dogs jump on them all the time, but they are durable. The zipper is also teeny tiny. Very cool to see where they cut down on excess weight in the bag. I am 5'4" and he is 5' 9" and we both got the regular right and left zip. They fit us great. The right and left zip, zip together very easily to create one giant sleeping bag. Super stoked to get out and use them!
One Bag to Rule them All!
Familiarity:

I've used it several times
This bag is pure luxury. The first thing you will notice when you get it is that it is so very thick. It stands at least 4 inches off the ground and I believe the tag says there is almost 2lbs of feathers in it! The bag is a bit narrow in the shoulders to promote thermal efficiency. The only quibble I have with the bag is that the zipper snags easily, but that is not surprise since it uses a thin ultralight zipper?cannot have it all I guess. The down stays dry and holds loft even in the Cascades. Of note the bag kept me warm and cozy during one of the worst storms I have ever been caught in, hail as big as marbles and a mudslide that almost took me out in a scree field.
I've been on the hunt for a high end 0F...
I've been on the hunt for a high end 0F bag for a while now. I have narrowed it down to 2 bags, but now i'm stumped. I am torn between the MH Phantom, and the Western Mountaineering Kodiak 0F. I can get the Kodiak for the same price as the Phantom, so that's taken out of the equation. I have a WM Puma, and love it, but I also have a MH bag and love that as well. Both are around the same specs, but what to do? Any users have experience with both and prefer one over the other? Any feed back would be much help. Thanks!
Best Answer
If you can get it all at the same price, get the Western Mountaineering bag. They will re-stuff your bag in 10 years, they use higher quality down which increases its warmth rating. Mountain Hardwear is a great company but, they make lots of different products. If you have used the Puma you also know how water repellent that thing is. I fell in love with the Micro Fiber series that WM offers. I dumped a glass of water in a puddle on the bag and attempted to push it through the fabric and could not.



The main difference between these two bags is the amount of room you get with the WM. The Kodiak has a shoulder girth of 66" compared to MH of 59". If you like extra room in the bag its worth the 2 oz.
Hi Luke and Bill,



The only other difference I would add is that the Phantom 0 utilizes 800-fill QShield Down which is Mountain Hardwear's hydrophobic down. This treatment also helps to make the down longer lasting and slightly more lofty (it repels even itself!) Western makes a beautiful bag... we do to! You've got a hard choice in front of you. Good luck!
I own an WM Puma that I bought in 1993. It's truly a cold weather bag. I love it. Only draw back is it's extremely bulky. The storage bag is the size of an easy chair. I also use a MH phantom 15, 2012 series. It's not as water repellant but I am thinking of having the MH overstuffed to bring it to a - 5 rating. It's lighter and more packable. BTW- ratings of 0 and less are a crap shoot.
Weight
Familiarity:

I gave it as a gift but have feedback to share
Its a great light sleeping bag and warm
Best Bag Ever
Familiarity:

I've used it once or twice and have initial impressions
I've used the Mountain Hardwear phantom sleeping bag line of products for years. I've only used the 0 degree version for a couple nights, but it was fantastic. It was super light, incredibly compressible, and very warm. The sleeping bag I've used for years is the 32 degree version. If the 0 degree version is as great as it is, I have one incredible bag.
Mice, winter camping & vomit...
My bag has about a dozen patched up holes near the foot area from a pesky mouse going to town one night. Its been sinched down in its stuff sack and magically re-lofted hundreds of times, like I was opening it for the very first time - every time. Its been used in backcountry huts, snow shelters, tents, and the back of my car. After all of its expeditions grand (winter camping in the sawtooths) and not so grand (getting thrown up on b/c I had nothing else to sleep with one crazy new years eve...), to this day it is still my single most warm piece of gear that I could ever dream of owning. Because that stupid mouse did such a good job on it that one night (and its smelling a little ripe), its almost at the end of its line. It'll be a sad day indeed, but you can bet your buttons I'll be buying the exact same model as long as they continue to make it.
best bag so far and very light and compacts, havnt had any zipper problems like ive heard from others
Warm and light!
Familiarity:

I've put it through the wringer
I use this bag during the spring season guiding in the Pacific Northwest and it did an impressive job of keeping me warm and dry, despite waking up one night in a single wall tent w/ 2 inches of standing water inside (the bag also dries quicker than most). The lightweight fabric withstands normal abuse well, but isn't the burliest of materials and spits feathers fairly regularly, though not a big issue. Overall, this bag is my go-to for cold-weather alpine climbing due to the lightness, warmth, comfort, and compressibility.
Great Winter Bag
Familiarity:

I've put it through the wringer
I used this bag for everything from snow camping to back of the truck bivy'ing. Super warm, incredibly light and packable. It almost never leaves my truck or travel bag. Couldn't be happier with it.