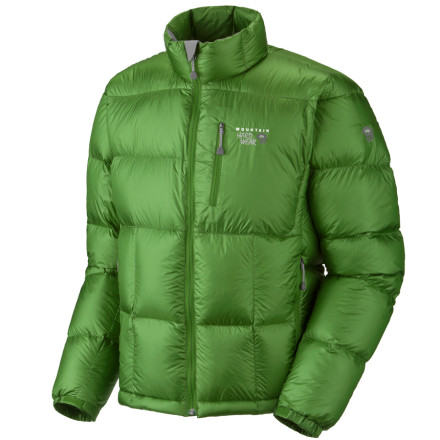 Ward off numbing winter cold in the Mountain Hardwear Men's Phantom Down Jacket. Mountain Hardwear stuffed the ultralight, down-proof Mescalito shell with high-lofting, super-compressing 800-fill goose down for turbo-charged warmth in the backcountry or just around town. Adjustable hook-and-loop cuffs and dual hem drawcords keep icy drafts from creeping in. At only 15 ounces, the Phantom practically vanishes into your pack when you're on the move.
I wish I would have waited a season and got the new one with the hood. I find I wear this jacket more around town on a bitter cold days than I do out hiking or climbing. I bring it as a back up piece on climbs when I don't know what to expect. It packs down in the provided pouch and doesn't really take up any space or add much weight.
I got this jacket on SAC and as soon as I put it on I was in love! This jacket is ultra comfy and has a stellar warmth to weight ratio because of the 800-fill goose down that was used in it's construction. It comes with a nifty little stuff sac so that you can compress it down and stuff it away in you pack. The stuff sac even matches the jacket color! The fleece lining in the pockets was a nice thought but I can't figure out why it's only on one side. :( The only other complaint that I have with this jacket was is its shiny finish which gives it the classic "trash bag" look which plagues so many other down garments. I hope that Mountain Hardwear produces this piece in matte colors next year!
Heavy on warm, light on weight
Very warm piece, fits really well, is a little short if you have a longer torso. There is also an inside pocket that isn't mentioned that i like. Fleece lined front pockets are nice touch.
A great jacket 3 years later
I have had this jacket for three years now and it is still going strong. Keeps me amazingly warm. I find that I can often just wear a tshirt and this jacket and be warm down into the 20's. Lightly water repellent and highly wind resistant. Packs well and handles a wash now and again. Leaks NO feather too which is nice. Fits same as most other mountain hardwear pieces. I am 5'10" and 175 and the medium fits well. I wouldn't mind if this jacket was 1" to 2" longer, but overall a great jacket.
One of my all time favorites, I am on my 3rd one. (over a 10 year period) I use it almost everyday in the winter, you will not even notice you have it on. It is not a typical down jacket, it never gets in the way. Compresses down to almost nothing. Best down jacket out there, well worth the money
Exceptionally warm and light
The MHW Phantom is really a remarkable piece of gear. At a pound, it packs down to the size of a Nalgene water bottle, taking up minimal space. It also has an interior pocket, which the description does not mention. The pockets are fleece lined, which are very nice. With just a T shirt, you can wear this well into the teens and is noticeably warmer than the Patagonia Down Sweater. However, without a hood, it get's cold in the single digits.

Mine had lost a lot of feathers over the course of 3 years and got rid of it in favor of the Patagonia Hooded Down Sweater.

Suggestion to MHW: Please make a hooded, baffled, version of this jacket, sell it for $280-$300 to compete against the Patagonia Fitz Roy and ditch the Kelvinator.

Pros:

-Super packable, exceptionally warm for it's weight.
-Fleece lined pockets are nice

Cons:
-Lack of hood
-Super-lightweight materials are delicate and could tear easily.
Is this sewn-through or baffled construction?...
Is this sewn-through or baffled construction? Thanks.
Hi, could someone tell me how compressible...
Hi, could someone tell me how compressible is this jacket??
These are very compressible, they come with their own stuff sacks and pack down a bit bigger than a nalgene. I own the Nitrous, which packs down to the same size.
I have one and it packs up much smaller than the stuff sack provided. It takes up no space in my pack.
Would this jacket keep me warm in like 10...
Would this jacket keep me warm in like 10 F - 20 F New York city winters?
JJT. In short... YES! The Phantom Down Jacket is insulated with the finest europeanan gray goose down (800-fill) and will keep you extremely happy even down in to the single digits. I hope this info helps!