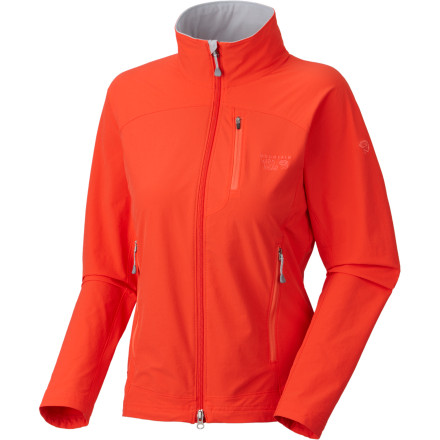 Get water-resistant protection from the elements without feeling like you've wrapped yourself in a plastic bag from the Mountain Hardwear Women's Onata Softshell Jacket. The Onata's Chocstone Doubleweave fabric's DWR coating sheds moisture while offering a high degree of breathability at the same time. Its stretch and abrasion resistance make it an excellent choice for adventure pursuits like climbing and hiking, while its sophisticated good looks make it your go-to jacket for getting out and about in town.
Full front two-way zipper gives you easy access to a harness
Chin guard prevents zipper chafe
Curved drop hem offers a little extra back coverage
Love the length of this jacket. I look forward to putting it through the wringer this summer.
This lightweight jacket/sweatshirt is perfect for our Central California Coast weather. It is also comfortable enough to wear under a heavier jacket in the evenings. The perfect layering jacket. The length is great for my longer torso and the fit is very flattering. Love it!
More shirt than softshell jacket!!
Even with the sale price, I am disappointed in this purchase...I wanted a real softshell jacket and this is so THIN its the thickness of a shirt. The material and thickness is similar to a pair of gym/workout pants. I am a bit over 5'7" and about 145lbs and the large is okay but only if I wore a sweater or sweatshirt underneath. It hits about 1/3 way down my back pants pockets...shorter than I hoped for too. Not sure what I will even wear it for. It does pack up small...so maybe an impromptu rain shell?! Have to keep shopping for a true soft shell JACKET!
LOVE the Mountain Hardwear Onata. Fits snugly with a nice stretch to the material- My daughter told me it made me look skinny!

Great length too - down to my hips and LOVE the two way zipper... can't believe how often I use it - when trying to get in to my pockets, or when sitting down so the whole thing doesn't bunch up.

I also ordered the Patagonia Traverse Softshell Jacket (lame elastic cuffs) and the North Face Apex Bionic Softshell Jacket (too stiff) because I wasn't sure which one I'd like. But the Mountain Hardwear weight is proving much more versatile.
Okay jacket, just not what I wanted
This jacket arrived in the mail yesterday. It is a beautiful, well made jacket, but unfortunately this wasn't what I had in mind for my softshell. To me this jacket seemed a little to thin, even with layering, to be warm enough for what I wanted it for (spring skiing such). I would suggest this for a light weight layer for hiking and about town in the early spring, but to me it just seemed like a wind breaker made out of cloth. Also, the size XL was to big for me (5'5" 180lbs). I'm not saying don't buy it- it just wasn't the jacket for me.