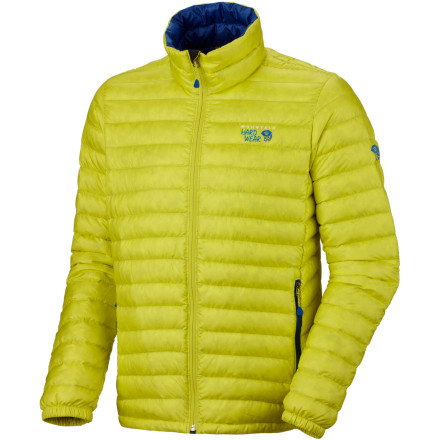 Detail Images
The Mountain Hardwear Men's Nitrous Down Jacket provides the lightweight insulation of 800-fill down in a low-bulk package suited for nearly any day in the hills. You can wear the Nitrous Down Jacket over your shell to stay warm on a rest break, or use it as a mid layer in seriously cold conditions. Plus, this Mountain Hardwear jacket makes a really nice change from your hoody when you head downtown in the snow.
6 feet 215lbs...xl too big
Gender:

Male

Familiarity:

I returned this product before using it
really loved the look but the xl was way too big...tried the large on at a different (inferior) store...too small
I haven't yet gotten the opportunity to use my jacket as its august and I am in Houston, however the fit is excellent. I am roughly 185 and 6'3"and the large is a great fit! Super stoked for fall/winter to come just to put this to the test.



I only gave it a 4 star because I haven't yet gotten to use it in its prime but I have a great feeling about the quality and comfort.
I have both the hooded version of this one and the non hooded of the Patagonia Down sweater. I wear a large in the Down Sweater, but the large in the MH was much too tight in the arm pits. I'm 6'1 and 215 and I have pretty broad shoulders. I would up going with this with the hood in an XL and it fits and looks great. the Patagonia one is great too, but I think this one is a pinch handsomer. (My girlfriend likes the Patagonia one best tho.)
Pretty, pretty, pretty good.
If you are looking for a well-constructed, warm, down jacket this is the stop to get off at. I use the MH Nitrous as a insulating layer for skiing. The jacket stuffs into my pack easily and is there to keep me cozy when the cold sets in.
I comparison shopped this with the ever popular Patagonia Down Sweater. It has a more athletic fit than the Patagonia which felt really "boxy." I also liked that the Nitrous jacket is two toned; the exterior red is a bit muted and contrasts the bright red interior. The Patagonia is all one tone and a bit drab. The one advantage the Patagonia has is that it has a pocket you can pack the jacket into. The Nitrous does not have a pocket and does not come with a sack to stuff it into.
I am giving the Mountain Hardwear Nitrous 4 outta 5 stars (lack of a packable pocket or sack knocks it down a notch from perfect.)
This jacket is excellent as a stand alone jacket or layering piece. I wear this under my TNF Free Thinker on really cold days and wear it alone around town. It is extremely light and pack-able. As others have said it is cut as a layering piece and the sizing is smaller than usual. I am 5'7" 170lbs and the large is almost a tailored fit. There is very slight pulling under the arms if I cross my arms all the way.
Is it a sweater or a jacket? Great either way!
I bought this "jacket" last winter and really like it. I consider it more of of a sweater and use it under a Gore Tex shell for really cold days. The DWR Finnish has done well in showers and wet snow on the coast of Maine. For the worst days, I wear several layers of Merino or a light wool sweater under it, then a shell over. I am 6"3' and 180lbs and wear a large which fits well. Probably not a good fit for bulkier builds as I find it snug when layering. It will shed some down over time; don't be too uptight about it, all down clothing does. Overall, I highly recommend this jacket if you are lean and want a versatile sweater that can be a jacket too.
I have been looking at down sweaters, a...
I have been looking at down sweaters, a lot, and have it narrowed to the medium size Nitrous and the Rab Microlight. Have both here now and trying to decide pro's/con's between the two. Anyone have any experience here or insight?
Basically want a Fall down sweater and light winter jacket that can also been worn as a base for winter, ie, insulation for cold ice climbing, skiing, etc.
Like, maybe love, the fit of Nitrous and the soft feel of material. Loft feels a little less than Rab, both 800 fill, and maybe just less substantial overall? Really like the cut of the MH but it does lack a chest pocket and is a little longer cut than Rab. Rab cut is shorter, ok in torso, but funny feeling at bottom as I dislike elastic hems and it seems to ride up and do the pear thing. They are both nice and wondering if anyone had opinions? Thanks.
Best Answer
I think the Rab is actually stuffed with 750 down, weighs a bit more and like you mention, is shorter. I'm a big fan of a longer cut down sweater, especially if they have cord lock hems, which for me would be a big plus and an advantage over the Rab Microlight jacket. I like Rab stuff, but in this case, i think I would go for the best fit, longer cut and hem drawcords. Also, make sure you look at the seal around the neck and wrists. Hope it helps, Jake.
Hey Jake, depends on your size as well, I'm 6'3" 190( i wear large), MH stuff in my opinion is one of the best fitting lines for lean athletic builds, have tried several rab stuff and like the stuff but cant ever get any of there stuff to fit like some US brands. I have last years model, and only complaint I have is cuffs don't seal tight around the wrists, but it looks like they might have fixed that. Between the two I definitely recommend the MH, its been awesome for me.
Very good warmth to weight ratio.
To begin with don't be alarmed if you purchase the Nitrous and it sheds a bit. I have ran into this as well, and after a bit of research it is common for the Nitrous to leak down in small amounts over time. One trick that I found is by pulling the feathers back into the jacket from behind, preventing a hole from forming and more down falling out.

To get down to the actual use of the jacket I have worn mine in urban settings, going from the office to the car, as well as on hikes and as a mid insulated layer for snowboarding. It has performed very well in all of these situations, keeping me warm without over heating. I suspect that this is due to the 800 fill down, and very low denier face fabric.

It could do with a slightly heavier duty DWR finish, if you plan on using this as an outer layer, and the missing chest pocket this year is a bummer. I love to have a quick access pocket high up, so I do not need to fully unzip my shell to get to it.

One key feature I felt was really helpful was the inclusion of a two way zip on the lower left pocket. This allows you to stuff the whole jacket into it's pocket, and it even includes a loop to hang the packed jacket from. The contrasting interior color on the blue is very nice as well. With some minor improvements it could earn 5 stars.
How much down is in the Nitrous?
How much down is in the Nitrous?
Best Answer
According to customer service at Backcountry.com, the fill weight is 4.2 ounces.

Hope this helps.
Yep, thanks. If so, that's pretty impressive. The Patagonia Sweater Jacket only has 3 oz. I was about to buy Patagonia, but this looks like a better option.
One question: Does this jacket have a...
One question: Does this jacket have a hemline draw cord or elastic waist?
As per MH site, duel hem drawcords. My personal favorite as elastic tends to ride up on me.
How does this jacket stack up to the North...
How does this jacket stack up to the North Face Diez down jacket? They seem pretty similar. Does anyone have any experience with both?
They're both ultralight down sweaters, and are basically the same jacket. MHW is cut as a layering piece, so size up if you want to wear it on the outside. Diez is a tiny bit lighter.
I am 6'2" and weight 160 I am not sure...
I am 6'2" and weight 160 I am not sure which size i should get?

I am 6'2" and weight 160 I am not sure which size i should get?
Medium or Large? I wear Medium in the Monkey Man jacket.
I want to wear it alone and under technical jacket.
Thanks in advance.
Best Answer
i would say that at 6'2", regargless of how the body fits, the sleeves on a medium would be too short. i only have an inch on you and wear an XL in similarly cut mountain hardwear jackets.
70e. I would pick up a large if I were you. I am 5'9" /155 and wear a medium. The body may be a little loose but the length will be just right. Cheers!
Medium, I have abnormally long arms at 6ft, and 180ish lbs, and the medium fits great.. MAYBE could be a slight bit longer in the arms, but no gap that my standard gloves won't fix. Although I bought mine in Korea, so the fit might be a bit different from the NA versions.
I have a question that may be a good one...
I have a question that may be a good one for Jon Webb. I know the differences between the Nitrous Down and the Compressor, but in terms of warmth, can you compare the two?
Thanks!!
Hi! I'm not Jon Webb, but would recommend the Nitrous out of personal experience.
dtjdvm. Thanks for the call out and the question. So, the Nitrous Down jacket is insulated with the finest 800-fill gray european goose down. The Compressor is insulated with 120 grams of Thermic Micro which is our synthetic insulation. This is the reason for the overall price difference and gets to what I consider the real question... down vs. synthetic? I would say that the Nitrous is warmer for its overall weight being a down coat than the Compressor but both are warm jackets and do their jobs perfectly. Depending on what or how you plan on using the jacket will ultimately dictate which one will work the best for you. I have both and wear both often! So, I might not be the best one to ask :) The argument for down over synthetic basically boils down to the fact that synthetic is warmer when wet (not true as the only thing that is warm when it is wet is a hot tub) but it will maintain its insulative or 'R' value even when wet. Down is warmest for is overall weight and has a greater range temp-wise... but, again both do their jobs perfectly. I hope this answers your question! Cheers!
I completely agree with Jon Webb.

The compressor jacket has all the benefits of synthetic insulation. If you're layering for a higher-intensity activity where it is cold enough to warrant such insulation, the synthetic may do a better job with the moisture (dissipation/insulation/drying). (Disclaimer: I don't own the compressor jacket. I do have the pants.)

As for the nitrous (which I do have), what it does is deliver incredible heat-to-weight and heat-to-packed-space ratios to keep you warm. It's made of the highest quality down at the highest fill power, but it packs to almost nothing (it packs into its own pocket, and you can tighten that even smaller with rubber bands if you want). It's truly a very high-end, high-quality piece of equipment worthy of the MHW name. Since its so small and light, I bring it with me everywhere in the winter. It's pretty much part of my back pack (just like my rain jacket is during the summer). Whenever I find myself too cold, I can pull this layer out and it fixes the problem. I've also been real popular for having this to lend to others who dressed too lightly for a winter adventure.
Not to sound too "promotional" but the Nitrous is awesome. I love it.
Ive got a couple new model to old model...
Ive got a couple new model to old model comparative questions. Does this newer incarnation have the same shinny material as last years? And does the newer model have the same tight fit as last years? Im not a big guy by any means (5'9 150), but I had to return last years medium because it was skin tight and short at the waist.
Thanks in advance.
Best Answer
JRice. In '10 we used the same 15D Ripstop that we've used since the jacket existed in our line. It's the same fabric used in the Phantom Sleeping bags and was a little shiny. For '11, we are using a slightly different ripstop called Sensor Ripstop. It's a 100% Polyester Ripstop that combines 20 by 30 denier threads woven together in to a very soft, fine, and ultralight Ripstop weighing only 1 oz. per yard of fabric! It's down proof by construction and has an durable DWR to keep the weather out.
As for the fit, the fit has been tweaked a little and I don't think you'll find it to be as tight fitting as before. Just about all of our patterns for the coming season have been digitized through out our line which is absolutely HUGE! This will greatly improve the tweaks we are able to do during production in order to get fit as perfect as possible. I have your same dimensions (5'9" and about 150) and I wear a medium for sure.
An additional update that I really appreciate is the fact that we moved to zip pockets instead of the flap pockets for the main hand pockets we had on last years jacket. Zip pockets look better and are simply more functional.

With the fabric, fit, and pocket updates I feel like this is one of the nicest down sweaters on the market today. Enjoy!!