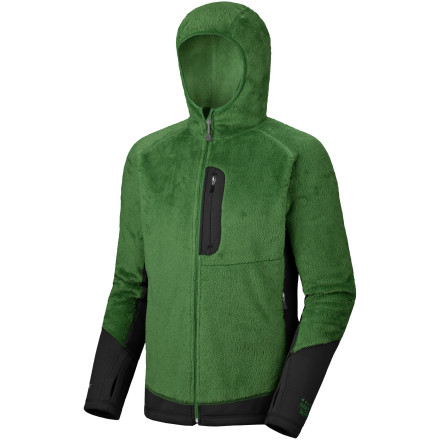 Zonal construction in the Mountain Hardwear Men's Monkey Man Lite Jacket gives you the mobility to clamber over boulders and reach for handholds like a … well, like a monkey. Side, cuff, and hem panels fashioned from Polartec Power Stretch let you move freely, while the silky, high-loft Monkey Phur Lite in the main body not only keeps you warm and feels great, but it invites your mate to run her hands over it, and possibly search for insects for a post-climb snack.
Close-fitting hood fits easily under a helmet
Handwarmer pockets set high to accommodate a harness or pack straps
Thumb-loops keep the cuffs in place
Share your thoughts
What do you think of the
Mountain Hardwear
Monkey Man Lite Fleece Jacket - Men's
? Share a...
This is a really nice jacket for alpine pursuits. Light weight, but yet still warm. Seems to work fine while you are on the move. Close fitting, so if you're kicking steps, you can see your feet with no problem, and even though it's close fitting, you still have plenty of freedom of movement. Seems true to size. I'm 5'8" and 136 lbs and a small works fine. I tried a medium, but the sleeves were a bit too long and the front wanted to stick out a little in the stomach area, so I kept the small which eliminated the problem. Can be worn with a helmet as well. And of course, whats not to like about Monkey Fur? Bought the Monkey Man gloves to match!
Great fleece, size a little off.
I love this fleece for layering. It is crazy warm under a shell, and the fit is very athletic and stretchy so it layers really nice under a soft or hard shell, or even with a good vest over it. It is completely NOT wind resistant in any way though, so if you have it as an outer layer the wind will cut through it. But as an insulator, it is the most comfy I have. So, the sizing - I have had trouble with MH's sizing this year. I have always been a solid Med. I am 6'9 160 lbs, with a slim, but muscular build. I have a 41'' chest and a 33'' waist. The Med was way too tight in the chest and arms. The Large is still close and what I would call athletic cut. The hood is bomber under a helmet for climbing in cold, or in a rain shell hood, but it looks super goofy by itself.
I love this fleece, it fits true to size, if you are the least bit overweight you probably will want to size up. I am 6'2" 190 pounds and the large fits perfect as a baselayer. This is perfect for running errands around town, or layers well if you are going to be in the wind. I especially like the side pockets and the hood is a nice touch. I wished MH would make more hoodies. FYI the picture isn't completely accurate, I bought the blue and the gray - the gray is actually black.
mountain hardware monkey man lite fleece jacket
great jacket, love the thumbholes but had to reinforce stitiching. bottom of jacket rides up when skiing so not thrilled about that but keeps me warm & cozy. color is slightly darker than as seen on-line, and size L fits just a little smaller than most other M's ... just keep that in mind.
The sizing on this MH product is off by a letter. For instance, I typically wear a medium (5'9", 151 lbs with more weight in my chest) in everything MH, and a medium was skin tight. I saw that Jon Webb stated this is supposed to be so AFTER I bought the wrong size (not on bc.com) The large had a much more athletic fit than the normal monkey man and a bit more athletic than my favorite monkey man zip T, but still fit well (more to my liking than the skin tight medium).

After moving up to a large and using it to go snowshoeing, I noticed that the thumb holes were very uncomfortable and felt like they were cutting/pinching the skin. This was remedied by putting my gloves on first, then using the thumb holes. This may or may not be unique to my jacket.

The polartec thermal pro is of course very very warm especially when active and works excellent in this piece even though the product description says lite. The hood is pretty tight, but this is supposed to be used for climbing/mountaineering so thats a good thing. A positive about the thumb hole design is that it comes up to your knuckles and uses much more polartec power stretch than the monkey man zip t making it seem much less fragile.

If it weren't for the minor thumb hole issue, me not actually needing a hood, and still liking my monkey man zip t better, I would have kept this for sure.
I just got this locally and figured I'd...
I just got this locally and figured I'd post my sizing observations cause everyone said it is weird.

I am a athletic and above average muscle build, but not extreme. 5'8.5" and have about a 38" chest and 31-32" waist, depending on brand (32 in Levis but 31 in about everything else). 161 lb last checked.

It does run small, but it was made to. May bother people. It fits snug on me, I wouldn't say 'tight' but definitely snug. It moves well, long arms because of thumb-holes but feels proper. I wanted to try a large, but it was not in stock. I tried a large without a hood for the 2011 year, and the sleeves were wayyy longer. But they may be completely different builds. I decided to get it, because I wanted a insulator with a hood. That is my primary use of this, insulation for mountaineering.
A little bit ago I decided to see how it layers. Put a thin polyester long sleeve on, then the monkey fur, a OR Primaloft light-puffy jacket (like MH Compressor but regular fit) and them my shell. It all went together very well. Surprisingly well. Although I was in my room at home. This jacket probably isn't so great for casual as it is rather slim-cut. Cut for layering I think it will work out very well me.

Wont review it yet because I havent used it.
I gave this five stars, as to not wreck the rating. That said, I had this for about 1/2 a day before I returned it. I am 150 lbs and 5'10" and bought a medium and It fit like a wetsuit. Maybe a large would have fit the way I wanted, but I didn't feel like going through the hassle of an exchange and possibly getting another garment that didn't fit.
This is a great jacket. Looks great, very soft, very warm. It fits snug so if you want a loose fit order a size up. But snug is nice for running so it does not flop around. It's awesome!
I knew this item was going to be tight but I got a large and could barely fit my arm through it. I am not a fat guy mostly muscle so if you can wear those lame skinny jeans you might be girlie enough to fit into this jacket. Also, not Backcounty's fault but the jacket had a large rip on the back.
I am 6' and 200 lbs. Wondering if anyone...
I am 6' and 200 lbs. Wondering if anyone can help me out and recommend the proper size: A large and XL?
I am 5'10" 190 muscular build and ordered a large and could barely fit my arm into the sleeve of this jacket. You probably won't fit into a XL.
Just to reiterate the sizing issue this fleece suffers from........I'm 5'9", 151 lbs and I bought a large because the medium was skin tight on me. With your dimensions, do NOT buy a large. Unless you want something skin tight, size up from your normal MH size.
I am 5'6" and about 120lbs, would the small...
I am 5'6" and about 120lbs, would the small fit me snugly for an athletic fit?
Best Answer
Connor. The garment is designed to fit snug as a mid-layer so I think, based on your measurements, that if you were to get a small you would be happy. I am 5'9 and 155 and wear a Medium. Hope this info helps!
Was trying to answer mvick's question but it wouldn't let me.A Medium will most likely be too short for you.I'm 6ft, 180lbs, 33inch waist. I just got a medium in today. I can barely fit my arms in it and if I raise my hands above my head it becomes a belly shirt. I wanted a slim spandex type fit but the arms and length are just too small.A large is too big for me from what the sizing chart says but I'm going to exchange for one and hopefully it fits better without having a fat waist.If anyone reading this has 15.5+inch arms you are going to find the medium very uncomfortable from how much the arms have to stretch out.The product is really nice otherwise. It's very soft, super warm, and I like how it's a different material in the venting areas. I'm looking at using it over a baselayer for alpinist stuff.

Updated: the large fits well on my frame. Also, it weighs 430g so about 55g less than I was expecting.
I'm about 6'1" tall and weigh 130 lbs.,...
I'm about 6'1" tall and weigh 130 lbs., and alot my height is in my torso. Worried the medium might be too short. But which size would be suggested? M or L?
XL,,I assure you they r running in small size,so go with an extra size for a better fit and free motion...!u will avoid the hassle of exchanging.