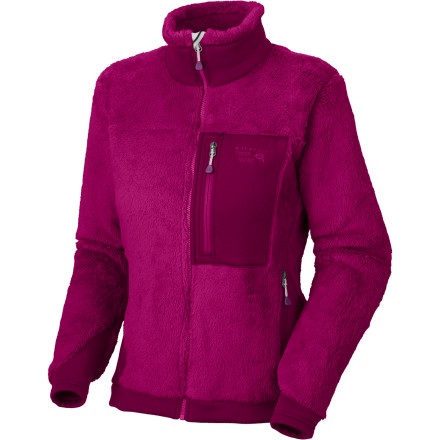 Detail Images
The Mountain Hardwear Monkey Woman Fleece Jacket offers fuzzy, plush warmth to backcountry-exploring female primates. This jacket's high-loft Polartec ThermalPro Monkey Phur not only feels soft and silky, it compresses for easy packing, and it insulates and sheds light precipitation too. Because it's fleece, this warm jacket also breathes, so you don't have to put on or take off layers every few minutes during your hike.
Sister loves it
Gender:

Male

Familiarity:

I gave it as a gift but have feedback to share
bought this for my sister for christmas and she loves it. said its super warm and soft. wind resistant but not windproof of course. And i know she wasnt lying cus she knows she could have returned it regardless of the fact she'd been wearing it the last few days if it wasn't warm enough or anything else because Backcountry is awesome
What size do you recommend? 5'6", 40" bust,...
What size do you recommend? 5'6", 40" bust, 185 lbs
L or XL. You can also check your measurements agains the sizing chart next to the "Select options" drop down menu. Best of luck!
I was really torn on a size and color but the price was amazing. I've been watching this jacket for about a year since I tried on my boyfriend's. He used to work at a ski resort in Idaho; he says it's one of the warmest sweaters he has! It went on sale at 63% off and I couldn't resist. I was hoping for the Cool Grey/Stainless and considered the Dolomite/Kettle but went with the Black/Black because it was available in small. I'm 33" bust, 28" waist, and 39" hip; 5'3"and 115lbs. It fits great. Hits the full hip, somewhat fitted with room for moving around, the length still covers when I raise my arms, and has enough room for something inside. I can't wait to try it out in cold weather! Stoked!
This jacket is high loft and has a soft silky sort of feel to it. If its not windy out, it is very warm. Definitely warmer than a sweatshirt. The cut is very generous. I'm 5'8" about 140lbs and I ordered the medium which is roomy. Because it is a little big it is kind of bulky and doesn't layer super smoothly. I probably could have gone with the small. The sleeves are long. Layered with a waterproof shell this jacket makes a cold proof barrier. Overall I'm very happy with this purchase!
Couldn't be happier with this fleece! Super soft, moderately warm. Great for 40-50 degree chilly days, but as other reviewers mentioned, it is not meant to be wind-resistant or stand up to freezing temps. It's perfect for layering and is very breatheable. Haven;t washed it yet, so I can't testify to how well it holds up post-landering. Was debating between S/M sizes...I am a lean, athletic 5'6'' 130 lbs, and a medium fits perfectly....so I would say size up if in doubt to leave room for layers :)
This jacket is exactly what I was looking for. It is very cozy and cute and extrememly comfortable. It doesn't block the wind at all, but with the addition of a light weight shell over top the wind and rain are no problem. I'm 5'8" 168lbs and ordered a large--it fits great! I ordered the cool grey color and really like it, however it does stain easily. If you have the tendancy to spill drinks (I spilled coffee on mine today) or just end up dirty more often than not, I would recommend a darker color.
I bought this for my mom who seems to have everything, but she loves this fleece! It's soft and warm, but not too bulky so she can wear it under her shell skiing. The Jewel color is true to the picture. She usually wears a medium and the medium fits in this piece.
I own five of these and have purchased them for my daughter as well. My only complaint is that the jackets mat where you carry a purse or your seat belt hits on the shoulder. They are warm and I enjoy the stretch at the hips and cuffs. This keeps wind from entering and allows freedom of movement. My son does not like the look on men. I recently purchased the purple iris which I like and receive lots of compliments. The sizing is right on. This is my favorite fleece and my variety of colors demonstrates my enjoyment of this jacket. Backcountry has excellent service. I am always pleased with my purchases.
Comfy, Warm, Flattering Fit
Just got my jacket in black, size small and I love it! I am 5'6 and 112 lbs and it fits perfectly with enough room for at least two layers underneath. The arms arw a great length for me and I would recommend this to anyone. My husband has the men's version and he loves it too.
Did these jackets get bigger. They don't...
Did these jackets get bigger. They don't seem as form fitting as last years. I'm 5'2 and weigh 80 lbs would this jacket be baggy on me?
Kim. Considering your measurements, unless you are able to find a very form fitting jacket, perhaps in the youth line of some brands, I think you would have a hard time finding something that wasn't 'baggy.' With that said, the fit of the Monkey Woman Jacket has not changed over time. There have been slight product and fabric updates but no fit changes over time. I hope this info helps!
My wife really loves this- soft, warm, and cute. That's her evaluating criteria. I have to add that the hi-loft fleece exterior looks as though it's as warm as it is supposed to be, and it does make it soft. My wife loves the excessive elastic cuff portion on the sleeves, and the longer collar for helping to seal in the heat. The non-fleece fabric (pocket and under collar) appears to be Polartec's Powerstretch which is also soft and very comfortable due to it's stretch. My wife prefers this less as a technical piece as she does for a replacement for a go to sweat shirt like item; plus this has a full length zipper. She uses it both on cooler nights in the warmer seasons and then all the time in the cold season. The only gripe was that given her longer arms she had to size up to a medium rather than use the small due to her preferring that the sleeves are long enough vs preferring the torso was snug. She's 5'7" thin, athletic build, so that's common.
I need to speak to a woman as i have some...
I need to speak to a woman as i have some questions about the bust etc.....
Hi! I'm really wanting this jacket, but I...
Hi! I'm really wanting this jacket, but I am worried about sizing. I'm 5'5" 110 lbs with long arms and a longer torso. I normally size up and get a medium... But right now I am wondering SMALL or EXTRA SMALL?!? Help!
Best Answer
My wife is 5' 6" and 125 and the Medium fits her perfectly. I would think you would fit in a Small. Hope that helps some.
My wife's 5'7" 130lbs and had to go with a medium for sleeve length, therefore i wouldn't recommend an XS for you.
I love this Jacket I swear I would marry it if it was possible!... I am the first of the house to get one my mom bought one for my brother soon after. I am the first one of my cousins to get the Jacket. This year almost all got a The North Face Jackets.. I got one too but I wanted that stood different than there's did and this was it.. now they all want one but cant have it heheh* I recomend this Jacket to all!
Super soft, comfy, and warm jacket, just the thing for Colorado winter days! Plus, it looks good on you. No complaints.
Mountain Hardwear Jacket-Monkey
I love this jacket. I was the first family member to receive this jacket as a gift from a friend. I have now purchased a jacket for each member of my family. They each now refer to it as their favorite jacket (and it shows because each time I see them, one of them has the jacket on:) Great buy!!! Money well spent!
this feminine cut jacket is moderately warm, yet incredibly soft.
for the smaller ladies with size questions-- I am 5.3" ~110 lb. 34C & the XS fits perfectly. the cool grey/ stainless color is terrific.
please note that this jacket is NOT ideal for people with a longer torso.
also, be prepared for people with North Face fleece jackets to look at you with envy!
I just received this jacket today. Fast I ordered on Tuesday at noon had it by noon Thursday. Fits like a glove. I ordered small. I am 5'1" 125 and small fits perfect. Upon trying it on I was wearing a white shirt and it got black fleece fuzz on it so I washed it 2x just to remove any fuzz that was in and on it. I will love this jacket after it dries so I can wear it. I would pick this over any other fleece jacket out there. I love Mountain Hardware Monkey Jackets.... :)
Very soft and comfortable fleece
I purchased this fleece in November when it was on sale and I am so glad I did. It is very soft, the color is great, I got the purple. The fit is regular, I am 5'6" and 117 pounds and I ordered Small, which fits perfectly. It has a nice design and in all honesty when I look at people on the street wearing The North Face fleeces, mine looks more luxurious and more unique. I am very happy I purchased it and I wear it a lot. I got it mostly for my ski trip this month, as I needed a middle layer, but I am also wearing it almost daily when I go out, or go to yoga or gym class. It is really warm! Since it's not that cold here yet, I actually have to unzip it as it gets really hot. But this is great because it means it will be very warm in the cold weather. I highly recommend it!
Love this fleece....soft....super warm....great customer service and fast ship. I bought a size small and medium to see which fit better. I am 5'5, 130 lbs, and usually wear a size 6-8. Both fit, but the medium was a little looser and longer in the arms. The small was perfect. I am giving it 4/5 stars because I wish the jacket was longer in the torso, but it looks really cute with a long shirt underneath. I bought it in stainless. Overall--very happy with this jacket!