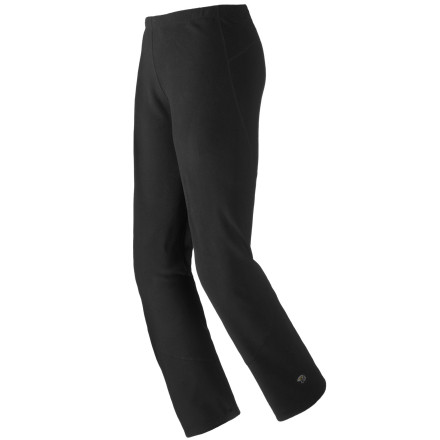 The Mountain Hardwear Women's Micro Chill Pants provide comfortable insulation for any cold weather sport. Whether you're skiing corduroy at the resort or skinning up to a remote ridge, the Micro Chill's Polartec 100 fleece fabric gives you warmth and breathablity beneath your shell. The elastic waist and gusseted crotch provide tons of mobility to maneuver around rocks and trees, and you'll barely feel the flat-lock seams against your skin, even when sporting a harness. This base layer's wicking finish moves moisture when you get worked up during a steep climb.
Can someone tell me if these pants would...
Can someone tell me if these pants would be good for figure skating. My daughter is a beginner and needs something that will keep her warm but also allow her to move freely.
Thanks for any help!!
These are fleece pants - in my experience there are better choices for something highly aerobic like figure skating, that is unless she will be taking them off when she skates - uses them only for when she is sitting and cold, they would be great.

If she is using them for skating, IE: aerobic, I would look a little more towards something like merino wool or Patagonia's capilene.
Bought these for the wife to use as a base layer, except I'm not sure they'll ever make it to the slopes. She's wearing them around the house and can't stop talking about how warm and ridiculously comfortable they are. Score one winner from under the xmas tree this year.
Luxuriously soft, nice cut
I got these fleece pants for my girlfriend, who is always cold whenever we go camping. Although very basic and not windproof, they make a great midlayer under a shell, and she often wears them around camp and the house.

I was a little worried about buying clothes as a gift for a woman, as the sizing can be dicey, but these are true to the sizing chart and fit her quite nicely. The fact that they are elastic also gives a little bit of wiggle room.

The cut is form flattering (especially for fleece pants) and the lack of waist pockets keep them from bunching up under an outer layer. These do have one zipper pocket on the right butt.

Hope that was a help
are these pants tight or could i wear them...
are these pants tight or could i wear them out?
I wear mine out. I am a true size small and I went up one size to a medium because I did not want them to be skin tight. They are form fitting, but just a little loose without being baggy when I went up a size. My daughter on the other hand is a college student and likes hers form fitting. She is a true size xs and looks great in these pants. (5'3" and 105 pounds). We both LOVE these pants. They are warm going out and about on cold days in Michigan. They are not wind proof, but just nice and warm and they look nice too. Hope this helps.
Perfect for our spring skiing trip
Loved them! I wore them under waterproof pants that did not have a liner and went cross country skiing. It was not heavy at all yet it kept me warm and comfortable all day in Utah. My husband got a pair for himself and really liked them as he stayed warm as well under his waterproof pants while we were skiing.
I found these pants to be a little loose for a base layer under ski pants. However, they are great for apres ski and other casual wear. They could be a little large because I am short.
i bought these to go under my snowpant shells for a ski trip to Alta. They kept my legs nice and warm and they were so soft and comfy I barely knew they were there! They where absolute prefect for what I needed and what they were described as.
loved the first pair so ordered more
these are fitted but stretch with your movements. they keep me very warm and dry quickly.
i bought the first pair last season so picked up two more so i'm never caught without a clean pair when i want to hike!
do these pants come in bootcut
do these pants come in bootcut
i dont believe so. like 95% sure noe
Linda. Unfortunately, they do not. But, just to be sure... do you mean boot height or boot cut? If you are looking for boot height tights we do make them in a couple of styles of our long underwear.
What size should I get if i wear size 6?
What size should I get if i wear size 6?
Amy. I would consider a size small. Good luck.