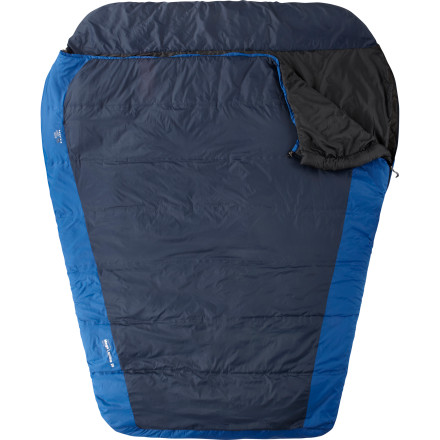 Mountain Hardwear Megalamina 20 Sleeping Bag: 20 Degree Thermic Micro
View Larger Image
Description
A warm bag built for two.
On those cold nights, there's nothing like spooning up with your partner in the two-person Mountain Hardwear Megalamina Sleeping Bag. With its patented welded seams to reduce heat loss and maintain maximum insulation, the Megalamina will help the two of you sleep comfortably three seasons out of the year.
20-degree Fahrenheit rating ideal for three-season camping in most environments
Double-wide cut provides relaxed comfort for two adults
Lamina welded construction attaches the shell fabric directly to the insulation to eliminate cold spots
Thermic Micro synthetic insulation is durable, compressible, and lofty
40D ripstop nylon shell with DWR coating for rugged durability and water resistance
Full-length two-way zipper for versatile ventilation options
Includes stuff sack - compressed size is 10 x 20 in
Which double sleeping bag is the lightest and warmest? My tall Canadian boyfriend and I want to find a sleeping bag to keep us warm in the winter. He said he'd carry the double, if I bought it. I want to use his feet to warm my feet (hence not zipping 2 singles together).
hey, so a good idea for you guys is to get separate sleeping bags that can zip up into a double. This will slpit the load and then if you decide you and the girlfriends wanna do a girl trip. you are stuck with a big bag to haul around. Big Agnes is a brand that is always making Compatible zippers in their bags.



if you have any questions you can email me at vharward@backcountry.com
Unanswered Question
How does this compare to the North Face Dolomite double in warmth and pack size? I'm leaning towards the Dolomite because it can be separated to two bags and packed separately; one large bag seems like it would be tough to fit in a backpack..
Unanswered Question
It says that max user height is 6'. I'm 6' and am wondering if that means I'll just fit or will I be comfortable?
Great, roomy two-person bag
Familiarity:

I've used it once or twice and have initial impressions
Bought this for my girlfriend and I to use car-camping and on short overnight backpacking trips. We haven't had it out down to its 20 degree rating yet, but like the other reviewer, I have a hard time believing it would be warm then, simply because there isn't really a full coverage hood, and no draft flaps/collars to block air coming down the bag in between the two people in it. Plenty warm down into the 40's where we have used it so far though.

The zippers on each side are great, especially in a two-door tent where you can get all the way out to go to the bathroom in the middle of the night without waking and crawling over your partner. I also really like the laminated insulation. A great feature/technology from MH. Basically it keeps there from being any thread/stitching on the outside of the bag. Important for us with a dog in the tent who's often crawling around, don't have to worry about him tearing the thread. The shell fabric is plenty durable yet lightweight, and the lining is soft and smooth. Lots of room inside for two.

Overall a great bag but just wish it had a more full coverage hood, and a lightweight draft collar, especially in the middle.
Does this bag completely unzip to provide...
Does this bag completely unzip to provide two seperate halves?
Hey LHC,



It does not zip into two separate halves.
Great bang for the bag buck
I've replaced two single zip together sleeping bags with one MegaLamina for car camping and have been very happy with it. The Mega gets a lot of its warmth from two bodies, which in the case of two zip together bags, you are only getting part of as they usually only zip together 1/2 or 3/4 of the way. This means your feet are constricted and the bags are kind of uncomfortable, which is not the case with the Mega. For plush, over the top comfort, get a Coleman inflatable mattress (and of course 12v pump) from WalMart and you'll be sleeping better than at home.



A word of caution with this bag is that it can be pretty cold if you use it solo, or, just in general. I'm not sure where MFG'ers come up with their bag ratings, but we used this bag in 35ish degree weather and had to sleep with all of our clothes on, as well as an extra blanket on top. But, for warm summer camping, it is ideal.
What double sleeping bag is the best for...
What double sleeping bag is the best for car camping in of Wisconsin, Indiana, Mischigen from May to late October? I would be very grateful as if someone helped me with this problem because I do not know what I have to buy a Double Bag.

Thanks
Best Answer
Hi Klamostsky - I've used this bag (the MHW MegaLamina) in Utah, Idaho and Wyoming and think it is great. Double bags are indeed a bit tricky as you are getting a lot of your warmth/heat from the other person, so the standard rules don't really apply. I replaced two zip together bags with one Mega and have been happy with it as it is more comfortable. That said, if you sleep solo in a double bag, it is going to be cold, or least that has been my experience.
Best Answer
Hey,



It does indeed.